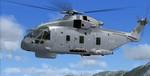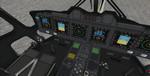 20.14Mb (13447 downloads)
Virtavia Westland Merlin for FSX/P3D. The Agusta Westland AW101 is a medium-lift helicopter used in both military and civil applications. It was developed by joint venture between Westland Helicopters in the UK and Agusta in Italy in response to national requirements for a modern naval utility helicopter; until 2007, the aircraft had been marketed under the designation EH101. Features - 1) Animations Crew entry : shift-e Cargo door : shift-e-2 Toggle crew figures : ctrl-W (water rudder command) Open rear ramp (HC.3) : Tailhook - T key Dipping Sonar probe (HM.1) : Tailhook - T key. Features VC, multiple liveries and interior cabin. Ex payware from Virtuavia
Posted Apr 12, 2014 06:53 by virtuavia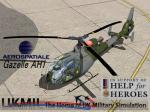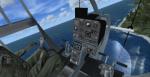 54.61Mb (17438 downloads)
AH1 Gazelle package for FSX and P3D up to v4.*. The Gazelle is a French five-seat helicopter, commonly used for light military transport. The Westland AH1 version was a model built for the British Army. Comprehensive package including internal VC model. By UKMil.
Posted Mar 8, 2012 12:13 by UKMIL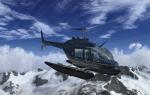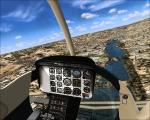 95.10Mb (15706 downloads)
Owen Hewitt's Bell 206, originally released for FS2004, has been one of the most popular helicopter add-ons ever released. Now, you can fly this famous add-on in FSX and P3D. The FSX native conversion of Owen's 206 includes 18 different model configurations, reflective glass and liveries, new rotor blur style, bump and spec maps, and much more. DirectX 10 compatible.
Posted Nov 11, 2011 21:09 by Eagle Rotorcraft Simulations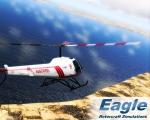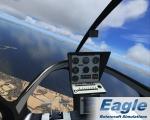 64.13Mb (11586 downloads)
For the first time in the history of Microsoft Flight Simulator, a developer has created and released an Enstrom helicopter add-on. Eagle Rotorcraft Simulations is proud to be the first developer to give the flight simulation community a high quality Enstrom 280FX for FSX Acceleration. Features include FSX native models with animations, specular and normal mapping, custom avionics and much more. Tested in Windows Vista and Windows 7 under DX9/DX10 with no issues. FS2004 version to be produced and released separately.
Posted Apr 29, 2011 02:26 by Eagle Rotorcraft Simulations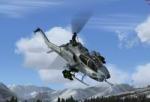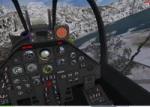 12.66Mb (43652 downloads)
P3d/FSX Native AH-1W Super Cobra Package for FSX. The Super Cobra traces its lineage from the UH-1 Huey and was originally developed for the US Army in the mid-sixties. The AH-1W is a two-place, tandem-seat, twin-engine helicopter capable of land- or sea-based operations. During Operation Desert Storm, the AH-1W comprised less than 20% of the attack helicopter force deployed, yet flew more than 50% of the total attack force flight-hours. In the entire Desert Shield/ Desert Storm campaign, Super Cobras flew more than three times the number of hours per aircraft per month than any other attack helicopter. Armed with a M197 20mm turret gun, twin 5" or 2.75" rocket launchers and up to eight TOW, Hellfire, Sidewinder or Sidearm missiles the Super Cobra was an attack helicopter to be feared. Ex payware from Alphasim
Posted Nov 19, 2010 05:43 by Soaring Falcon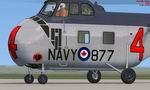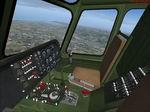 14.57Mb (20896 downloads)
FSX/P3D S-55(H-19)Whirlwind Package. Another batch of new freeware models by Alphasim. Includes two models and six texture sets. Complete cockpit with 2D panel/gauges and VC.The Sikorsky H-19, (also known as the S-55) was a multi-purpose helicopter used by the United States Army and United States Air Force. It was also license-built by Westland Aircraft as the Westland Whirlwind in the United Kingdom. United States Navy and Coast Guard models were designated HO4S, while those of the U.S. Marine Corps were HRS
Posted Mar 14, 2009 09:40 by Alphasim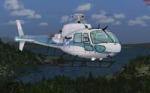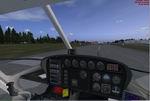 32.56Mb (14338 downloads)
FSX Eurocopter AS350 Package (corrected).The Eurocopter AS 350 Ecureuil ("Squirrel") and AS 355 Ecureuil 2 are a family of light helicopters originally manufactured by Aérospatiale (now part of Eurocopter Group). The AS 350 (marketed as the AStar in North America) is the single-engined version, while the AS 355 (TwinStar) uses two engines. The EC 130B is a recent adaptation of the AS 350 airframe. FSX Comments Gauges/VC: Seem OK. Allow gauges if prompted. Glass: - visible. Seems full FSX compatible! All else seems OK. This aircraft is not modified in any way. Full credit to the great talents of the original designer Original by FSpainter/Florian LAROYE. FSX Compatible & tested. Thumbnails added by Danny Garnier. 35MB
Posted Jun 23, 2008 14:17 by archive