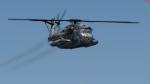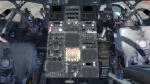 21.48Mb (531 downloads)
Some enhancements, additions and adjustments for the stock Sikorsky CH-53E in P3Dv4. Added NAV1 ident gauge on radio panel. Created VC camera views. Created Check and Ref files. Added automatic Smoke effect. Added extra liveries. See WhatIsThis.txt for full info and credits. Also see the archive for screenshots and installation.
Posted Jan 29, 2021 02:45 by Flanker256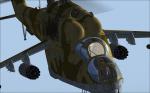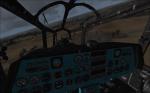 27.13Mb (2728 downloads)
FSX/P3D. Deadly looking, and just as lethal, the Mil MI-24 series of Helicopter Gunships are perfect Cold War images of the Soviet concept of a "Flying APC" Armed with AT Missles, Rockets and Cannon, and capable of transporting 8 Troops in its cabin. Caused much concern in the West, where there was no counterpart, and given the NATO code-name "Hind" MI-24's were first built with conventional flightdeck-type cabin,as the MI-24A, then redesigned with the stepped, armored cockpits for pilot and weapons systems operator (wso), as the MI-24D. Later improvements resulted in the V, VP, P, and Recon versions. Was, and still, in service with over 20 nations. 2020 FSX native conversion of Tim`s excellent HIND-A and HIND-F. The usual animations, VC`s, and a nicely done animated dynamic system on about 12 texture sheets and 24 drawcalls. This is where Tim`s modelling shines. He could pack his models with high detail and many features, yet still keep the file size and drawcall count down to nothing. The net result: great looking models that run ultra-fast on a soup-can-and-string setup, with a minimal HD foorprint. FSX Native up-convert with all the materials and tags to FSX standard, re-wrote the cfg file for a fsx helicopter. Hope you enjoy this timeless classic for many more years to come. Models by Mr. Tim (Piglet) Conrad, weapons by Y.T.
Posted Jan 11, 2021 13:24 by Bruno Sluggoro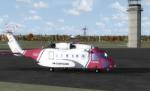 52.33Mb (2610 downloads)
FSX and P3Dv4/5 Sikorsky S-92A HM Coast Guard. 6 variants of S-92A deployed the UK Coast Guard. Full 2D cockpit. Full virtual cockpit and cabin, including crew station in the cabin. Includes floation system, engine covers, emergency exits, and many other details. Complete package except for sound (sound via alias). Full PDF manual. By David Allan
Posted Nov 30, 2020 02:01 by David Allan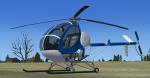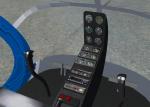 6.35Mb (18700 downloads)
FEATURES: - fully Native FSX - forgiving and stable yet nimble flight dynamics - Animated pilot , pedals , sticks and doors - multiple paints with a repainters master texture included - Dynamic VC *Tested using Acceleration and DX9 ; compiled with the FSX SDK for FSX ONLY *By Bruce Fitzgerald
Posted Oct 2, 2020 19:58 by Bruce Fitzgerald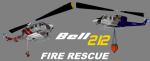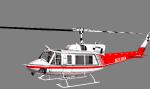 238.06Mb (1119 downloads)
This pack is a model converted and modified version of the Bell 212 (based off the Hovercontrol 412) by George Arana. I have converted it to P3Dv4 native and made a few new model variations and added a slew of repaints and P3D native features. Such as a working hoist, FLIR camera, water drop effects, and Helicopter Autopilot. This pack does include firefighting models, but some SAR versions are also in this package with the ability to attach a bambi bucket. This pack has 7 models and total of 19 versions to choose from to fly. liveries from the following operators are in this pack. Alpes-Maritime, Cal fire, Wildcat, Kestrel, McDermott, Kachina, Rogers, Ventura County Sheriff, San Bernardino County Sheriff, TAF, Nevada Div. of Forestry, Coulson, San Diego Fire Dept., SAR, and a blank version for repainting. Some operators have multiple liveries. Original model by George Arana. Converted to P3D native by Nicholas Mitchell and George Arana. Built in P3Dv4.5, untested in V5.
Posted Aug 14, 2020 17:57 by Nicholas Mitchell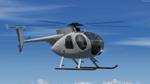 126.04Mb (895 downloads)
Originally designed by Peter and Tamas Nemeth (Nemeth Designs), now available as P3DV4 native models. Features 16 models, PBR, bump mapping, virtual cockpit. Converted using Model Convertor X (MCX) Please see enclosed documents for additional credits and information. By Eagle Rotorcraft Simulations
Posted Aug 9, 2020 12:17 by George Arana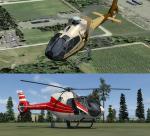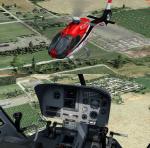 40.98Mb (3306 downloads)
FSX/P3D Eurocopter EC-120B Pack 2. Liveries: BB (Flycom), Eagle Flight, ERA Helicopters, PH-RBC (Private). Original Nemeth Designs FS2004 payware EC120B converted to FSX native by Eagle Rotorcraft Design. Textures: Tony Cannon, N. Lepelaar. FSX and Prepar3D v5 and previous compatible.
Posted Jul 30, 2020 09:09 by anon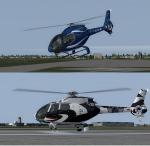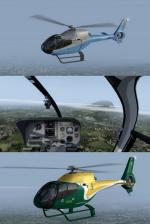 39.89Mb (2903 downloads)
FSX/P3D Eurocopter EC-120B Pack 1. Liveries: Helistar, South African National Parks, OE-XOO Euro Heli, F-GJIR. Original Nemeth Designs FS2004 payware EC120B converted to FSX native by Eagle Rotorcraft Design. Textures: Vincent Ghyssens, Mangiavcca, Chris Brisland. FSX and Prepar3D v5 compatible.
Posted Jul 23, 2020 13:17 by anon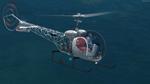 34.14Mb (655 downloads)
Originally for FS2002, then FS2004. Now available as P3Dv4 native taking advantage of specific features such as bump mapping, PBR and self shadowing. Converted using Model Converter X. By Eagle Rotorcraft Simulations
Posted Jul 16, 2020 15:29 by George Arana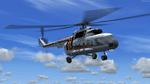 59.54Mb (819 downloads)
Formally a Nemeth Designs payware product, then released as freeware for Microsoft Flight Simulator 9 (FS2004 ACOF). Now available as P3DV4 (no PBR) native taking advantage of specific features such as bump mapping, specular mapping and self shadowing. Converted using Model Converter X. By Eagle Rotorcraft Simulations
Posted Jun 19, 2020 13:27 by George Arana