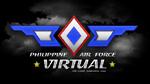 11.43Mb (1633 downloads)
Philippine Air Force OV-10 Bronco. Model and Panel by Tim Conrad.. Repaint by Dan Magsino. It contains three(3) PAF textures. Standard, Low vis, and Camou..
Posted Jan 7, 2011 03:42 by Dan Magsino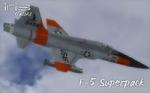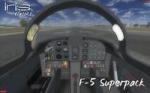 78.67Mb (10119 downloads)
IRIS F-5 Superpack The IRIS F-5 Superpack was developed back in 2003 for Microsoft Flight Simulator 2004: A Century of Flight. Like most of the Classics range, this aircraft is still fantastic fun, and a nostalgic look back at some of the earlier days of IRIS Flight Simulation Software.
Posted Dec 15, 2010 09:25 by Soaring Falcon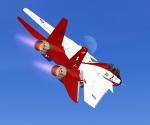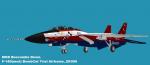 7.70Mb (2221 downloads)
A fictional repaint for the fantastic IRIS F-14, An imaginary trials aircraft. Comes with an optional replacement panel utilizing Scott Printz excellent HUD. This repaint goes in the F-14B folder. Enjoy.
Posted Dec 9, 2010 08:09 by Gary J.Scott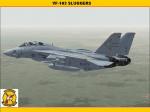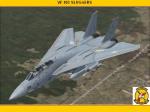 38.03Mb (2972 downloads)
This is the newest paint scheme for the VF-103 Sluggers AA201. I've left the BuNo and nose # alone and repainted the whole aircraft. New stuff, I've painted the entire fusalage, the pilots helmets (even added the sqadron patch to the flight suits), the tail art, squadron designation on the pectoral fins, and added the gull gray numbers to the flaps (just like they were in the '80s).
Posted Nov 29, 2010 14:54 by Kelly McKernan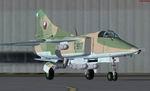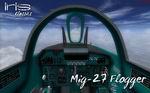 46.87Mb (13757 downloads)
The Mikoyan MiG-27 "Flogger-D/J" is a ground-attack aircraft, originally built by the Mikoyan design bureau in the Soviet Union and later license-produced in India by Hindustan Aeronautics as the Bahadur ("Valiant"). It is based on the Mikoyan-Gurevich MiG-23 fighter aircraft, but optimized for the air-to-ground role. Detailed model with comprehensive VC. Ex payware from Iris Simulations. No longer supported.
Posted Nov 27, 2010 03:27 by Soaring Falcon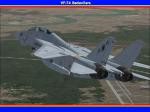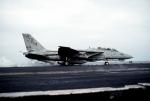 39.40Mb (2435 downloads)
This is for the Iris F-14A. these are the textures for the VF-74 Bedevilers. VF-74 was formed in the 1950's, they flew everything from the F4-u Corsair to the F-4 Phantom. They recieved their first F-14 in 1983 and flew them until the squadron was dismantled in 1994. This particular aircraft BuNo 161870, started life as an F-14A. Later in 1990, it was rebuilt to "B" model standards. Which included the new GE powerplants. This aircraft flew with VF-74 until 1994 where it found a new home with VF-142 and then VF-32 where it retired in August of 2002. A special thanks goes out to Emilio who created a fantastic 'dirty' paint version of this aircraft.
Posted Nov 26, 2010 12:53 by Kelly McKernan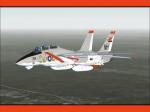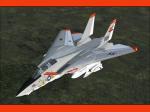 4.74Mb (1268 downloads)
This is the old 2-tone "Great white shark" paint scheme for the freeware (ex-payware) Iris F-14A. The bottom 1/3 of the fusalage is white. The Buno and tail ID are the same as the last model I submitted. I just touched up some little details.
Posted Nov 23, 2010 00:49 by Kelly McKernan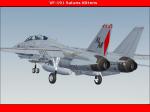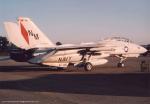 5.71Mb (1153 downloads)
This is the textures for the freeware Iris F-14A. VF-191 Satan's Kittens tail #NM101. VF-191 and her sister squadron VF-194 were the shortest lived F-14 squadrons in history. Both being activated in 1986 and both being deactivated in 1988. Although they didn't last long as F-14 outfits, both VF-191 and VF-194 served in WWII, Korea and Vietnam. The latter flying the venerable F-8E Crusader until 1968 where they transitioned to the F-4 Phantom. They were deployed aboard the USS Ticonderoga (CVA-14). Both squadrons were deactivated from service in 1978.
Posted Nov 22, 2010 11:36 by Kelly McKernan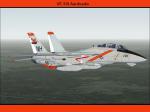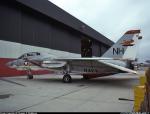 36.04Mb (1193 downloads)
After submitting the last texture package, I went through and changed some things. I painted the flaps white, painted the inside of the pectoral fins orange repainted the tail fin art, painted the windscreen frame black, painted various little pieces, changed the ui_type to VF-114 Aardvarks and I changed the atc_id to 159852 to match the BuNo. You'll need the Iris F-14 freeware. I apologize for the last upload.
Posted Nov 16, 2010 11:14 by Kelly McKernan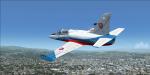 0.96Mb (539 downloads)
Config update for Tim Conrads L-29 Delfin (or for L-39 Albatross by Vit Storch / Dough Bree design beta version). I have updated almost everything. Weights (empty, max take off) - position of weights - flight dynamics - volume and position of tanks - engine parameters (position, fuel flow, time of reaction, thrust) - contact points (more exactly defined and added some more) - eye position and few more details - there is also updated panel.cfg file in this pack. It makes instrument panel more accurate.
Posted Nov 10, 2010 04:33 by Michal Lubiscak