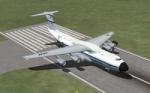 0.09Mb (1995 downloads)
Views ( defined by camera definitions in the aircraft.cfg file ) for the beautiful Lockheed C-5A Galaxy. Original model by Kazunori Ito. Unfortunatly there are no VC. 13 cameras pointing at the aircraft, 1 in the cargo bay and a total of 3 views in the virtual cockpit. See Read me.txt file for very easy installation procedures. And finally two more files - Available.pdf and Top 20.pdf for informations about my "camera definitions" packages.
Posted Jun 19, 2012 02:02 by Marc Renaud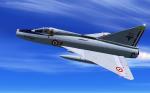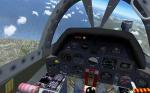 14.05Mb (8844 downloads)
FSX/FS2004 SNCASE SE-212 Durandal, full package, by Patrice Grange. The SNCASE Durandal was a prototype fighter designed and built by the French aircraft manufacturer Sud-Est Aviation (SNCASE) during the fifties. The prototype first flew on 20 April 1956. The Durandal was able to reach a speed of 1667 km/h. However, the program, like a few other ones, was cancelled to the benefit of Dassault Aviation's Mirage III... This is a shame, since it was an amazing aircraft! The model has full moving parts and animations (control surfaces, gears, spoilers, canopy, dragchute, weapons, ladder, ejection, ...) + a custom panel compatible with FS2004 and FSX + a VC. Fully compatible with both FS2004 and FSX (SP2).
Posted Jun 16, 2012 11:31 by Patrice Grange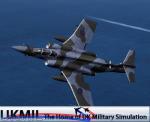 4.90Mb (3203 downloads)
This patch will fix the reversed ailerons if you downloaded V3.3
Posted Jun 14, 2012 10:15 by UKMIL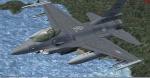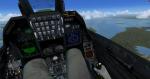 42.67Mb (30733 downloads)
The Lockheed Martin F-16 Fighting Falcon (VIPER) Colorado ANG (140th FS) package. Original by Kirk Olsson adapted to use in FSX by Danny Garnier. Textures by Zsolt Beleznay. Revised June 2012. Complete aircraft with panel including working radar shows vAI traffic, panel VC, drag chute, and realistic F-16 sound. This is Kirk Olsson's superb VIPERDEN F-16 with most gauges replaced to it can be used in FSX. Now you have a working Virtual flight deck (VC) and 2d panel. Please approve gauges when asked. Updates by Danny Garnier
Posted Jun 14, 2012 08:26 by Garnier D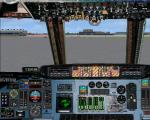 56.68Mb (21416 downloads)
I updated Kazunori Ito's FS 2004 C-5 package for FSX. I added texture thumbnails, updated the config file for the autopilot and auto brake systems. I also added the LOCKHEED C5 Galaxy and C141 StarLifter panel by Philippe WALLAERT and the C-5 sound pack by Christoffer Petersen. 2D Panel ONLY, No VC Panel.
Posted Jun 14, 2012 02:09 by Michael E. Roberts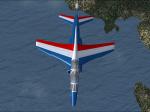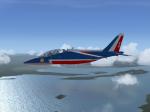 1.90Mb (1505 downloads)
FSX/FS2004 Alphajet Patrouille de France No.1 textures only. Patrouille de France is the aerobatic demonstration team of the French Air Force. Requires the original model by LCO, JP Bourgeois, Jean-Pierre Langer, Jean-Pierre Bourgeois, Benoit M. Dube
Posted Jun 13, 2012 01:34 by PhilippeKREH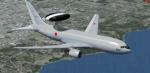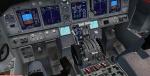 59.19Mb (11844 downloads)
Japan Air-Self Defence Force Boeing E-767 84-3504. Upgraded to FSX using Alrot's revised Boeing 737-800 VC. This model includes Working wipers (right mouse click on switch) with rain effect. Switches for LCD Screens, EICAS, PFD, MFT. Autobrake switch. Opening pilots window. Cabin Lights switch. Realistic FMC. Ground Proximity Warning System (GPWS), More Realistic night textures. Model features High resolution textures, Dynamic flexing wings, Body gear steering, Nose gear steering, Rudder lock, Ground spoilers, Low speed aileron locks at high speed, Fully animated control surfaces, Fully independent suspension, Trim Animation, Opening Passenger Doors, Animated tilting bogies, Rolling wheels, Animated thrust reverser's with reverser block doors, Detailed textures, Full night lighting, Crash affects, Ground Service Vehicles And more. Included custom Boeing 767 sounds! Painted by Yosuke Ube FSX native model by Skyspirit. VC by Alejandro Rojas Lucena (Alrot). Modified for FSX by Chris Evans.
Posted Jun 10, 2012 07:09 by Chris Evans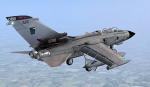 3.07Mb (2472 downloads)
FSX Royal Air Force Tornado 617 Sqn photoreal textures Photoreal textures for 617 SQN RAF Lossiemouth in the UK. Requires the freeware Tornado by ukmil Textures by ukmil
Posted Jun 7, 2012 08:22 by UKMIL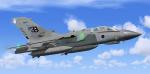 3.60Mb (1071 downloads)
FSX Royal Air Force Tornado GR4 2 Sqn Photoreal textures. Photoreal textures for 2 SQN RAF Marham Requires the freeware Tornado by ukmil Textures by ukmil
Posted Jun 7, 2012 08:17 by UKMIL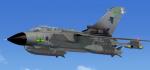 2.95Mb (693 downloads)
FSX Royal Air Force Tornado GR4 9 Sqn Photoreal textures. Photreal textures for 9 SQN RAF Marham Requires the freeware Tornado by ukmil Textures by ukmil
Posted Jun 7, 2012 08:13 by UKMIL