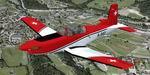 0.79Mb (1090 downloads)
This is a repaint for the newly released PC-7 V.20 by Tim "Piglet" Conrad. Thanks to Piglet for this wonderful model and great paintkit. Repainted by Vincent van Yperen.
Posted Aug 8, 2010 05:03 by Vincent van Yperen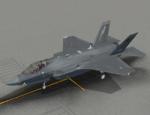 38.36Mb (1431 downloads)
This is a (yet) fictional RNLAF livery (textures only) for the payware FSX F-35A by Dino Cattaneo. While the Dutch government still debates if and when the F-16AM/BM in the RNLAF fleet will be replaced by either the F-16 advanced, the SAAB Gripen NG or the LM F-35A, the government already approved the purchase of a single F-35A for test and training purposes. The current government agreement talks already mention the purchase of a second test-vehicle. However, due to the global financial crisis the government possibly won't decide to purchase the F-16 replacement batch for another 4 years. In order to provide the current FSX owners a peek into the future (by the time the first F-35 rolls out on Dutch soil, Windows Vista, Windows 7 and FSX are already long obselete), i already made my first F-35A by Dino in a RNLAF livery. It represents a F-35A in Volkel based 312 Sqn colours.
Posted Aug 6, 2010 13:44 by Rene Spaan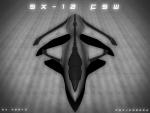 7.01Mb (8155 downloads)
This is an experimental plane that has foward swept wings and no tail. It is very manueverable and some times hard to control. It has a slight tendency to pitch up at low speeds, so look out... Enjoy! Made by Ricardo Batalha. Gauges from Kirk Olsson's F-16.
Posted Aug 6, 2010 10:47 by Ricardo Batalha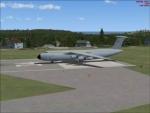 (4159 downloads)
C-5M Super Galaxy Canadian Air Force. FS2004 Model by Mike Stone updated for FSX -- 2d panel but no VC. Textures by Michael White. Sound Pack by Mike Hambly . Flight Dynamics and Data by Douglas E. Trapp.
Posted Aug 3, 2010 15:20 by Douglas Trapp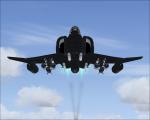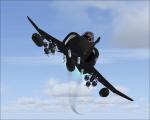 0.45Mb (5487 downloads)
FSX compatible engine smoke effect for the Ito/Rooks F-4 Phantom II such as the "VX-4 Black Bunny" below and the Rooks "Israeli Air Force" models, both available here at Simviation. Easy installation. By Tom Tiedman
Posted Jul 29, 2010 06:06 by Tom Tiedman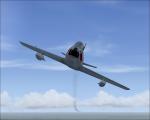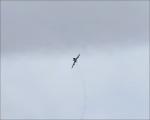 0.20Mb (1553 downloads)
FSX compatible F-86 Sabre engine smoke effect. After multiple requests, an alternative engine smoke effect for the FS2004 Kirk Olsson F-86 Sabre when used in FSX, any version of which you must have previously installed in FSX. Easy Installation. By Tom Tiedman
Posted Jul 27, 2010 17:08 by Tom tiedman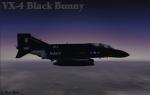 14.16Mb (7686 downloads)
This is a Repaint of Kazunori Ito's F-4 Phantom II For Flight Simulator X. This is a F4 Phantom of squadron VX-4 Test and Evaluation Squadron the VX-4, and VX-5 squadrons were commissioned in 1951. and based at NAS China Lake, California. The Vandy 1 aircraft traditionally was the one test airplane painted a special black-navy blue these famous BLACK aircraft carried the rabbit head as its tail code and were known as "Black Bunny" .This Phantom II has new afterburner Effects and a new panel Textures and Updates by Mark Rooks of RDG Aircraft. No VC. Black Bunny PKG includes History and Pictures VX-4
Posted Jul 24, 2010 00:30 by Mark " Fireball " Ro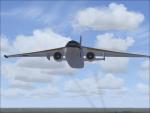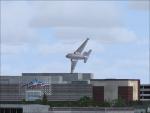 0.46Mb (2161 downloads)
FSX compatible engine smoke effect for the IRIS Freeware Lockheed S-3B Viking, which you must have previously installed in FSX. Easy installation. By Tom Tiedman
Posted Jul 22, 2010 08:12 by Tom Tiedman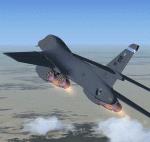 2.31Mb (1705 downloads)
This aircraft was delivered to the 384th Bomb Wing at McConnell AFB, Kansas on February 3, 1988. When the 384th was disbanded 86-0126 was transferred to Dyess AFB where it joined the 28th BS of the 7th BW. There is was renamed "Hungry Devil". This texture set requires the Virtavia B-1B Lancer for FSX.
Posted Jul 21, 2010 14:49 by Frank Safranek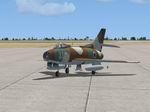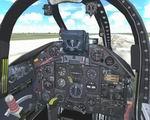 47.31Mb (9532 downloads)
FSX Acceleration Mystere IVA. The MD454 Mystere IVA was a fighter developed and produced from 1953 by the French company Avions Marcel Dassault (AMD). It was an evolution of the Ouragan and MystereII with however major aerodynamic changes to improve transonic performance. It was the first French supersonic fighter even if the passage of sound barrier could be obtained only through a slight dive. It was used by the French Air Force as well as India and Israel. By Andre Chancel and the Restauravia team.
Posted Jul 20, 2010 19:30 by Andre Chancel