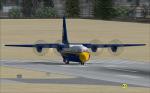 0.00Mb (3414 downloads)
Additionnal views ( defined by camera definitions in the aircraft.cfg file ) for the beautiful C130J-30 Super Hercules by Premier Aircraft Design. 4 cameras pointing at the aircraft and 3 additional cameras inside. See Read me.txt file for very easy installation procedures. Also included is a text file that contains the new camera definitions. Enjoy !
Posted Nov 14, 2010 10:03 by Marc Renaud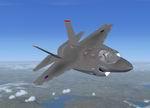 65.71Mb (34855 downloads)
F-35 JSF Joint Strike Fighter Package. Developed by Iris Simulations as payware back in 2005 for FS2004. Released as freeware and no longer supported. The Lockheed Martin F-35 Lightning II is a family of fifth-generation, single-seat, single-engine stealth multirole fighters. When it enters service it will be the most advanced fighter aircraft in the world, performing ground attack, reconnaissance, and air defense missions. The F-35 has three main models; one is a conventional takeoff and landing variant, the second is a short take off and vertical-landing variant, and the third is a carrier-based variant. Works in FSX too without problems. Very high quality ex payware. Fully functioning VC, highly detailed model with verticle takeoff capability. FSX thumbnails. Multiple models and liveries.
Posted Nov 13, 2010 10:11 by Chris Evans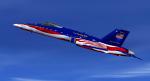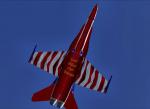 1.26Mb (1554 downloads)
Patriotic repaint of the default F/A-18 in Accelleration. This was a labor of love, not only for FSX and Flight sim in general, but for the country I served for 20yrs of my life. This is dedicated to all our men and women who have served or are serving our country with pride and many sacrifices.
Posted Nov 11, 2010 22:09 by Albert P. Wydeen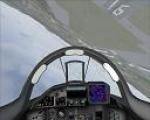 0.06Mb (3366 downloads)
FSX SP2 vc_glass Texture update for Danny Garnier's Iris Mig29 FSX update (fixed - apologies)
Posted Nov 9, 2010 15:17 by Tim Scott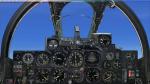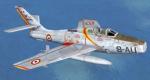 6.82Mb (1706 downloads)
Complete aircraft. Outstanding model by Kazunori Ito. Flight dynamics by K. Ito, tweaked by Jean-Pierre Langer and Jean-Luc Peters. Comprehensive widescreen 2D panel by J.L. Peters, based on J.P. Langer's 4:3 panels. FSX compatibel gauges by J.P. Langer. USAF livery by K. Ito, great FAF repaint by Jean-François Martin.
Posted Nov 7, 2010 13:48 by Jean-Luc Peters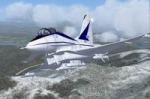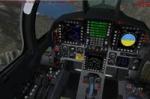 11.96Mb (15702 downloads)
FSX/FS2004 British Aerospace EAP Package. The British Aerospace EAP was a technology demonstrator aircraft developed as a private venture in the 1980s and which eventually formed the basis for the Eurofighter Typhoon. Ex payware model by Iris. No longer supported.
Posted Nov 6, 2010 15:11 by Soaring Falcon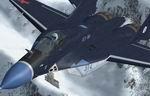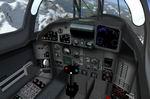 12.79Mb (15198 downloads)
FSX update for the wonderful freeware Iris Mig29 Fulcrum Package. Makes the Mig 29 flyable in FSX without warnings and with a working VC. Panel.cfg updated to include only FSX compatible gauges. No incompatible gauges included! Also included textures with thumbs. Requires the Iris Mig29 Fulcrum Package. Danny Garnier.
Posted Nov 5, 2010 11:19 by GARNIER D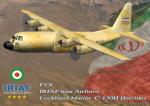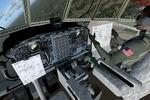 22.83Mb (17979 downloads)
IRIAF Iran Airforce C-130 C3 package. 40 years in service in Iran. Original C-130 model by Brian Franklin/Simshed and updated by Eduardo Fadul. Panel updated for FSX by Danny Garnier. Now you can fly the best freeware C-130 in your FSX. IRIAF Iran Airforce repaints by Arman Riazat.
Posted Oct 31, 2010 19:09 by Arman Riazat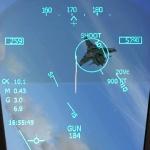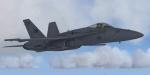 13.62Mb (39412 downloads)
This is the Acceleration F/A-18 Hornet equipped with 20mm M61 cannon and a fully functional air-to-air gun mode found in the real F/A-18. With the two radar modes, the two gun sights and the flying tracers, the virtual dogfight will be very similar to a real one. You will not be able to shoot down other aircraft, but you will receive an immediate indication on your HUD if a bullet hit the bandit. The flight model is unchanged from the Acceleration F/A-18 except for allowing manually controlled flaps and reducing the arresting wire tension for smoother carrier landings. The HUD is an upgrade of the Realistic F/A-18 HUD by Jivko Rusev and Scott Printz, which allows ILS and TACAN navigation for aircraft carriers. You will also get a couple of additional gauges - an In-Flight Refueling Gauge, PLAT Camera and a Carrier Landing Gauge. By Jivko Rusev.
Posted Oct 29, 2010 23:33 by Jivko Rusev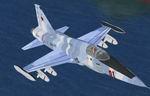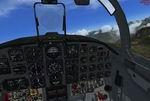 18.58Mb (6337 downloads)
FSX F-5 Freedom Fighter VFC-13 Saints package. Updated version of Mark Rooks repaint of Tim Conrads F-5. Fixed eyepoint view and added Tim's original VC. This is a Repaint of Tim Conrad's F-5 Freedom Fighter For Flight Simulator X Painted in a low luster Desert Camo Paint Scheme of The VFC-13. The VFC-13 Saints provides quality adversary training for regular Navy fleet and replacement squadrons and air wings, reserve fighter and attack squadrons, U.S.A.F. and U.S.M.C. units,. In 1994, the Fighting Saints Received a Battle "E" award. In April 1996, The Saints made the transition to the F-5E/F Tiger II Textures by Mark Rooks of RDG Aircraft Package Includes Pictures of the Actual Aircraft and Squadron History. Updated by Chris Evans October 2010.
Posted Oct 29, 2010 08:06 by Chris Evans