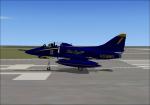 26.40Mb (5302 downloads)
Blue Angels A-4 Skyhawk 1980's Blue Angels Team livery. Adapted from a FS2004 model by Kanazouri Ito. No VC
Posted Jan 26, 2011 18:20 by Brody Carlson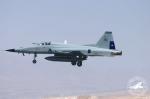 4.25Mb (1425 downloads)
F-5 Tiger Fach Chilean Air Force textures only for the freeware Iris F5.
Posted Jan 24, 2011 13:54 by Boanerge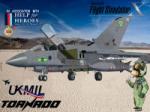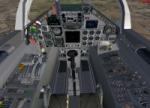 37.63Mb (20652 downloads)
UKMIL Tornado Package - Shared Files Base Package. This pack contains the SHARED files. You will also need one of the aircraft packs below to use this aircraft.This aircraft has many features which will be explained in the live online manual. The VC is functional and accurate. We have also included a 2D panel for those that still fly that way. One unique feature is the Loadout system, which is completly customisable. The pack comes with many of the special paint schemes for both the GR4 and GR1 aswell as some special IDS schemes. Many others will be release later. It currently comes with a front seat VC - and the rear seat is being constructed and will be available as a club member download later.
Posted Jan 24, 2011 08:30 by UKMIL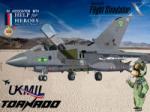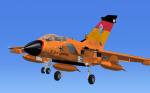 11.28Mb (4306 downloads)
UKMIL Tornado IDS German version of the UKMIL Tornado for FSX. You need the Shared files base pack to use this file. Please donate to Help for Heroes if you download this
Posted Jan 24, 2011 07:39 by UKMIL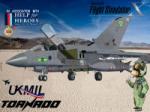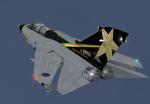 22.42Mb (4104 downloads)
GR4 package for the UK Mil Tornado for FsX. You need the Shared files base pack to use this file. Please dontate to help for heroes
Posted Jan 24, 2011 07:33 by UKMIL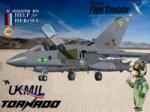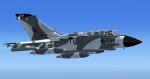 24.42Mb (3395 downloads)
Tornado GR1 expansion pack for the FSX UK Mil Tornado package. You need the Shared files base pack to use this file. Please donate to Help for Heroes, as detailed in the pack
Posted Jan 24, 2011 07:14 by UKMIL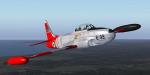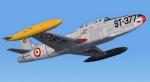 6.13Mb (5894 downloads)
A variant of Lockheed's F80 "Shooting Star" the T-33A have been the most widely used tandem two-seat advanced trainer in the world. It has been supplied to the air arms of some twenty-five countries, and built under licence in Japan by Kawasaki, (210 machines) and in Canada by Canadair as the CL-30 Silver Star (T-33AN), (656 examples). The parent company had manufactured a total of 5,691 T-33A and T-33B trainers when the last was delivered in August 1959, the latter being a version for the U.S. Navy.The prototype flew for the first time on March 22, 1948. Full package includes: Aircraft,Textures and panel: Massimo Taccoli FD files : by Dennis Seeley Gauges : Dennis Seeley & Massimo Taccoli
Posted Jan 18, 2011 10:02 by Massimo Taccoli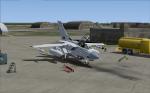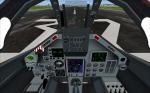 83.89Mb (14948 downloads)
Pre-Released as freeware by Iris. Re-Uploaded for those who don't have the fixes for the foggy VC Glass. I have inverted Alpha Channeling, added rearseat, overshoulder VC views and port intake external view. Panel conversions by Danny Garnier. Other mods by 'Hotzoner'
Posted Jan 17, 2011 15:27 by HOTZONER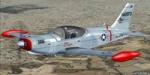 2.17Mb (6335 downloads)
The Siai-Marchetti SF-260 is a light aircraft marketed as Light attack/aerobatic military trainer. It was designed by (the great) STELIO FRATI. First flight of the prototype on July 15, 1964. The model :Features , the usual animations, such as flight controls, spinning wheels, pilot scannig the sky etc, plus two textures, the orange texture is the Italian Air Force test pilots scool the other is the 'Usa Air Combat' livery that i tried to imitate. The textures and panel have been created entirely from drawings or photos found on internet or shots taken by myself .The Virtual Cockpit is provided with working essential gauges and animated flight controls. Giovanni Quai
Posted Jan 15, 2011 10:13 by Giovanni Quai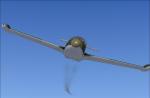 0.07Mb (1022 downloads)
An FSX compatible engine smoke system for the Tim Conrad freeware Morane Saulnier MS-760, which you must have previously installed in FSX. Easy installation. By Tom Tiedman
Posted Jan 15, 2011 06:06 by Tom Tiedman