0.92Mb (4362 downloads)
FSX only small fix to my Mirage G8 package, by Patrice Grange. This will fix the opacity of the overhead collimator. If you don't like the opacity of your overhead collimator in the VC of the Mirage G8, or just if you want more visibility forward, this small fix will make your collimator transparent. That's all ! Designed only for my last Dassault Mirage G8 and only for FSX.
Posted Jul 13, 2008 05:33 by archive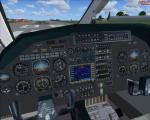 8.41Mb (14596 downloads)
FS2004 (FSX compatible) single seat Mirage G8, complete package totally reworked, with full moving parts, animations, custom panel and a full virtual cockpit. By Patrice Grange, July 2008. This is a total rework of my former Mirage G8 released 1 year ago. Model completely renewed to be more realistic and accurate, new textures, new animations (ejection, flaps, pilot ladder, air intake cones, opening trapdoors in the fuselage to have visibility on the engines, ...), realistic Matra missiles, and - last but not least - addition of a complete virtual cockpit. The Dassault Mirage G8 was a twin engine fighter with variable sweep wings ("swing wings"), a very singular design for a Dassault aircraft. The Mirage G8 flew for the first time on May 8th, 1971, and demonstrated immediately an impressive level of performance, reaching Mach 2.04 during its 4th flight ... The G8 was one of the guest stars during Paris Air Show in 1971. Unfortunately, only two prototypes were built (1 two seats and 1 single seat, this one) before the decision to stop the program because of its cost and complexity ... The model has full moving parts and animations (control surfaces, wings, gear, spoilers, flaps, canopy, pilot ladder, ejection, fuselage trapdoors, air intake cones, steering wheels, landing lights, ...), an original custom 2D panel (an original bitmap by me) and a full VC. Designed by Patrice Grange. See fix below
Posted Jul 12, 2008 05:03 by archive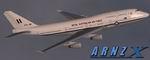 0.67Mb (3011 downloads)
RAAF - Royal Australian Air Force (Fictional) repaint for the default Boeing 747-400 By Jon Murchison
Posted Jul 10, 2008 11:37 by archive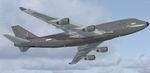 1.68Mb (7866 downloads)
KC10 - United States Air Force (Fictional) repaint for the default Boeing 747-400 By Jon Murchison
Posted Jul 9, 2008 05:00 by archive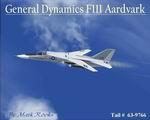 15.25Mb (13421 downloads)
This is a Repaint of Mike Stones F-111 Aardvark Modified for Flight Simulator X.. The Paint scheme is of General Dynamics first F-111 to fly . Tail # 63-9766 flew it's maiden flight December 21 1964, crewed by Dick Johnson and Val Prahl General Dynamics Test Pilots Aircraft was painted Originally in a white / grey paint scheme This aircraft is preserved at Edwards AFB CA in the AFFTC Museum lot. Aircraft Package includes new flight dynamics and a new 2d panel and effects. No VC. Pictures and History of the original Aircraft included .By Mark Rooks of RSDG Aircraft
Posted Jul 8, 2008 10:21 by archive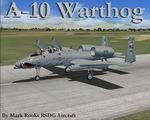 33.17Mb (47812 downloads)
This is Kazunori Ito's A-10 Warthog Modified For Flight Simulator X . This Aircraft is the 455th Air Expeditionary Wing based at Bagram Air Base Afghanistan . Note: No VC. Includes a New 2d Panel ,Textures and FSX Updates by Mark Rooks of RSDG Aircraft Package Includes Pictures and History of the actual USAF Aircraft.
Posted Jul 8, 2008 10:21 by archive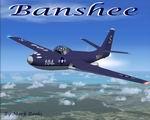 13.26Mb (5218 downloads)
This is Kazunori Ito's FH2 Banshee Modified For Flight Simulator X . This Aircraft is painted in fictional U.S. Navy colors. includes new effects and a New 2d panel (No VC) ..Textures and Updates by Mark Rooks of RSDG Aircraft Package Includes Pictures of U.S. Navy Aircraft
Posted Jul 8, 2008 10:09 by archive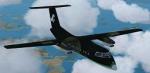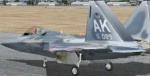 3.43Mb (5128 downloads)
USAF RAPTOR TAIL FLASHES, PART 2. This package contains "tail textures only" to represent the two F-22 Raptor jets from Holloman AFB and one Raptor jet from Elmendorf AFB. The fighter Squadron (FS) at Holloman which flew the retired F-117, such as the 7th FS of the 49th Fighter Wing, now fly raptors. The 90th FS, Pair-O-Dice, fly the F-22 at Elmendorf AFB, Alaska. These are repaints of Kazunori Ito's excellent F-22 Raptor. DL Tarboxer's F22thuv2.zip contains the other textures and panel required for completing this jet and may be obtained here: http://www.simviation.com/fsxmilitary3.htm. Otherwise, obtain the orginal Kazunori Ito's jet here: http://www.simviation.com/fs2004military36.htm File size is 3.43 MB
Posted Jul 6, 2008 16:02 by archive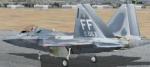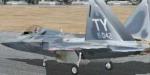 4.57Mb (10563 downloads)
USAF F-22 Raptor Tail Flashes, PART 1. This package contains "tail textures only" to represent the two F-22 Raptor jets from Tyndall AFB and two Raptor jets from Langley AFB. The 27th Fighter Squadron (FS), Fighting Eagles, 94th FS, Hand-in-the-ring Gang, and the 149th Virginia ANG, the Rebel Riders, fly the F-22s at Langley. The 45th FS, the American Hornets and the 95th FS, Boneheads, fly the F-22 at Tyndall AFB, Ohio. These are repaints of Kazunori Ito's excellent F-22 Raptor. DL Tarboxer's F22thuv2.zip contains the other textures and panel required for completing this jet and may be obtained here: http://www.simviation.com/fsxmilitary3.htm. Otherwise, obtain the orginal Kazunori Ito's jet here: http://www.simviation.com/fs2004military36.htm
Posted Jul 5, 2008 00:37 by archive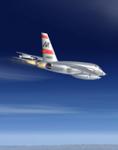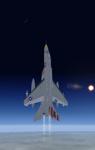 23.70Mb (26990 downloads)
The A-5 Vigilante was an advance carrier-based supersonic bomber with a massive 34,000lbs of thrust. Most noted as the primary nuclear strike bomber during the '60s and (Most noteably) the Cuban Missile Crises, the Vigilante was a large leap in carrier-based aircraft technology - everything but an undercooked, underdeveloped bird. The vigilante was known by ship crews to recreate the sun during night time on an after burner takeoff. rnrnThis is a COMPLETE FSX aircraft for the North American Vigilante. Includes list of original authors & previous update authors. No other files are needed for this download to ease the installation process. She flies great. Sounds great too! NO LearJet sounds, real RA-5C sounds included. I have successfully used some add-on gauges and panels with the plane...rnrnAuthors: Massimo Altieri, Bob Chicilo, and Spencer Johnson
Posted Jul 4, 2008 18:51 by archive