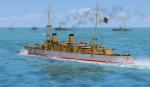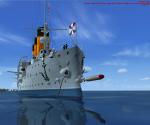 22.69Mb (421 downloads)
FSX/Accel/FS2004/P3dv3 Package WWI warships part 3 with pilotable and ai-vessels of the US-, Russian and Royal Navy. This comes with the pre-WWI warships USS Olympia, the Aurora, known from the russian revolution and the famous and at this time very modern HMS Dreadnought. All pilotable simulation ships has plenty of animations and a virtual navigation bridge. More than twenty cameras let you explore the detailed vessels and the virtual decks. Ship and weapon effects are included. The included ai-models are supposed to be used with the great tool "Ai-carriers2" or it can be used for boat traffic files. FSDS 3.5 models made by Erwin Welker
Posted Oct 13, 2019 04:23 by Erwin Welker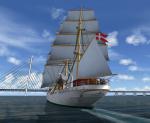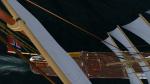 11.46Mb (392 downloads)
FSX/Accel//P3dv3 Pilotable full-rigged tallships Danmark and Sorlandet. This are traditional sail training vessels from the thirtees. Both beautyful ladies are still in service sailing with a little main crew and about eighty trainees. Both ai-ships are made by Henrik Nielsen and belongs to his huge ai-fleet traffic package "Global_AI_Ship_Traffic_V2.zip" which contains almost 1100 AI ships and AI ship traffic routes for the entire globe for P3D and FSX. This pilotable versions has a 2D panel, virtual decks and mast views, alltogether about twenty cameras which let you explore the detailed ship. The modifications for a pilotable boat and the camera and effect configuration is made by Erwin Welker
Posted Oct 9, 2019 04:09 by Erwin Welker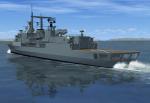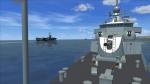 6.56Mb (621 downloads)
FSX/Accel//P3dv3 Pilotable Argentinian MEKO-360 Destroyer Almirante Brown or Sarandi. This ai-ships are made by Henrik Nielsen in native FSX format and belongs to his huge ai-fleet traffic package "Global_AI_Ship_Traffic_V2.zip" which contains almost 1100 AI ships and AI ship traffic routes for the entire globe for P3D and FSX. This pilotable versions has a 2D panel and for FSX a simple virtual navigation bridge, fourteen camera views, sound, effects and airfiles. The modifications for a pilotable vessel are done by Erwin Welker
Posted Sep 26, 2019 04:23 by Erwin Welker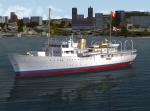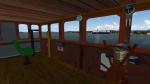 6.28Mb (1008 downloads)
FSX/Accel//P3dv3 Pilotable Norwegian Roayal Yacht NORGE. The ai-ship is made by Henrik Nielsen in native FSX format and belongs to his huge ai-fleet traffic package "Global_AI_Ship_Traffic_V2.zip" which contains almost 1100 AI ships and AI ship traffic routes for the entire globe for P3D and FSX. This pilotable version has a 2D panel and as interior a virtual navigation bridge, twelve camera views, sound, effects and airfiles. The modifications for a pilotable vessel are done by Erwin Welker
Posted Sep 26, 2019 03:18 by Erwin Welker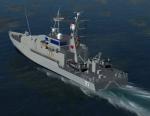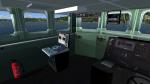 52.96Mb (610 downloads)
FSX/Accel//P3dv3 Pilotable Australian patrole boat HMAS Armidale. It is one of thirteen ships of this class. The ai-ship is made by Henrik Nielsen and belongs to his huge ai-fleet traffic package "Global_AI_Ship_Traffic_V2.zip" which contains almost 1100 AI ships and AI ship traffic routes for the entire globe for P3D and FSX. This pilotable version has a 2D panel, a virtual navigation bridge, a few animations, sound, effects and airfiles. The modifications for a pilotable vessel is made by Erwin Welker
Posted Sep 26, 2019 02:38 by Erwin Welker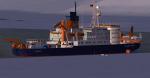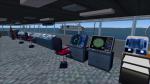 36.73Mb (544 downloads)
FSX/Accel/FS2004/P3dv3 Pilotable polar science and research icebreaker Polarstern (Polar star). This German vessel of the Alfred Wegener Institute for Polar and Marine Research/Bremerhaven was commissioned in 1982 and is mainly used for research in the Arctic and Antarctica. On 17th October 2008, Polarstern was the first research vessel ever traveled through both the Northeast Passage and the Northwest Passage in one cruise plus circumnavigating the North Pole. The model has a 2D panel and a complete virtual navigation bridge and a lot of very special animations: Breaking ice at the bow, a splitted ice wake behind the stern, a Bell 206B Jetranger helicopter can be pushed out of the hangar to the heli deck, four animated cranes, one is lifting a container onto the ice field and a polar bear mother with its child is walking near the ship. Twentyfive cameras let you watch all those animations and explore the ship. Original icebreaker sounds let you enjoy discovering ice fields. Saved flights for FSX and P3dv3 at northern Canada on an icefiled approaching open sea are included. Special ship gauges are made by Jean Pierre Carosin, FSDS model and animations by Erwin Welker
Posted Jul 17, 2019 06:15 by Erwin Welker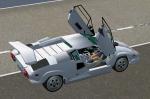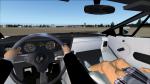 18.66Mb (795 downloads)
FSX/Acceleration/P3dV3 Lamborghini Countach LP500S. This was one of the most exiting serial produced super sport cars of that era, built between 1982 and 1985. The model has a photorealistical 2D panel and a matching VC. The special gauges, effects and lights are made by Pierre J. Carosin. The FSDS 3.5 models with panels is made by Erwin Welker.
Posted Jun 23, 2019 07:10 by Erwin Welker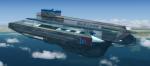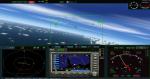 44.62Mb (560 downloads)
This is a VERY large carrier. Bigger then most airports. It was originally made for FSX but works in P3D 4 if you use the FSX to P3D Migration tool. This was the "SERVER" aircraft used on the Black Ice Air server several years ago. Be prepared to add lot of down trim when spawning. After it settles down it flies SLOW but smooth. Landing on it is sketchy due to FSX issues I haven't worked out ...Yet INSTALLER SET FOR P3D Uninstaller available after install. (This files is a self installing .exe file which simviation has scanned with Norton and found to be safe).
Posted Jun 2, 2019 17:07 by GEORGE VENTURINI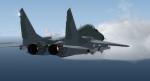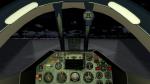 16.57Mb (325 downloads)
Changes and modifications for the MiG-29 aircraft configurations as posted by Danny Garnier on May 29, 2019. NOTE: updates have only been tested in P3Dv3. I detected radios were not functioning and in VC there were no panellights... So... Major most notable changes are VC panel lights for flying at night, radar gauges, VC camera view, better Radios, Ref and Check kneeboard files, engine heat glow effect, extra model with working missile animation, and more. Cockpit sounds and Nadia callouts probably only for P3Dv3 users or you must.... See Update-1.txt for Installation. See 'Credits.txt' in the Docs folder for everyone I could think of to pay respect. See there 'Changelog-P3Dv3.txt' for all the changes and modifications made. This is an update only, you will need the original aircraft. Assembled by: Flanker256.
Posted Jun 2, 2019 09:38 by Flanker256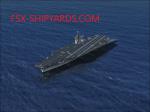 2.59Mb (773 downloads)
FSX - Nimitz-Class Carrier Version 4 (Pilotable Version). Compatible with FSX and P3D up to V3 (Not V4). This New Version comes in 4 Models, 2 with Clear Flightdecks and 2 with FA-18's on the Flightdeck. Also included is Animated Flag, Radar, Blast Shields, Carrier Side Lifts, Updated Flightdeck, Updated Hull, Updated Textures, AutoPilot and much more.
Posted May 7, 2019 20:56 by James Harris