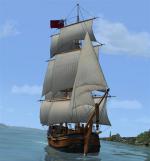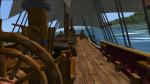 58.66Mb (857 downloads)
HMS Bounty - FSX Native - VERSION 2.0 by Milton Shupe, Nigel Richards, Rob Barendregt, Sasha Rieger, and Rob Ibey. Helmsman by Craig "Full" Richardson Thanks to Roman Stoviak for XML conversion assistance. HMS Bounty 18th Century Tall Ship square rigger completely wind driven, individually animated and controlled sails, animated flags with direction and wind speeds, animated helm, and Sail Management Window to control all ship functions. Ship responds to wind speeds and direction with yaw, keeling, and pitch depending on sails deployed and yard arm positions. Ambient sounds, variable wind and gale storm sounds, ship's bell, "Salute", anchor weigh/drop all add to immersion. NOTE: FSUIPC Not Required for the HMS Bounty to work. 64-bit code included for P3DV4+ users Read the HMS Bounty Replica.pdf for operational controls.
Posted Jan 5, 2019 04:34 by Milton Shupe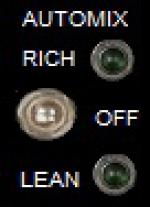 0.05Mb (153 downloads)
Automixture Switch for panels using Bjorn Kesten's excellent code for automix calculation. By his permission to freely distribute or modify. Select for either auto rich while climbing or auto lean for cruising. Indicator lights to show which mode is active.
Posted Dec 24, 2018 09:26 by Brett Clearwaters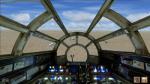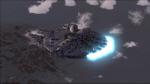 60.85Mb (1071 downloads)
Reworked 2D panel with new selfmade gauges, basic Autopilot, GPS,reworked booster effects, new engine and other selfmade sounds! Please read more in the documentation files! Thanks to Dean Crawford for his great Millennium Falcon, Bruce Fitzgerald for his flight dynamics editing work, Philippe Wallaert for the Autopilot, Erwin Welker for the laser effects and new in-/exterior views and Doug Dawson for his groundwork, that i can make so much "sound nonsense"!
Posted Dec 21, 2018 02:46 by Lonestar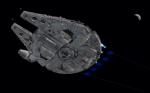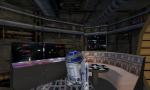 0.21Mb (869 downloads)
FSX/P3D Added views and effects for the Millennium Falcon from Dean Crawford. Thirteen camera views showes the great interior and exterior of this new Starwars fighter with effects from different persons. Configuration by Erwin Welker
Posted Dec 14, 2018 01:51 by Erwin Welker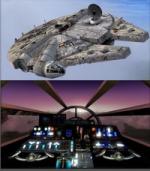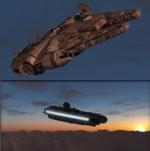 83.46Mb (3104 downloads)
Pilot the fastest hunk of junk in the galaxy! Hi-def 3D model, Virtual Cockpit, custom sounds and scenery for Docking Bay 94 included. Model and textures by Dean Crawford. Sound and 2D panel by "Lonestar". FDE by Bruce Fitzgerald
Posted Dec 7, 2018 01:51 by Dean Crawford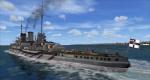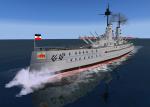 11.78Mb (935 downloads)
FSX/Accel/FS2004/P3dv3 Package WWI warships part 1 with pilotable- and ai-vessels of the german imperators navy. This comes with the battlecruiser SMS SEYDLITZ from 1912 and the dreadnought battleship SMS KOENIG from 1913. My KOENIG is a reworked and improved version and should replace my modell from January 2015. Both ships has plenty of animations, a 2D and a virtual navigation bridge. More than twenty cameras let you explore the beautyful ships and the virtual decks. Ship and weapon effects are included. The included ai-models are supposed to be used with the great tool "Ai-carriers" or it can be used for traffic files. Part 2 & 3 will follow in early 2019 with boats from USA, Great Britain, Russia and Austria. FSDS 3.5 model made by Erwin Welker
Posted Nov 29, 2018 02:50 by Erwin Welker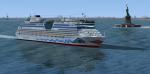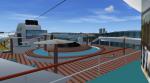 20.11Mb (1243 downloads)
FSX/Acceleration/P3dV3/FS2004 Cruise ship AIDALUNA. She is one of thirteen ships of AIDA cruises (German branch of Carnival cruises) and has a length of 252 m, runs about 23 knots and has a capacity for about 2400 passengers. The package contains a pilotable boat with 2D panel and a virtual navigation bridge plus an ai-version. The pilotable vessel provides twentyfour cameras which let you explore all the sun decks. FSDS 3.5 models and 2D panel by Erwin Welker
Posted Nov 5, 2018 04:03 by Erwin Welker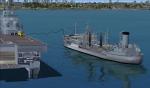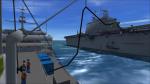 6.65Mb (609 downloads)
FSX/Accel/FS2004/P3d.V3 AI-Fleet oiler USS Caliente AO53. This vessel is a tanker of the US Navy, based on the cimarron-class from 1939. It has the original length of 169 m whilst the USS Mispillion (available from Earl Watkins) and seven more other ships became "jumboized" between 1964 and 67 with an extended length of 30 m and almost double capacity. USS Caliente served until 1973. My ai-ships are reworked models from Earl Watkins, one is ready to supply another vessel with a fueltube ready for refueling. This ai-vessels are supposed to be used with the great tool "Aicarriers2.zip" from Lamont Clark. Since my navbridge I use personaly is a copyrighted 360 degree look around panel I can not provide my pilotable version to the public, sorry! Original Mispillion (MDL & textures) by Earl Watkins, reworked and shortend by Erwin Welker.
Posted Jul 9, 2018 05:01 by Erwin Welker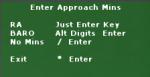 1.72Mb (1179 downloads)
Approach CallOuts consists of two Lua scripts and a sound folder with wav files that work together to provide altitude, gear and flap settings, and approach minimums (Decision Height) audio callouts on an approach to landing. The altitude callouts are at Radio Altimeter (RA) heights of 2000, 1000, 500, 400, 300, 200, 100, 50, 40, 30, 20, and 10 ft. At 800ft RA (a user settable value) you get a callout of current flap and gear positions. There is no gear callout if the aircraft has a fixed gear. The minimums callout may be based on a RA or BARO (MSL) altitude. A registered (payware) copy of FSUIPC is required to execute the Lua scripts.
Posted Feb 16, 2018 18:47 by Al Klayton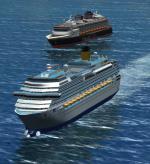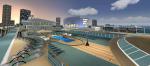 89.93Mb (484 downloads)
P3d upgrade package for eleven of the best pilotable passenger ships, originally proposed for FS2004 or FSX. Tested in P3d 3.5.5 only! The upgrade consist of new panel- effect- and camera configuration for compatibility to P3d 3.5. Some of the ships has original virtual nav bridges, some FSX native Interior nav bridges and one is without a virtual nav bridg. Seven of the ships are completly included, the other four has to be downloaded from original source due to copyrights but I include my upgrades. Filenames and links are included. You can find all at Flightsim.com, Simviation.com or fs-shipyards.org. This ships are prepared for P3d: Wappen von Hamburg, MS Artania, Disney Magic, Le France, QueenMary2, Freedom of the Seas, Rhapsody of the Seas, MS Funchal, MS Deutschland, Costa Favalosa, Le Boreal and MSC Sinfonia. All ships has up to thirty decks- extra external- and virtual nav-bridge views. Models by Mitsuya Hamaguchi, Henrik Nielsen, Fausto Yturria and Erwin Welker. Sound and Effects by different authors. 2D Panels, effect- and camera configuration by Erwin Welker.
Posted Jan 3, 2018 03:41 by Erwin Welker