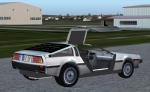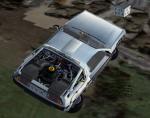 30.49Mb (1258 downloads)
FSX/Acceleration/FS2004/P3d.V3 Package DeLorean Cars. The bare metal DMC-12 series with its gullwing doors was built in Northern Irland between 1981 and 1982. Very famous became that car with the three "Back to the future" movies. This package contains three models: The default model and two Back to the future-models which can be driven as a car or flown as a STOL aircraft with animated gear. One is with external FSX camera views, the other one allows passing a time tunnel. Regarding the girl on the side of Dr. Brown it seems the timejump goes back to the 50th. All models comes with photorealistic 2D panels and equal VCs. Simultaniosly to the gear the dashboard changes from car- to aircraft gauges. The FSDS 3.5 models with panels are made by Erwin Welker. The special gauges and lights are made by Pierre J. Carosin.
Posted May 9, 2018 04:31 by Erwin Welker
0.94Mb (167 downloads)
Fix for HMS Hood with weapon switchboard. Now the required gauges are included, the Panel.cfg includes the FSX lookaround configuration and the Smoke effects in the Aircraft.cfg differs correctly for FS2004 and the other simulators. Sorry for inconvienience! Erwin Welker
Posted May 1, 2018 12:10 by Erwin Welker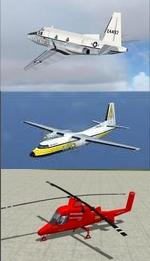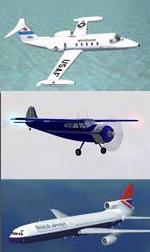 89.74Mb (840 downloads)
This is a collection of about 107 of Mike Stone's aircraft that I've collected & posted for posterity. Mike's planes were basic but very flyable & a lot of fun. 107 aircraft included - covering about all types from jetliners, military and props.
Posted Apr 11, 2018 06:22 by Robin Meyerowitz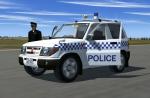 2.10Mb (455 downloads)
Quality Police Vehicle textures only for Mitsuya Hamaguchi's (Hama) Mitsubishi Pajero. I wanted to create a police car for UK use, but given the constraints of the texture files and my limited abilities, this has turned out a sort of UK / Australian hybrid. More Australian, in fact. Complete with uniformed cop (yep, ..definitely Australian), I've also tidied up the interior a bit. These were created in P3Dv2.5, but should work fine in FSX and FS9 (Not P3Dv4). Textures only - you will need Hama's original Pajero installed.
Posted Apr 6, 2018 08:00 by Gary Phillips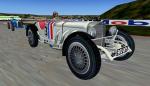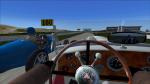 17.61Mb (796 downloads)
FSX/Acceleration/FS2004/P3d3.5 Package of Vintage Racing Cars. The package contains a Mercedes SSKL from 1931; one of the fastest and powerful cars of that era, a Bugatti 35b from 1927; winning over 1,000 races in its time and as third model a duel between this two racers. All models comes with photorealistic 2D panels and equal VCs; the SSKL even with animated hood and original engine. The FSDS 3.5 models with panels are made by Erwin Welker. The vintage gauges, lights and FDE tuningw are made by Pierre J. Carosin.
Posted Apr 2, 2018 03:33 by Erwin Welker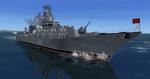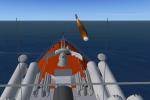 18.37Mb (1014 downloads)
FSX/Accel/FS2004/P3d Soviet Cruiser Slava. Three of ten planned ships of the soviet Slava class were built between 1976-79. With a length of 186 m it carrierd 16 containers for SS-N-12 missiles, 64 vertical launchers for SA-N6 missiles and two twin launchers for SN-4 missiles, a 130 mm twin gun, six 30mm guns plus a Kamov Ka-27 helicopter for anti submarine warfare. The cruiser reaches with a power of 130.000 sHp a speed of 32 knots. After modifications Slava was renamed to Moskva and she and her 2 sisters are still serving the russian navy. The sim model has a lot of animations (controlled by a switchboard) inluding missile launches of all three types and a Kamov Ka-27 helicopter which is deployed out of the hanger doing take offs and landings. Twenty four camera views let you explore the decks and enjoy the animations. FSDS-model, panel-, camera- and weapon configuration by Erwin Welker. Weapon switchboard by J.P.Carosin
Posted Mar 7, 2018 04:19 by Erwin Welker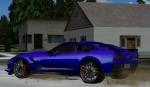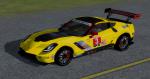 24.87Mb (845 downloads)
FSX/Acceleration/FS2004/P3d3.5 Package Chevrolet Corvette C7 "Stingray" sport and racing car. The 2014 Chevrolet Corvette C7 (seventh generation) is the first to bear the name "Stingray" since the third generation 1968 model. The package contains models for the default street car and a racer; each model with different cockpits and both versions in five colours. The FSDS 3.5 models with panels and base colours in default red and the yellow racer are made by Erwin Welker. All other repaints, realistic special C7 gauges and special light effects are made by Pierre Carosin.
Posted Feb 15, 2018 05:31 by Erwin Welker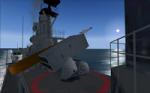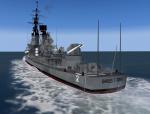 12.41Mb (278 downloads)
FS2004 Destroyers Charles F. Adams Class and Moelders. This ships were a guided missile destroyer class of 23 ships for the US Navy, 3 for the Royal Australian Navy and 3 for the West German Bundesmarine; built between 1958 and 1967. The ships were powered with 2 steam turbines a 26.000 kW and armed with 2x127 mm guns, a launcher for 8 ASROC missiles and a single or double launcher for Tartar or Harpoon missiles. Only Charles F. Adams and Moelders survived as museum ships, but all of the others have been sunk as targets, sunk for diving wrecks or sold for scrap. This addon contains two pilotable ships in the style of the 70th. The FS2004 version has a photorealistic 2D panel with seven look around views on the flybridge and eight on other decks. Both boats has many animations with animated guns, radars, ASROC and Tartar launchers with missile launches. The differnce to my Adams class package are the FS9 compatible textures and this addon here has no ai-models included. The weapon control switchboard and most of the gauges are made by Pierre Carosin, the FSDS 3.5 models with the photoreal 2D navigation bridge are made by Erwin Welker.
Posted Nov 23, 2017 04:08 by Erwin Welker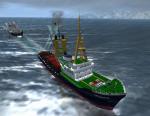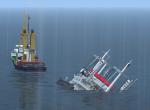 21.75Mb (932 downloads)
FSX/Acceleration/FS2004 package salvage tug boat OCEANIC with freighter in emergency. The OCEANIC is in service since 1969. Most of the time under German flag. She was and is one of the biggest and most powerful offshore salvage tugboats worldwide. She is almost 88 m long, 17.500 HP strong and more than 20 knots fast. The freighter is one of the German Cap San-class vessels from the same era. The package contains two pilotable versions (solo and towing a vessel) with 2D navigation bridge and VC and two ai-versions. The freighter of the pilotable version is animated with three different key commands. It is in the users hands if the towed vessel will stay in a modest emergency or if the ship will capsize and sink. FSDS 3.5 models by Erwin Welker
Posted Oct 8, 2017 07:00 by Erwin Welker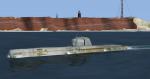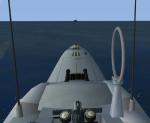 19.11Mb (1333 downloads)
FSX/Acceleration/FS2004 (probably also P3Dv3) German U-Boat Type XXI. It was a class of German diesel-electric submarines from 1943-45 with a length of 76.7 m. It was the most sophisticated submarine that time with a great hydrodynamical design for conning tower, hull and guns which allowed up to 17 knots submerged speed, improved batteries and powerfull 3.700 kw electro motors allowed a range of 15500 nmi. The technic included snorkel, sonar- and radar detectors and a radar transmitter plus an electric torpedo-reloading system. The boat entered the war too late to succeed in any battle but the design directly influenced advanced post-war submarines of nations like USA, UK, France and Soviet Union. The only surviving boat is Wilhelm Bauer (ex. U-2540) which is now a museum ship in Bremerhaven/Germany. The FS-model has many animations including sub merging. 2D periscope panel graphics combined with camera views allows 360° look around and zoom functions plus watching the submerging from the eyepoint of the commander. From the attack periscope a torpedo, with a delayed explosion effect, can be launched. Optional ten more original submarine sounds can be activated by R.L. Clark's sound switches like: Rough sea, hatch, merging, diving, submerging, sonar-pings, torpedo launch and attackes by depth charges; even movie soundtrack is possible. Some extra sounds are included but due to the copyrights some specials sounds are not included but they can all easyly downloaded at boataces.com. FSDS 3.5 model with 2D panel view and a simple virtual central by Erwin Welker.
Posted Sep 24, 2017 05:50 by Erwin Welker