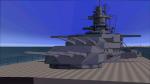 6.25Mb (1112 downloads)
FS2002/FS2004 features for the pilotable german battleship Scharnhorst. Complete ship included. This is originaly a CFS2-ship from the package kreigsmarine.zip from James Smith and Bruce Baker. My AddOn provides a pilotable ship with bridge, 6 deck views, sounds and special effects. Bitmaps and configuration by Erwin Welker
Posted Jun 22, 2012 03:29 by Erwin Welker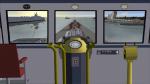 7.05Mb (1995 downloads)
FS2002/FS2004 features for the pilotable german heavy cruiser Prinz Eugen. Complete ship included. It accompanied the battleship Bismarck, which has sunk the HMS Hood. This is originaly a CFS2-ship from the package kreigsmarine.zip from James Smith and Bruce Baker. My AddOn provides a pilotable ship with bridge, 6 deck views, sounds and special effects. Two views showes an Arado-196 placed onto the catapult. Bitmaps and configuration by Erwin Welker
Posted Jun 22, 2012 03:24 by Erwin Welker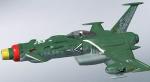 1.90Mb (1161 downloads)
FS2002/FS2004 SW-190 Space Wolf. Science Fiction Animation Plastic Model Series No.36. This plane is based on the Japanese comic and animation "Space Pirate Captain Herlock". The SW-190 Space Wolf is a small single seat high speed space fighter, loaded onto the Space Battle Ship "Arcadia". It was designed on the base of a Focke Wulf FW-190 German fighter aircraft from WW2 and shows many design sensibility. The Space Wolf has proven to be a very effective weapon against the Mazone fighters. by Kazunori Ito.
Posted Jun 20, 2012 16:45 by kazito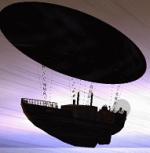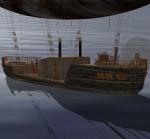 31.55Mb (1818 downloads)
Go flying or sailing. Introducing the Spindrift - heavily inspired by Captain Shakespear's ship in the movie 'Stardust', but quite different. Great for low & slow or awesome fishing - or have the bad guy walk the plank (exit) at 5000'. Created by Glenn Crowell (hark).
Posted Mar 30, 2012 07:31 by Glenn Crowell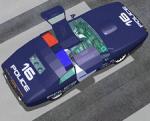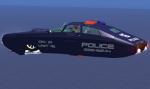 25.01Mb (4727 downloads)
Stratocruiser. Police Interceptor version manufactured by Hark Aerospace. Retracting wheels, gull-wing doors & working copcar lights. Lots of fun on the ground or in the skies. VTOL or standard take-off & landing capability. A nod to 'Blade Runner', & a fun Anim8or & gmax build. Cruises around 350 - 400 knots. Go for a canyon run between the skyscrapers of New York or the cliffs of western Canada, & have a riot fighting crime from the ground or the skies. Conceived & realised by Glenn Crowell (hark).
Posted Mar 30, 2012 06:50 by Glenn Crowell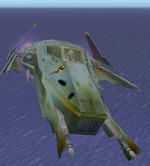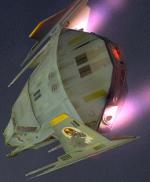 9.03Mb (2243 downloads)
Introducing the Hammerhawk, a compact and deadly starfighter manufactured by Hark Aerospace. Sporting three twin sets of energy weapons and extraordinary maneuverability and speed, she's a force to be reckoned with. Full VTOL capability. Often called 'the snubnose', the Hammerhawk is small enough to hangar by the hundreds aboard various larger Air-Carriers, making her a perfect compact fighter or ship-killer. Concept and design by Glenn Crowell (hark). Built mostly in 'Anim8or', textured and animated in gmax. Most textures from scratch. Custom afterburner treatment by RD/Ardie. Uses default Lear panel and sounds. No custom panel. No VC.
Posted Mar 30, 2012 00:09 by Glenn Crowell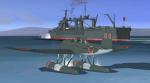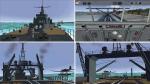 1.01Mb (286 downloads)
FS2002/FS2004 added views for panel for pilotable Japanese Seaplane tender Nisshin (seaplanetender-nisshin.zip required). The CFS2 warship of WWII is available from Usio no Ibuki. My new panel provides now 5 new deck views, an improved bridge plus AA-gun- and Remote fire control views. Bitmaps and configuration by Erwin Welker Requirements: seaplanetender-nisshin.zip
Posted Feb 22, 2012 09:11 by Erwin Welker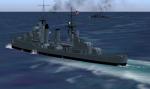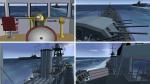 6.43Mb (740 downloads)
FS2002/FS2004 features for pilotable destroyer USS Porter (download from Usio no Ibuki required). My files can also be used for the USS Selfridge. Both are very detailed CFS2 models without VC. They are from Masazumi Kaneko from Usio no Ibuki. My AddOn provides a pilotable ship with bridge, 10 deck views, sounds and special effects. Bitmaps and configuration by Erwin Welker
Posted Feb 12, 2012 13:01 by Erwin Welker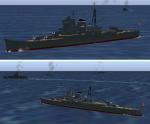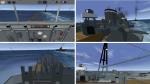 6.90Mb (541 downloads)
FS2002/FS2004 Features for pilotable IJN heavy cruiser Kumano (download from Usio no Ibuki required). The most graphics of this AddOn can also be used for the cruisers Mogami or Suzuya. All those are very detailed CFS2 warships from Masazumi Kaneko from Usio no Ibuki in a high quality but without VC. My AddOn provides a pilotable ship with bridge, AA-gun-, remote firecontrol- and 10 deck views, sounds and special effects. Some views showes a Aichi Jake seaplane on top of the starboard catapult. Bitmaps and configuration by Erwin Welker Ext. Link: http://www.geocities.jp/usio_no_ibuki/index.htm
Posted Feb 6, 2012 13:43 by Erwin Welker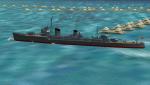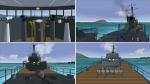 5.70Mb (407 downloads)
FS2002/FS2004 features for the pilotable WWII IJN destroyer Kagero (download from Usio no Ibuki required). This Addon can also be used for the other ships of that class like Yukikaze, Fubuki and Hatsuyuki. This are very detailed CFS2 models without VC. They are from Masazumi Kaneko from Usio no Ibuki. My AddOn provides a pilotable ship with bridge, AA-gun-, Fire control- and 5 deck views, plus sounds and special effects. Bitmaps and configuration by Erwin Welker Ext. Link: http://www.geocities.jp/usio_no_ibuki/index.htm
Posted Jan 26, 2012 04:11 by Erwin Welker