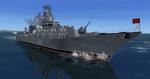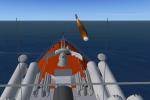 18.37Mb (1318 downloads)
FSX/Accel/FS2004/P3d Soviet Cruiser Slava. Three of ten planned ships of the soviet Slava class were built between 1976-79. With a length of 186 m it carrierd 16 containers for SS-N-12 missiles, 64 vertical launchers for SA-N6 missiles and two twin launchers for SN-4 missiles, a 130 mm twin gun, six 30mm guns plus a Kamov Ka-27 helicopter for anti submarine warfare. The cruiser reaches with a power of 130.000 sHp a speed of 32 knots. After modifications Slava was renamed to Moskva and she and her 2 sisters are still serving the russian navy. The sim model has a lot of animations (controlled by a switchboard) inluding missile launches of all three types and a Kamov Ka-27 helicopter which is deployed out of the hanger doing take offs and landings. Twenty four camera views let you explore the decks and enjoy the animations. FSDS-model, panel-, camera- and weapon configuration by Erwin Welker. Weapon switchboard by J.P.Carosin
Posted Mar 7, 2018 04:19 by Erwin Welker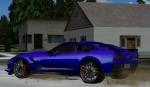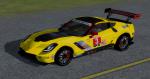 24.87Mb (1076 downloads)
FSX/Acceleration/FS2004/P3d3.5 Package Chevrolet Corvette C7 "Stingray" sport and racing car. The 2014 Chevrolet Corvette C7 (seventh generation) is the first to bear the name "Stingray" since the third generation 1968 model. The package contains models for the default street car and a racer; each model with different cockpits and both versions in five colours. The FSDS 3.5 models with panels and base colours in default red and the yellow racer are made by Erwin Welker. All other repaints, realistic special C7 gauges and special light effects are made by Pierre Carosin.
Posted Feb 15, 2018 05:31 by Erwin Welker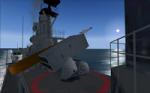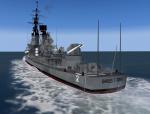 12.41Mb (377 downloads)
FS2004 Destroyers Charles F. Adams Class and Moelders. This ships were a guided missile destroyer class of 23 ships for the US Navy, 3 for the Royal Australian Navy and 3 for the West German Bundesmarine; built between 1958 and 1967. The ships were powered with 2 steam turbines a 26.000 kW and armed with 2x127 mm guns, a launcher for 8 ASROC missiles and a single or double launcher for Tartar or Harpoon missiles. Only Charles F. Adams and Moelders survived as museum ships, but all of the others have been sunk as targets, sunk for diving wrecks or sold for scrap. This addon contains two pilotable ships in the style of the 70th. The FS2004 version has a photorealistic 2D panel with seven look around views on the flybridge and eight on other decks. Both boats has many animations with animated guns, radars, ASROC and Tartar launchers with missile launches. The differnce to my Adams class package are the FS9 compatible textures and this addon here has no ai-models included. The weapon control switchboard and most of the gauges are made by Pierre Carosin, the FSDS 3.5 models with the photoreal 2D navigation bridge are made by Erwin Welker.
Posted Nov 23, 2017 04:08 by Erwin Welker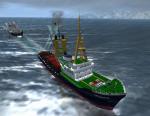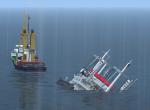 21.75Mb (1132 downloads)
FSX/Acceleration/FS2004 package salvage tug boat OCEANIC with freighter in emergency. The OCEANIC is in service since 1969. Most of the time under German flag. She was and is one of the biggest and most powerful offshore salvage tugboats worldwide. She is almost 88 m long, 17.500 HP strong and more than 20 knots fast. The freighter is one of the German Cap San-class vessels from the same era. The package contains two pilotable versions (solo and towing a vessel) with 2D navigation bridge and VC and two ai-versions. The freighter of the pilotable version is animated with three different key commands. It is in the users hands if the towed vessel will stay in a modest emergency or if the ship will capsize and sink. FSDS 3.5 models by Erwin Welker
Posted Oct 8, 2017 07:00 by Erwin Welker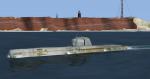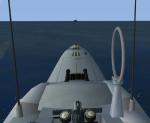 19.11Mb (1547 downloads)
FSX/Acceleration/FS2004 (probably also P3Dv3) German U-Boat Type XXI. It was a class of German diesel-electric submarines from 1943-45 with a length of 76.7 m. It was the most sophisticated submarine that time with a great hydrodynamical design for conning tower, hull and guns which allowed up to 17 knots submerged speed, improved batteries and powerfull 3.700 kw electro motors allowed a range of 15500 nmi. The technic included snorkel, sonar- and radar detectors and a radar transmitter plus an electric torpedo-reloading system. The boat entered the war too late to succeed in any battle but the design directly influenced advanced post-war submarines of nations like USA, UK, France and Soviet Union. The only surviving boat is Wilhelm Bauer (ex. U-2540) which is now a museum ship in Bremerhaven/Germany. The FS-model has many animations including sub merging. 2D periscope panel graphics combined with camera views allows 360° look around and zoom functions plus watching the submerging from the eyepoint of the commander. From the attack periscope a torpedo, with a delayed explosion effect, can be launched. Optional ten more original submarine sounds can be activated by R.L. Clark's sound switches like: Rough sea, hatch, merging, diving, submerging, sonar-pings, torpedo launch and attackes by depth charges; even movie soundtrack is possible. Some extra sounds are included but due to the copyrights some specials sounds are not included but they can all easyly downloaded at boataces.com. FSDS 3.5 model with 2D panel view and a simple virtual central by Erwin Welker.
Posted Sep 24, 2017 05:50 by Erwin Welker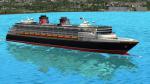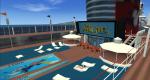 20.39Mb (1451 downloads)
FSX/Acceleration/FS2004 Cruise ship package Disney Magic. She was the first cruiseship of the Disney Cruise Line. She sails under the flag of Bahamas since 1998. She has a length of 294 m, a power of 57600 kw allows 24 knots of speed and the ship carries 945 men of crew and up to 3600 passengers, mostly families with children. The colors of the boat and the two chimneys honors the classical style of the trans Atlantic liners like "Queen Elisabeth" or "United States". The package contains a pilotable version with 2D navigation bridge and a ai-versions. UPDATED to include FS2004 specific files. FSDS 3.5 models and 2D panel by Erwin Welker
Posted Sep 17, 2017 05:16 by Erwin Welker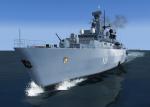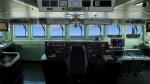 18.08Mb (1620 downloads)
FSX/Acceleration/FS2004 German frigate F217 BAYERN, a ship of the Brandenburg-class. The package contains two pilotable and two ai-versions; one ai-boat with a helicopter flying circles above the boat. The ship is in service since 1996 and has a length of 139 m. It is armed with a 127 mm and two 27 mm guns plus different missiles and carries two Sea Lynx helicopters. The pilotable version has thirty moving parts, a photorealistic 2D-panel and a complete virtual nav-bridge. The animations shows take offs and landings of the Sea Lynx and even Exocet missile launches. Twenty four camera views let you explore all decks and the virtual bridge, let you operate all weapons and the helicopter. The gauges and the weapon switchboard are made by Pierre-Jean Carosin. FSDS 3.5 models and 2D panel by Erwin Welker
Posted Aug 20, 2017 03:18 by Erwin Welker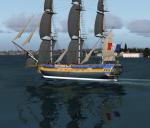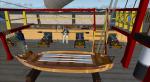 16.84Mb (996 downloads)
FSX French Frigate L'Hermione in a pilotable and in an ai-version. Marquis de La Fayette returned 1780 back to Boston to support the american colonists during the Independence War. With an overall lenght of 65 meters she was a quite big and fast warship, equipped with twenty six 12-pounder guns and some more 6- and 8 pounders. While the original was built in just eleven month the replic, laid down in 1997, was completed after seventeen years. Today she is one of the biggest wooden ships. My models represents the original one. The Sim-model is almost complete rigged with hundreds of ropes and has many animated guns, six animated stunsails and six animated crewmen. Twentyfour cameras let you explore the whole ship: The deck, the lower gun deck and the sailors views from high above in the masts. The effects allows you to fire broadsides to starboard and port seperatly. The model runs in Acceleration and in FS2004 and I guess also in P3D until version V3. FSDS 3.5 model made by Erwin Welker
Posted Aug 17, 2017 04:04 by Erwin Welker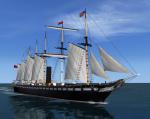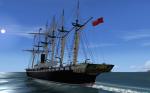 10.90Mb (1187 downloads)
FSX/Acceleration/FS2004 FSX/FS2004 Steamship Great Britain. Designed by Isambard Kingdom Brunel for the Great Western Steamship Company's on the transatlantic service between Bristol and New York from 1845 to 1854 she was with ninetyeight meters the longest and most modern passenger ship that time. She was build of iron, powered by two 500 hp engines and propelled by a screw. 360 passengers enjoyed the luxury and 120 men of crew did the job. In the decades later she run aground, carried thousands of immigrants to Australia from 1852 until converted to a square rigged sailing vessel in 1881. Three years later, she was retired to the Falkland Islands where she was used as a warehouse, quarantine ship and coal hulk (Wikipedia). Since 1970 she was returned to the Bristol dry dock where she was built. Now she is a museum ship in Bristol Harbour. The pilotable FS-boat has twentythree cameras which allows you to explore the boat on deck and from high in the masts. FSDS 3.5 model by Erwin Welker.
Posted Jul 29, 2017 03:01 by Erwin Welker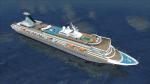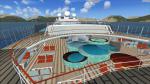 27.45Mb (1972 downloads)
FSX/Acceleration/FS2004 package cruise ship MS Artania as pilotable version and ai-version. The first name in 1984 of that beautiful ship was Royal Princess. From 2005 till 2011 she sailed under the name Artemis. Now she sails modernisized under the flag of Bahamas and the German shipping company PHOENIX-Reisen. The ship has a length of 220.6 m, a beam of 29.6 m and with a power of 23.200 kw a speed of max 22 knots. She has a crew of about 500 and takes up to 1100 passengers. I made a wonderful cruise from Bremerhaven/Germany to the fjords of Norway in May 2017. Doing 100 extra photographs, including all panels of the nav-bridge, just for the textures of this model I was able to create the most photorealistic boat with the most detailed VC nav-bridge I have ever buildt. Twenty eight camera views let you explore all the upper decks and the whole nav-bridge. The gauges are made by Pierre-Jean Carosin. FSDS 3.5 models and 2D panel by Erwin Welker
Posted Jul 19, 2017 04:58 by Erwin Welker