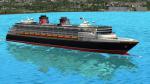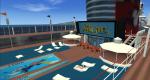 20.39Mb (1242 downloads)
FSX/Acceleration/FS2004 Cruise ship package Disney Magic. She was the first cruiseship of the Disney Cruise Line. She sails under the flag of Bahamas since 1998. She has a length of 294 m, a power of 57600 kw allows 24 knots of speed and the ship carries 945 men of crew and up to 3600 passengers, mostly families with children. The colors of the boat and the two chimneys honors the classical style of the trans Atlantic liners like "Queen Elisabeth" or "United States". The package contains a pilotable version with 2D navigation bridge and a ai-versions. UPDATED to include FS2004 specific files. FSDS 3.5 models and 2D panel by Erwin Welker
Posted Sep 17, 2017 05:16 by Erwin Welker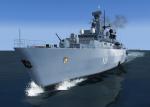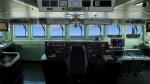 18.08Mb (1371 downloads)
FSX/Acceleration/FS2004 German frigate F217 BAYERN, a ship of the Brandenburg-class. The package contains two pilotable and two ai-versions; one ai-boat with a helicopter flying circles above the boat. The ship is in service since 1996 and has a length of 139 m. It is armed with a 127 mm and two 27 mm guns plus different missiles and carries two Sea Lynx helicopters. The pilotable version has thirty moving parts, a photorealistic 2D-panel and a complete virtual nav-bridge. The animations shows take offs and landings of the Sea Lynx and even Exocet missile launches. Twenty four camera views let you explore all decks and the virtual bridge, let you operate all weapons and the helicopter. The gauges and the weapon switchboard are made by Pierre-Jean Carosin. FSDS 3.5 models and 2D panel by Erwin Welker
Posted Aug 20, 2017 03:18 by Erwin Welker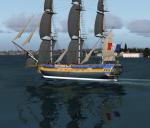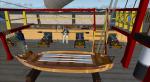 16.84Mb (798 downloads)
FSX French Frigate L'Hermione in a pilotable and in an ai-version. Marquis de La Fayette returned 1780 back to Boston to support the american colonists during the Independence War. With an overall lenght of 65 meters she was a quite big and fast warship, equipped with twenty six 12-pounder guns and some more 6- and 8 pounders. While the original was built in just eleven month the replic, laid down in 1997, was completed after seventeen years. Today she is one of the biggest wooden ships. My models represents the original one. The Sim-model is almost complete rigged with hundreds of ropes and has many animated guns, six animated stunsails and six animated crewmen. Twentyfour cameras let you explore the whole ship: The deck, the lower gun deck and the sailors views from high above in the masts. The effects allows you to fire broadsides to starboard and port seperatly. The model runs in Acceleration and in FS2004 and I guess also in P3D until version V3. FSDS 3.5 model made by Erwin Welker
Posted Aug 17, 2017 04:04 by Erwin Welker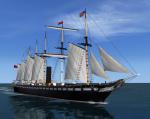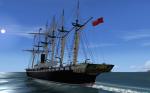 10.90Mb (984 downloads)
FSX/Acceleration/FS2004 FSX/FS2004 Steamship Great Britain. Designed by Isambard Kingdom Brunel for the Great Western Steamship Company's on the transatlantic service between Bristol and New York from 1845 to 1854 she was with ninetyeight meters the longest and most modern passenger ship that time. She was build of iron, powered by two 500 hp engines and propelled by a screw. 360 passengers enjoyed the luxury and 120 men of crew did the job. In the decades later she run aground, carried thousands of immigrants to Australia from 1852 until converted to a square rigged sailing vessel in 1881. Three years later, she was retired to the Falkland Islands where she was used as a warehouse, quarantine ship and coal hulk (Wikipedia). Since 1970 she was returned to the Bristol dry dock where she was built. Now she is a museum ship in Bristol Harbour. The pilotable FS-boat has twentythree cameras which allows you to explore the boat on deck and from high in the masts. FSDS 3.5 model by Erwin Welker.
Posted Jul 29, 2017 03:01 by Erwin Welker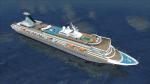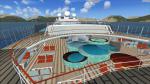 27.45Mb (1639 downloads)
FSX/Acceleration/FS2004 package cruise ship MS Artania as pilotable version and ai-version. The first name in 1984 of that beautiful ship was Royal Princess. From 2005 till 2011 she sailed under the name Artemis. Now she sails modernisized under the flag of Bahamas and the German shipping company PHOENIX-Reisen. The ship has a length of 220.6 m, a beam of 29.6 m and with a power of 23.200 kw a speed of max 22 knots. She has a crew of about 500 and takes up to 1100 passengers. I made a wonderful cruise from Bremerhaven/Germany to the fjords of Norway in May 2017. Doing 100 extra photographs, including all panels of the nav-bridge, just for the textures of this model I was able to create the most photorealistic boat with the most detailed VC nav-bridge I have ever buildt. Twenty eight camera views let you explore all the upper decks and the whole nav-bridge. The gauges are made by Pierre-Jean Carosin. FSDS 3.5 models and 2D panel by Erwin Welker
Posted Jul 19, 2017 04:58 by Erwin Welker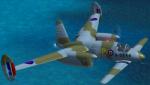 2.98Mb (642 downloads)
FS2002/FS2004 Miles M.39B Libellula. This Aircraft(from Libellulidae, a taxonomic family of dragonflies) was a Second World War tandem wing experimental aircraft built by Miles Aircraft, designed to give the pilot the best view possible for landing on aircraft carriers. A scale version of the M.39 design was proposed by Miles to meet Air Ministry specification B.11/41 for a fast bomber. The M.39B was used by Miles to generate data from which the M.39 design was improved, but the M.39 project was cancelled and the M.39B broken up. by Kazunori Ito.
Posted Mar 4, 2017 03:56 by uploader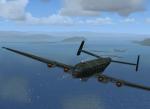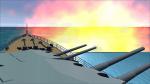 0.65Mb (270 downloads)
FS2004 Effect-Sound Option FOR FSX Effects. In most of my FS2004 addons I have configured some FSX effects. Effects like Wing guns, Explosion or 16inch ship gun comes now with proper sound in FS9. Mostly they worked visually in FS2004 but the sound which is linked to the effects did not work. Now I found a method which makes that effect sounds also functional in FS2004. Of course this option works also with those effects from other aircrafts and ships. Credits to all the persons who made that effects and sounds. My work is only to make it functional in FS2004. Solution by Erwin Welker
Posted Jun 13, 2016 06:31 by Erwin Welker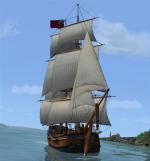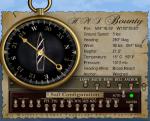 1.34Mb (691 downloads)
HMS Bounty V1.2 Update for FS9 for all previous versions Built Specifically for FS9 (an FSX version is available) by Milton Shupe, Nigel Richards, Rob Barendregt, Sasha Rieger, and Rob Ibey. Helmsman by Craig "Full" Richardson. This update simply replaces your existing Panel folder in the HMS Bounty Folder. WILL NOT WORK IN FSX as it contains FS9 specific sim interfaces. Version 1.2 upgrades: 1) Further improvements regarding wind effects on yaw and roll based on the confluence of sails deployed, wind speeds and direction relative to ship heading, yard arms angle to the wind, and ground speed. 2) Auto-Skipper greatly improved for high winds and gusts to minimize the showing/hiding of sails
Posted May 14, 2015 00:30 by Milton Shupe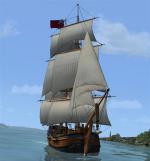 103.83Mb (944 downloads)
The HMS Bounty for FS9 - Version 1.1 Built Specifically for FS9 (an FSX version is available) by Milton Shupe, Nigel Richards, Rob Barendregt, Sasha Rieger, and Rob Ibey. Helmsman by Craig "Full" Richardson HMS Bounty 18th Century Tall Ship square rigger completely wind driven, individually animated and controlled sails, animated flags with direction and wind speeds, animated helm, and Sail Management Window to control all ship fuctions. Ship responds to wind speeds and direction with yaw, keeling, and pitch depending on sails deployed and yard arm positions. Ambient sounds, variable wind and gale storm sounds, ship's bell, "Salute", anchor weigh/drop all add to immersion. WILL NOT WORK IN FSX as it contains FS9 specific sim interfaces. NOTE: The latest version of FSUIPC is Required for the HMS Bounty to work. See the manual for link. Note: Realism settings should be set to "Hard" for best Wind Effects. Version 1.1 upgrades: 1) Even more realistic wind effects on yaw and roll based on the confluence of sails deployed, wind speeds and direction relative to ship heading, yard arms angle to the wind, and ground speed. 2) Tugboat function added 3) Corrected lights positions 4) Documentation updates
Posted May 8, 2015 14:28 by Milton Shupe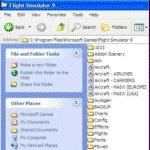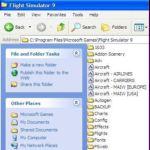 0.22Mb (1035 downloads)
FS2004 Tutorial -- A simple tutorial on speeding up FS9 when loading. The tips originate from personal experience, and extensive testing. These tips should work on any PC or laptop. They are probably most effective on "slower" PCs or laptops. However, even high-end PCs may experience considerable time-saving during FS9 loading. By Ronald Falzon
Posted Sep 18, 2014 16:59 by Ronald Falzon