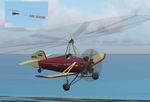 10.67Mb (4929 downloads)
FS2004 1932 Kellett K3 AutoGyro. Engine Kimmer C-5 210 hp. Rate of climb 980 ft /min. Created by Bill Smith. 11MB
Posted May 18, 2009 08:39 by archive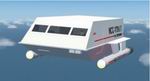 0.20Mb (2486 downloads)
FS2004 Enterprise 1701 Shuttle Update. This is my second update of the Enterprise 1701 Shuttle by Chris Herring (here). I have updated the flight dynmaics, changed the top level speed,and added a nav/GPS toggle to the panel.Bob Chicilo. 208K
Posted May 18, 2009 08:39 by archive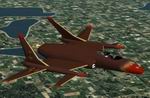 2.08Mb (2143 downloads)
FS2004/2002 BattleTech Lyzander Aerospace Fighter. A non-canon Aerospace fighter from the Taurian Concordat in the Reunification War era. Inspired by stats and fluff by Bergie. Created by Mark Walsh. 2.1MB
Posted May 18, 2009 08:39 by archive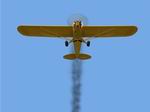 0.83Mb (3102 downloads)
FS2004 Severe engine fire effect (Pack Two) Files in this pack will simulate a severe engine fire on the following aircraft: The default Curtiss Jenny, Vickers Vimy, Ford Tri-motor, Lockheed Vega, DeHavilland Comet, and Piper cub, as well as Milton Shupe's Beechcraft D-18s and Howard 500, Edward Cook's Vickers Wellington, Bob Chicilo's Zero and Avenger (default CFS2 aircraft updated for use in FS9), and Gary Herbert's B-17G "Lazy Lucy". (No aircraft are included in this file) I took a little more time in the development of these than I did with the first pack, to give each aircraft's effect a more unique and slightly more "subtle" look. Hope you Like them! By Joe Latarski. 854K
Posted May 18, 2009 08:39 by archive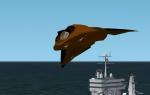 18.06Mb (9654 downloads)
FS2004/2002 Stealth - UCAV EDI The UCAV (Extreme Deep Invader) form the film 'Stealth'. It doesn't fly itself (I'm not that good :->), but it does fly. It is very reactive, and requires a feather touch to fly accurately (this is after rewatching the film's dogfights over and over. I feel it is an accurate representation of EDI's flight characteristics). Couldn't get it to hover properly (it will fly slowly, then fall out of the sky slowly. Have strengthened the gear to compensate for landings) Have added a few animations (such as cockpit, lift fan doors, and flying controls), and custom sounds. Ben Moorcroft
Posted May 4, 2009 04:19 by Ben Moorcroft
0.00Mb (6765 downloads)
This will give you around 800 new ATC callsigns for FS2004. Contains ATC callsigns for both fs2004 fictional and real world airlines.
Posted Apr 8, 2009 00:33 by Zach Gloss

11.09Mb (1004 downloads)
Creating Fuel Triggers in FS2004 - an Illustrated Tutorial. Having enough fuel is critical to the succesful completion of any flight. This tutorial will show you how to create invisible Fuel Trigger areas which can be used at any airport. When you place your aircraft in one of the trigger areas (a gate or fueling station) your tanks will be automatically filled. All required files are included and no programming knowledge is needed. If I can do do it, anyone can! Please unzip to a temporary folder of your choice and follow the simple instructions. Compiled in .DOC and .PDF formats for your flying enjoyment by David "Opa" Marshall.
Posted Feb 21, 2009 09:56 by David "Opa" Marshall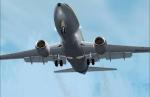 20.78Mb (15652 downloads)
Airliner environment upgrade: Autoland and Engine Exhaust System/APU (improved), Vertical Navigation, Wingtip Vortices, Auto Cabin announcements, Co-pilot touchdown assistance, Engine abuse warning, 3D cruise level condensation trails, Cold-and-dark procedure. Full installation instructions for most common freeware passenger airliners - listings included. By Martyn Becker. File size - 21MB
Posted Feb 7, 2009 13:02 by Martyn Becker
0.71Mb (9545 downloads)
Pack 2 with new texture (photorealistic) . The pack contains one Tie Fighter, one Tie interceptor, one Tie Bomber, one Tie advanced X-1(Darth Vador's aircraft).
Posted Jan 6, 2009 12:11 by philippe

0.76Mb (1241 downloads)
Creating Icons & Popup Windows - an Illustrated Tutorial. Have you ever wanted to add an icon to a panel which will "call" a pop-up window displaying a picture or chart or a gauge which is not already available? This step by step illustrated tutorial will show you how to accomplish that task. No programming knowledge is required - just a little patience. All necessary files are included. If I can can do it, anyone can. Just unzip to a folder of you choice and enjoy. This procedure has been tested in FS2004 only. Compiled in DOC and PDF formats for your flying enjoymen by David "Opa" Marshall.
Posted Jan 5, 2009 20:25 by David "Opa" Marshall