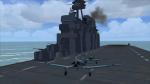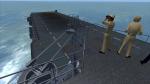 6.35Mb (2920 downloads)
FSX Pilotable WW II Aircraft Carrier USS Hornet. The ship is a detailed ai-ship, made by Yanco San. My AddOn provides a pilotable ship with bridge, sounds and special effects. You can set SBD-Dauntless dive bombers onto the flight deck and even a takeoff can be simulated in an external view or with the pilots view. Thirteen cameras let you explore the ship. Panel and configuration by Erwin Welker.
Posted Feb 1, 2013 01:06 by Erwin Welker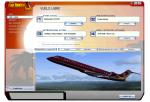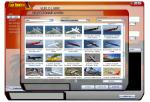 1.78Mb (3174 downloads)
A different look for the FSX user interface.
Posted Jan 27, 2013 23:32 by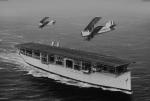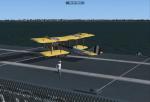 12.73Mb (4555 downloads)
Laid down on October 18, 1911, USS Langley began its life as the Proteus-class collier USS Jupiter. on December 12, 1919, the ship was decommissioned. Work began immediately to convert the ship to an aircraft carrier, which was renamed in honor of aviation pioneer Samuel Pierpont Langley on April 21, 1920. In the yard, workers reduced the ship's superstructure and built a flight deck over the length of the ship. The vessel's two funnels were moved outboard and an elevator constructed for moving aircraft between decks. Completed in early 1922, Langley was designated CV-1 and commissioned on March 20, with Commander Kenneth Whiting in command. Entering service, Langley became the primary test platform for the US Navy's budding aviation program. On October 17, 1922, Lieutenant Virgil C. Griffin became the first pilot to fly from the ship's deck when he took off in his Vought VE-7-SF. Sadly, the ship that rescued the Langley's crew was sunk en route to Australia and most of her crew were lost. Feature: built with FSX acceleration sdk, fully detailed DX10 model, early catapult with steam.
Posted Jan 21, 2013 22:13 by Ronald Dandurand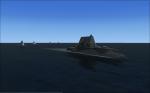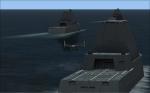 9.32Mb (1560 downloads)
DDG-1000 Zumwalt class advanced Guided Missile Destroyer for FSX. The lead ship of the class is currently under construction at Bath Iron Works, Maine. This is the complete class of ships, DDG-1000 USS Zumwalt, DDG-1001 USS Michael A. Monsoor, DDG-1002 USS Lyndon B. Johnson, plus the publicly lobbied for DDG-1003 Robert A. Heinlein and the fictional DDG-1010 Nesta Stubbs. FSX native, integral hard deck through out aircraft operating area, night maps. Tested only in FSX acceleration, should work in Prepar3D. For use with AICarriers2 or other traffic compilers. See readme for credits.
Posted Jan 12, 2013 05:19 by Lazarus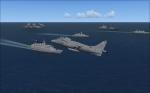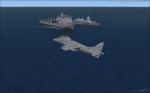 1.90Mb (1805 downloads)
Mark Walsh has produced a very nice series of modern CFS2 RN ships; some not even in the water yet in the RW, and very generously uploaded the FSDS source files for further development. Using Arnos fantasticly powerfull and easy to use freeware MDLX3.0, the conversions to FSX were just as easy as that, they look and run great. All the ships are hard deck, QE's ramp, deck and hangar are all hard decked. A while back, I became custodian of a departed mates project files; the Charlie files. One project was a RFA ROVER class AOR scenery file, evidently a UKMIL creation from the FS 2002 days. Quite nice despite its age; I converted and re-scaled to FSX standard,tweaked up the textures and finally got a hard deck in it, so off to down load for your naval aviating enjoyment. The ships in this package: HMS Queen Elizabeth R08 class CVF HMS type 26 DDG HMS type 226 DDG HMRFA Bay class LPD by Mark Walsh. HMRFA Rover class AOR by UKMIL Conversion to FSX by Lazarus
Posted Jan 12, 2013 02:14 by Lazarus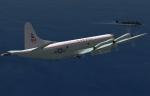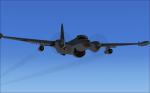 0.42Mb (848 downloads)
This is a modification to the AIR files of the KBT P-3 Orion, ALPHASIM PBM Mariners, ALPHASIM/Virtavia P2V Neptune, and Hetzie's FSX update of Wolfi's SB2C Helldiver that activates the concorde visor key for FSX. You will have to make key assignments in your control preferences menu. This activates the bomb bay on the Orion and PBM, Aux turbojet inlet doors on the P2V, and gunner animations on the SB2C. Unintended side effect: When selecting flaps, the concorde visor key activates, so bang the close key after a flap selection. Its an FSX thing, but hey, not so bad, when the conventional wisdom says that the Concorde Visor key was totaly unusable in FSX. Includes P2V smoke system fix The impossible is conquered again!
Posted Jan 11, 2013 20:49 by Lazarus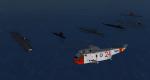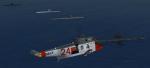 20.85Mb (1922 downloads)
This is the second volume of the naval expansion project,USN/NATO/SETO/non-aligned Submarines II. The models are FSX native, full hull, and the larger boats-SSBN's,SSCVL`s-have hard landable decks. The models are intended for, and tested only in FSX Acceleration, though I expect they should work in Prepar3D. The models are intended for use with AICarriersII, or other AI traffic compilers. In this pack: OHIO class SSBN VANGUARD class SSBN LOS ANGELES class SSN PERMIT class SSN VIRGINIA class SSN NAUTILUS class SSN BARBEL class SSK AKISHIO class SSK COLLINS class SSK ZWAARDVIS class SSK DOLPHIN class SSK OBERON class SSK GUPPY II class SSK IKL U206 class SSK IKL U209 class SSK T class modernised SS GATO class SS T class SS I-88 class ss I-404 class SSCVL I-14 class SSCVL Maiale SBS Swimmer Delivery Vehicle Jules Vernes Nautilus For FSX Acceleration.
Posted Jan 11, 2013 20:31 by Lazarus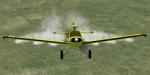 0.25Mb (1396 downloads)
A document with info on correcting the smoke system starting points for FSX aircraft. Got vertical smoke trails? Or smoke starting from a weird position? This PDF explains how to correct that.
Posted Jan 10, 2013 22:16 by Raoul de Miranda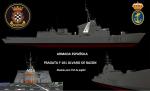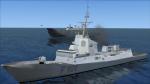 4.97Mb (1286 downloads)
The frigate Alvaro de Bazan is the first of its class, built by the shipyard Izar (now Navantia) for the Spanish Navy. She is active from 2002. It is the first European vessel equipped with Aegis radar, and has served as the basis for the development of the Norwegian Nansen class frigates and the Australian destroyers Hobart class.
Posted Jan 9, 2013 17:18 by jagl04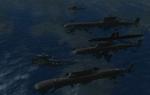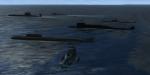 10.21Mb (1545 downloads)
This is the first volume of the naval expansion project, Soviet Submarines I. The models are FSX native, full hull, and the larger boats-SSBN's,SSGN's-have hard landable decks. The models are intended for, and tested only in FSX Acceleration, though I expect they should work in Prepar3D. The models are intended for use with AICarriersII, or other AI traffic compilers. The boats in this pack: AKULA II class SSN AKULA III class SSN ALFA class SSN GRANEY class SSN MIKE class SSN HOTEL class SSBN DELTA III class SSBN TYPHOON class SSBN RED OCTOBER (modified TYPHOON) class SSBN(fictional) BOREI class SSBN OSCAR class SSGN FOXTROT class SSK KILO class SSK Soviet(FOXTROT class) SSK Snorting with models and source files by D.Ward, Saelin, 37charlie and Lazarus. for FSX acceleration.
Posted Jan 9, 2013 02:13 by Lazarus