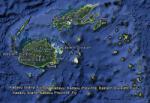 3.25Mb (240 downloads)
Tested on Windows XP and Windows 7. This download adds airfield markers and ICAO id's found in FSX, and overlays them on Google Earth. This file is for Fiji Islands. There is also a seperate file with a list of basic airfield location details. i.e: EGBB Birmingham Airport. Birmingham. N52* 27.23' W1* 44.88' alt325. Also the tidying "My places" in Google Earth, file. Other locator files to follow. by Carl Vokes
Posted Jun 23, 2013 15:09 by carl vokes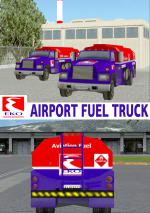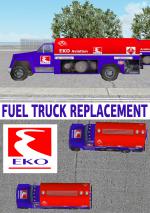 4.43Mb (2305 downloads)
EKO Airport moving Fuel Truck Replacement Pack.I dont know about you but I was bored of that litle truck moving around with no company logo on it in my airports, so i decided to change it to something more realistic. This will change your standard Air Fuel 100LL truck that you see in your airports supplying fuel, with an EKO Fuel truck. This is a low polygon FSX default model that I added new textures. I have 2 sets of textures in normal 1024 or low 512 resolution DDS1 for you to choose from. Simple copy and paste installation with instructions. Also small tutorial on how to add fuel truck services to any of your favorite small airports that don't have one. You could repaint the texts also to any other fuel co. of your choice. By Hellenic Aircraft/Yiannis Katehis Tsetsas.
Posted Jun 22, 2013 20:26 by YIANNIS KATEHIS TSETSAS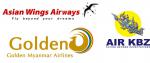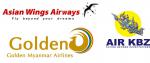 0.19Mb (113 downloads)
Callsign package for 3 newly established carriers of the Republic of the Union of Myanmar.These airlines include: 1.Golden Myanmar Airlines 2.Asian Wings Airways and 3.Air Kanbawza(Air KBZ) You may download liveries for above carriers and other Myanmese airlines on this website as well.
Posted Jun 18, 2013 08:26 by Phyo Pyae Sone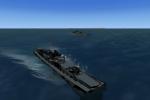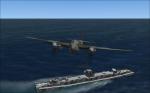 8.86Mb (831 downloads)
The backbone of Kreigsmarine coastal forces, S-Boots and Marinefharprahms carried heavy AAA/ASUW armament, and served in every theater. Maritime pilots learned that these innocuous little craft could punch far above their weight. Usio's fine S-13 class S-boat, converted to FSX, and a number of versions of the ubiquitous F-lighter, for FSX and AICarriers2.
Posted Jun 16, 2013 04:09 by Lazarus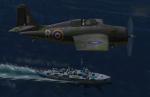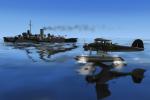 4.72Mb (628 downloads)
The Flower class was the mainstay of the RCN and RN's North Atlantic Campaign. Slow, wet, and said to 'roll and pitch violently on wet grass', the Flower class bore the brunt of the Convoy battles during the dark days of U-Boat war, and held the line untill late 1943 when CVE Hunter Killer groups, VLA maritime aircraft and highly capable River class Frigates began to relieve the tiny ships. Slower than and out-gunned by a surfaced U-boat, The Flowers suffered heavy losses, but won the Battle of the Atlantic. In attached effects and no effects versions. For AICarriers2 or other traffic compilers. by Lazarus
Posted Jun 16, 2013 03:27 by Lazarus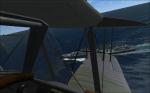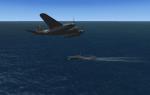 7.15Mb (457 downloads)
HMS 'L' class Destroyers Lance and Lively. Usio's fabulous CFS2 ships, converted to FSX standard with attached effects. No effects version included. For AICarriers2 or other traffic compilers. Conversion to FSX by Lazarus
Posted Jun 16, 2013 02:57 by Lazarus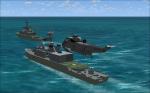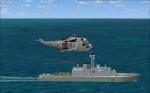 6.81Mb (1113 downloads)
The Iroquois-class destroyers, also known as Tribal class,are a class of four helicopter-carrying, guided missile destroyers of the Royal Canadian Navy. Designed in 1964-68,and launched from 1972, they were originally fitted out for anti-submarine warfare, but a major MLU in the 1990s(Tribal Update Modification Program) overhauled them for area-anti-aircraft defence. The ships were the first large combatants exclusively powered by gas turbines, and in contrast to similar Destroyer classes of the day, had significantly larger aviation spaces and command and control capabilites, often serving as the NATO STANFORLANT Flagships. The class had a profound influence on the design of the USN's Spruance class Destroyer and subsequent classes of Western Destroyers. This is my take on the -280 class ships, in all 3 major configurations. The ships are landable, and are offered in attached effects and no effects versions. See Readme file.
Posted Jun 15, 2013 16:08 by Lazarus
0.00Mb (543 downloads)
A tutorial for adding smoke effects to FSX (and FS2004) aircraft. By Tom Tiedman
Posted Jun 5, 2013 07:06 by Tom Tiedman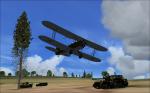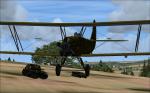 6.53Mb (628 downloads)
This is a little group I whomped up for AIcarriers2, sutable for simulating a late war 'whatif?' Eastern or Westen front reconnaissance or ground attack sortie. I had been touring the Ukrainian front battlefields with Alex's phenominal PO-2, and usually spawn the armoured unit 10nm out, or at a waypoint, and then go try to find it, just to get a feel for the dificulties in finding tactical targets at low altitude without modern navids or sensors. Just a map and the Mk.I eyeball. And it is tough, even in clear weather with no one shooting at you. At night! Whew! Those night witches had great big brass ones! The Vehicles will 'drive' at 10 MPH, the flak38 is static. Cargo truck, Skdf7, Flak38 are converted from library objects, and I am truly sorry, but I have no idea who the author is. I think they were in a Mark Wright object library, so thankyou, who ever you are. Pzkpfw.VIII, Pzkpfw.V, StuGIII, and Sdkfz251(ish) by lazarus. Requires AICarriers2 (see readme for instructions)
Posted May 30, 2013 02:12 by Lazarus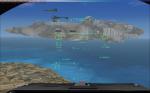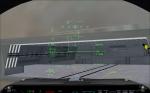 12.32Mb (1441 downloads)
Ai Star Wars Rebel Home One Mon Calamari Cruiser and fleet V 1.0 These models have been exported to FSX, as ai model, for use with AiCarriers, and thus able to be located anywhere, as mobile scenario. At an altitude of 900,000 FT, which is equivalent to a low earth orbit.
Posted May 20, 2013 22:31 by EC-LPZ