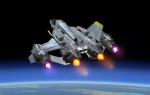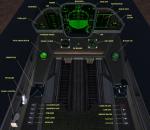 17.26Mb (18621 downloads)
Features: - single stage, earth to 10 million ft - max speed with boost Mach 4.6 - Rob Barendegt's spacegauge v2.0 fully imbeded and configured - space gauges in VC as well as windowed - custom gauges read upto fsx max speed and altitude - hover at at any altitude with full vertical and lateral control - VC and WSO ~~~ created for FSX compiled with FSXA and tested in WIN7 By Bruce Fitzgerald
Posted Apr 27, 2013 08:52 by Bruce Fitzgerald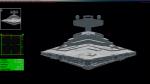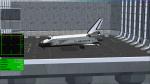 10.38Mb (3928 downloads)
Star Wars Imperial Destroyer V 1.0 This model has been exported to FSX, as ai model, for use with AiCarriers, and thus able to be located anywhere, as mobile scenario. At an altitude of 900,000 FT, which is equivalent to a low earth orbit.
Posted Apr 24, 2013 15:35 by EC-LPZ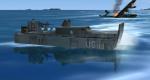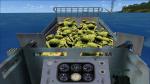 28.58Mb (1914 downloads)
FSX Pilotable LCM3 Landing Craft. There are seven different models of this boat, variing with open, closed or animated bow ramp and a great choice of payloads, like Jeep, Army truck, half truck, Stuart tank or crates. You can see the payload also in the VC mode. Also the 2D panel let you choose between different payloads or troops. Reaching the enemy coast, the special features even allow you to "drive" the Jeep, the truck or a Sherman tank with original sounds onto land. Two swivelable Browning MGs, one with a LCM3 in formation plus specials effects and seven cameras belong to the features. All the ship-models are made by Mark Schimmer. They belong to his WWII scenery "Solomon 1943". Most of the vehicles on board the LCM3 are made by Michael Davies from MCDesigns. The panel and the configuration for all the special features are made by Erwin Welker.
Posted Apr 23, 2013 07:23 by Erwin Welker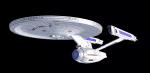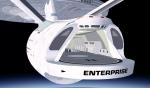 4.08Mb (3063 downloads)
Enterprise is in AI form and made specifically for use with BOTH the AICarriers 2 addon and the rcbsa_20 space gauge set by Ron Barendregt. * actually reading Ron's readme is strongly advised * it's had the sim.cfg file edited to adhere the specifications, contained in Ron Barendregt's Space Gauge set readme for rcbsa-20 -- version 2.0 , i.e 900,000 ft @250 kts --- Hangar bay and top of saucer section are hardened platforms --- bay doors are reverse animated so doors remain open --- it can be converted to a flyable model by adding a panel and fde files i.e ( aircraft.cfg and airfile ) Adapted , merged and compiled for use in FSX: by Bruce Fitzgerald
Posted Apr 6, 2013 12:30 by Bruce Fitzgerald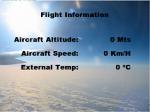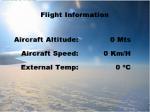 2.71Mb (1850 downloads)
This software shows a screen with basic information about the flight - similar to those in real airlines. Use this software in your cockpit to communicate with the passengers
Posted Apr 2, 2013 12:37 by Mario Dantas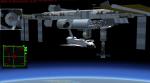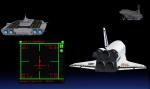 0.12Mb (5261 downloads)
THIS IS NOT A "DOWNLOAD & FLY" PACKAGE. SO PLEASE TAKE YOUR TIME TO READ THE DOCUMENTATION PROPERLY BEFORE YOU INSTALL & USE IT. I'M SURE IT WILL ANSWER MOST OF YOUR QUESTIONS. Not every detail may be relevant for you, since there a lot of background info. During development of stuff like this, I learn a lot of peculiarities of FSX; and I tend to write them down in such a README, if only for my own memory :) So maybe it helps you to understand better how it all works. ==== intended for use with Bruce Fitzgerald's Space Shuttle Atlantis === *** To use this gaugeset for other aircraft , see Appendix-1 of the readme ***
Posted Apr 2, 2013 03:17 by Bruce Fitzgerald for Ron Barendregt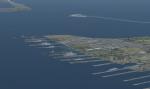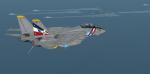 15.88Mb (2377 downloads)
Two Carrier tracks from Norfolk VA to Italy and to the Caribbean. A whole fleet with carrier and escort ships. Some great ships of other designers are included, cause I had to modify them to be used as AI vessels. Needs Nimitz of Javier Fernandez.
Posted Apr 1, 2013 11:05 by Blaunarwal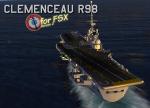 26.35Mb (5564 downloads)
This Clemenceau is modeled as she was circa 1990s. Her flight deck is mostly a recovery configuration which allows the use of both catapults. It is built for FSX Acceleration and features working catapults, jet blast deflectors and arrestor wires for naval ops. The landing light system was built from scratch. Thanks Joel Maillot. This release is much more detailed than the previous - a lot of 3D objects were added - doors, ladders extinguishers, crewmen, etc. Nevertheless the tests made seem to show that when FSX/Acceleration is already running well, this carrier does not have any fps issue. This model has not been tested for other version of FSX(RTM or SP1) or FS9
Posted Mar 28, 2013 06:52 by uploader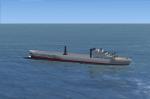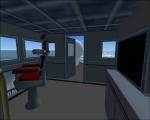 5.63Mb (966 downloads)
FSX - Cargo Ships (Pilotable/Sail version). This File includes Five (3) Liveries of the Cargo Ships. Includes Detailed 3D VC (By Bill Holker) Detailed Textures (By Garry J.Smith, Bill Holker & Ian & Tracey Thatcher), Animations, Smoke Effects, Wave Effects and Much More.
Posted Mar 22, 2013 09:01 by Tracey Thatcher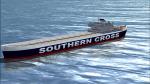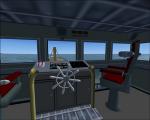 8.96Mb (1438 downloads)
FSX - Oil Tankers (Pilotable/Sail version) This File includes Five (3) Liveries of my Oil Tankers. Includes Detailed 3D VC (By Bill Holker) Detailed Textures (By Garry J.Smith, Bill Holker & Ian & Tracey Thatcher), Animations, Smoke Effects, Wave Effects and Much More. Tracey Thatcher
Posted Mar 22, 2013 08:46 by Tracey Thatcher