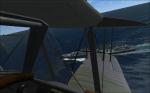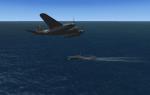 7.15Mb (416 downloads)
HMS 'L' class Destroyers Lance and Lively. Usio's fabulous CFS2 ships, converted to FSX standard with attached effects. No effects version included. For AICarriers2 or other traffic compilers. Conversion to FSX by Lazarus
Posted Jun 16, 2013 02:57 by Lazarus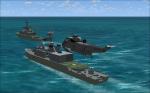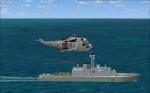 6.81Mb (1026 downloads)
The Iroquois-class destroyers, also known as Tribal class,are a class of four helicopter-carrying, guided missile destroyers of the Royal Canadian Navy. Designed in 1964-68,and launched from 1972, they were originally fitted out for anti-submarine warfare, but a major MLU in the 1990s(Tribal Update Modification Program) overhauled them for area-anti-aircraft defence. The ships were the first large combatants exclusively powered by gas turbines, and in contrast to similar Destroyer classes of the day, had significantly larger aviation spaces and command and control capabilites, often serving as the NATO STANFORLANT Flagships. The class had a profound influence on the design of the USN's Spruance class Destroyer and subsequent classes of Western Destroyers. This is my take on the -280 class ships, in all 3 major configurations. The ships are landable, and are offered in attached effects and no effects versions. See Readme file.
Posted Jun 15, 2013 16:08 by Lazarus
0.00Mb (518 downloads)
A tutorial for adding smoke effects to FSX (and FS2004) aircraft. By Tom Tiedman
Posted Jun 5, 2013 07:06 by Tom Tiedman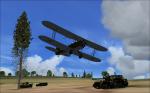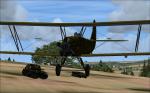 6.53Mb (571 downloads)
This is a little group I whomped up for AIcarriers2, sutable for simulating a late war 'whatif?' Eastern or Westen front reconnaissance or ground attack sortie. I had been touring the Ukrainian front battlefields with Alex's phenominal PO-2, and usually spawn the armoured unit 10nm out, or at a waypoint, and then go try to find it, just to get a feel for the dificulties in finding tactical targets at low altitude without modern navids or sensors. Just a map and the Mk.I eyeball. And it is tough, even in clear weather with no one shooting at you. At night! Whew! Those night witches had great big brass ones! The Vehicles will 'drive' at 10 MPH, the flak38 is static. Cargo truck, Skdf7, Flak38 are converted from library objects, and I am truly sorry, but I have no idea who the author is. I think they were in a Mark Wright object library, so thankyou, who ever you are. Pzkpfw.VIII, Pzkpfw.V, StuGIII, and Sdkfz251(ish) by lazarus. Requires AICarriers2 (see readme for instructions)
Posted May 30, 2013 02:12 by Lazarus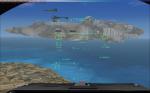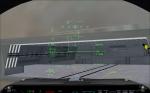 12.32Mb (1386 downloads)
Ai Star Wars Rebel Home One Mon Calamari Cruiser and fleet V 1.0 These models have been exported to FSX, as ai model, for use with AiCarriers, and thus able to be located anywhere, as mobile scenario. At an altitude of 900,000 FT, which is equivalent to a low earth orbit.
Posted May 20, 2013 22:31 by EC-LPZ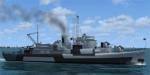 5.17Mb (901 downloads)
Seaplane Tender - Barnegat class - USS Bering Strait AVP34 for FSX. Pilotable. Built from the keel up to function as a resupply vessel for flying boats during WWII. Served with distinction in the Pacific. By Earl Watkins Several "effect's were left out of the original file.
Posted May 16, 2013 05:43 by uploader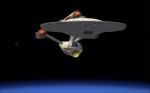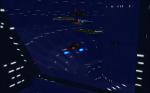 85.12Mb (4857 downloads)
Star Trek space scenery for AICarriers2 and Rob's space gauges(RCBS 20)- (Required) This package features Bruce Fitzgeralds entire colection of Star Trek ships overhauled to FSX standard with light maps and hard decks where possible as AI or pilotable objects. RicardoPjr's TOS Enterprise modded for AI carriers use with landable deck. Many new ships and space infrastructure added, all night lit and/or internaly lit, landable decks where applicable. AIcarriers config provided.
Posted May 13, 2013 05:24 by Lazarus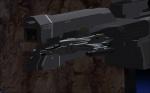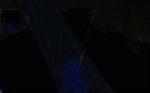 15.98Mb (1931 downloads)
A HALO ringworld training site for AICarriers 2, to complement Bruce Fitzgerald's Sabre aerospace Starfighter and Rob Barendregt's Space Gauges- both required and recommended. USNC Charon class frigates by Josh Wagstaff, updated with nightmaps, specular assignments and hard decks by Lazarus. Ringworld, spacestations, incidental spacecraft and dropable nuclear warhead by Lazarus. Warhead dropable from saved flight only.
Posted May 11, 2013 01:48 by Lazarus Starkweather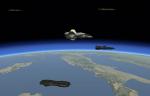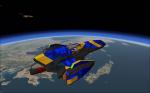 17.67Mb (1969 downloads)
A group of AI military Starships for FSX(A) AIcarriers2 and Robs spacegauges. Foss/Mckee inspired spacecraft, for use with Tim Conrads ACV-15 space carrier as Battlegroup components. Crusier, Destroyer and Strike/AASW/General Purpose Frigate classes Landable where applicable, specular and night lighting, internal lighting, multiple paint schemes. AICarriers config provided. By Lazarus.
Posted May 11, 2013 00:45 by Lazarus Starkweather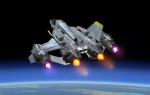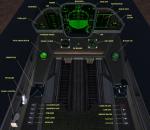 17.26Mb (18493 downloads)
Features: - single stage, earth to 10 million ft - max speed with boost Mach 4.6 - Rob Barendegt's spacegauge v2.0 fully imbeded and configured - space gauges in VC as well as windowed - custom gauges read upto fsx max speed and altitude - hover at at any altitude with full vertical and lateral control - VC and WSO ~~~ created for FSX compiled with FSXA and tested in WIN7 By Bruce Fitzgerald
Posted Apr 27, 2013 08:52 by Bruce Fitzgerald