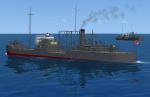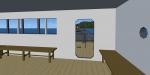 6.13Mb (502 downloads)
FSX Pilotable IJN oiler ship Kamoi. This FS-model is a very detailed CFS2 IJN war frighter made by Usio no Ibuki in a high quality. My AddOn is converted for FSX and provides a pilotable ship with 2D panel as navigation bridge and seven VC-cameras, showing even somer interior of different rooms. Ten other cameras allows you to explore the ship, including the option to swivel the two main guns. Included are gun- and general ship-effects. Bitmaps and configuration by Erwin Welker
Posted Apr 25, 2014 03:18 by Erwin Welker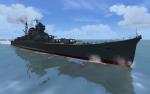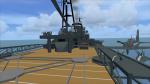 5.64Mb (957 downloads)
FSX Features for pilotable WWII IJN heavy cruiser Kumano. This warship is a detailed CFS2 AI ship from Usio No Ibuki. This add-on is converted to FSX and provides a pilotable ship with a navigation bridge as 2D-panel, VC-views and special effects. Eighteen camera views let you explore the ship. You can set an Aichi Jake floatplane onto the catapult or you can swivel the remote fire control or the torpedo launchers. 2D-Panel, FSX-conversion and effect configuration by Erwin Welker.
Posted Apr 20, 2014 04:29 by Erwin Welker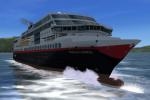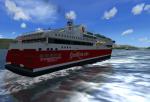 14.12Mb (2482 downloads)
FSX Quadruple pack pilotable Hurtigruten ships. Hurtigruten is the famous Norwegian postal, passenger and ferry coastal line. It was, and sometime it is until now, the only infrastructure for some remote villages along the long coast of Norway. The package consists of the modern liners Trollfjord and Midnatsol and the ferries Stavangerfjord and Bergensfjord. This pretty FS-modells with night lighting are made by Henrik Nielsen and belongs to his addon "130 AI Ships and AI Ship Traffic.zip", which brings traffic into harbors and empty sea. The pilotable versions provides a 2D-panel with photorealistical navigation bridge, sounds and ship effects. Seven camera views let you explore the decks. Features for pilotable versions with navigation bridge as panel and added views by Erwin Welker
Posted Apr 16, 2014 03:37 by Erwin Welker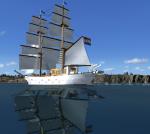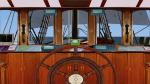 9.78Mb (1414 downloads)
FSX features for the pilotable dutch brig Aphrodite. This is a modern and comfortable 30 m tallship in a traditional design. She is sailing mostly along the coasts of the North Sea and Baltic Sea with trainees on board. This addon provides a model with full sails and another model with removed sails. Eight cameras let you explore the ship including views from the tops of the mast. The updated FS-model includes a virtual wheelhouse and is made by Henrik Nielsen. The boat belongs to his scenery/AI traffic package which brings life into empty harbors and sea (75AI_SHIPS_AND_AI_SHIP_TRAFFIC.ZIP). Features for the pilotable version with a detailed navigation bridge as panel, added views and FDE by Erwin Welker.
Posted Apr 12, 2014 02:20 by Erwin Welker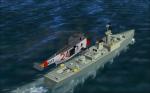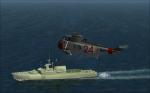 6.43Mb (917 downloads)
The St. Laurent class destroyer was a class of destroyers that served the Royal Canadian Navy and later the Canadian Forces from the mid-1950s to the mid-1990s. This was the first major class of warship designed and built in Canada. They were similar to the British Type 12 Whitby class frigate, but used more American equipment than British. There were seven ships of the class commissioned between 1955 and 1957. They were originally intended as destroyer escorts (DDE) but were later refitted and reclassed as destroyer helicopter escorts (DDH). Model is offered in attached effects and no effects versions for both DDE and DDH variants, fully texture mapped,with multiple paint schemes spanning the ships service life. The models are full hull(less below water line details like screws, rudders and stabilizers, left out in the interest keeping the poly-vertice count under control) with animated search and AW radar;night mapped navigation, internal and deck lighting, and landable deck for the DDH. For FSX only and AICarriers2 or other traffic compilers.
Posted Apr 10, 2014 05:24 by Lazarus Starkweather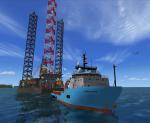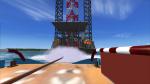 5.38Mb (1000 downloads)
FSX Pilotable anchor handling vessel Maersk Helper towing the jack up oilrig Rowan Gorilla V. This incredible amazing combination of FS-modells is made by Henrik Nielsen and belongs to his addon "130 AI Ships and AI Ship Traffic.zip", which brings traffic into harbors and empty seas. Nine camera views let you explore the ship and the rig. Features for a pilotable version with navigation bridge as panel with configuration for ship effects and added views by Erwin Welker
Posted Apr 9, 2014 04:39 by Erwin Welker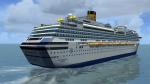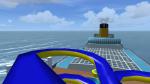 18.01Mb (3390 downloads)
FSX Pilotable ship Costa Favalosa. This is a huge italian cruiseship for 3800 passengers. This pretty FS-modell is made by Henrik Nielsen and belongs to his addon "130 AI Ships and AI Ship Traffic.zip", which brings traffic into harbors and empty sea. The pilotable version provides an almost photorealistic 2D panel as navigation bridge and ten camera views. Now you can explore the decks with the aqua park, tennis court and pools. The VC-views has an eyepoint in the area of the aqua park. Features for a pilotable version with navigation bridge as panel and added views by Erwin Welker
Posted Apr 6, 2014 05:08 by Erwin Welker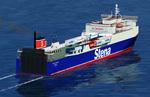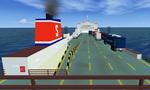 7.18Mb (1688 downloads)
FSX Pilotable car ferry Stena Hibernia. This FSX-ship carries trucks on his open RoRo deck. The FS-modell is made by Henrik Nielsen and belongs to his addon "130 AI Ships and AI Ship Traffic.zip", which brings traffic into harbors and empty seas. Eight camera views let you explore the decks of the ship. The VC-views shows one deck above the navigation bridge. Features for a pilotable version with navigation bridge as panel, VC views, configuration for ship effects and added views by Erwin Welker
Posted Apr 2, 2014 04:37 by Erwin Welker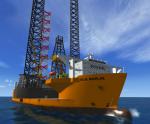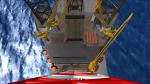 8.30Mb (1199 downloads)
FSX Pilotable heavy lift ship Blue Marlin carrying the jack up oil rig Rowan Gorilla V. This incredible amazing combination of FS-modells ise made by Henrik Nielsen and belongs to his addon "130 AI Ships and AI Ship Traffic.zip", which brings traffic into harbors and empty seas. Nine camera views let you explore the decks of the ship or the heights of huge posts of the rig. Features for a pilotable version with navigation bridge as panel with configuration for ship effects and added views by Erwin Welker
Posted Mar 30, 2014 03:46 by Erwin Welker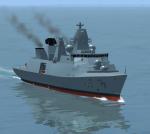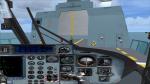 4.85Mb (3585 downloads)
FSX Pilotable frigates Iver Huitfeldt and Niels Juel. This are modern frigates from the Danish navy. These FS models are made by Henrik Nielsen and belong to his addon "130 AI Ships and AI Ship Traffic.zip", which brings traffic into harbors and empty sea. Eight camera views let you explore the decks. There is also an insertable view of a Lynx helicopter pilot standing on the heli deck. Effects for the guns and a simulated missile launch are included. Features for a pilotable version with navigation bridge as panel with configuration for weapon effects and added views by Erwin Welker
Posted Mar 26, 2014 04:45 by Erwin Welker