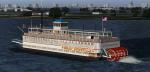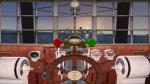 3.31Mb (1816 downloads)
FS2004/FSX Pilotable paddle steamship Belle Of Louisville. This is a typical Mississippi riverboat built in 1914. In fact it is cruising with up to 750 passengers on the Ohio river, stationed in Louisville/Kentucky. The ship is powered with two 336 kW steam engines. This FS ai-model is made by Jim Jones and belongs to his scenery "FS2004 Louisville Scenery". My AddOn appears 100 years after the ship has laid down. It is converted for FSX and VC-views and provides a pilotable ship with photorealistic 2D panel as navigation bridge and virtual lookaround views in front of the wheelhouse in eight directions. For FS2004 there are eight additional views using the double function of the numpad and nine camera definitions for FSX. Both options allows you to explore the ship, including the best observation point to watch the animated paddlewheel at the stern with its reciprocating drive shafts. This is a complete boat with sound and effects. Features for a pilotable version with panel and added views by Erwin Welker
Posted Feb 22, 2014 02:02 by Erwin Welker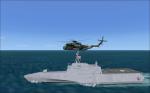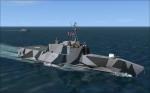 9.96Mb (2153 downloads)
LCS-2 USS Independence Littoral Combat Ship for FSX. AI ship for use with AICarriers2 or other traffic compiler. Landable deck, night lighting, properly texture mapped! model in shiny or flat, effects coded and no effects versions. Even an animated nav radar.
Posted Feb 21, 2014 02:01 by Lazarus starkweather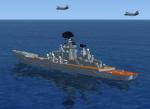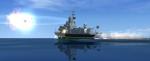 19.82Mb (1596 downloads)
FSX Quadruplepack pilotable missilearmed soviet warships. The smallest boat is a Nanuchka I-corvette. The Udaloy I-class is a 163 m destroyer, the Slava-class is a 186 m cruiser and the Kirov-class is a huge cruiser and has with 251 m the same lenght as the german WW II battleship Bismarck. All FS-models are made by Lazarus Starkweather and belongs to his addon "FSX_Soviet_CATOBAR_MEKUR_CVL_Battlegroup.zip" My AddOn provides pilotable ships with a shared 2D panel as navigation bridge. Each ship has VC-views and up to fifteen cameras for decks- or external views. Included are gun- and missilelaunch effects. All the three big ships has the option to set a Kamov Ka-27 helicopter onto the heli deck and also the option to enjoy the view of a Kamov pilot looking forward to the warships superstructure. Bitmaps, Panel-, camera- and weapon configuration by Erwin Welker
Posted Feb 11, 2014 03:38 by Erwin Welker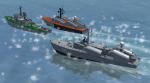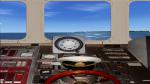 38.47Mb (911 downloads)
FSX Triplepack Pilotable Soviet Pt-Boats. One boat is from the OSA I-class, one from the OSA II-class and the third is a Zhuk-boat. All FS-models are made by Lazarus Starkweather and belongs to his addon "FSX AI Soviet Missile Boats". My AddOn provides pilotable ships with a photorealistic 2D panel as navigation bridge. Each boat has VC-views and up to twelve decks- or external views. Included are gun-, missile or depth charges-effects. Panel-, camera- and weapon configuration by Erwin Welker
Posted Feb 6, 2014 06:45 by Erwin Welker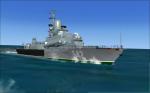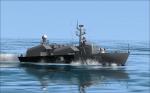 56.87Mb (1635 downloads)
More targets for the naval strike community... The 1967 sinking of the INS Eilat(former RN Z class DD Zealous) by SSN-2 STYX armed KOMAR missile boats (P186 torpedo boats fitted with 2 SSN-2/P-15 Termit launchers) threw western navies into a panic, and spurred development of a whole range of tactical SSM's (Exocet, Harpoon, Ottomat ect) and fast attack craft. Of greater value was the development of ECM, decoy systems (RBOC/SRBOC) and various CWIS systems. The Israeli Navy showed that the Soviet KOMAR's and OSA's Styx system was far from overpowering at the Battle of Latakia on 7 Oct 1973, where, in the first naval battle fought between Missile boats; the INS showed that skillful use of ECM and decoys could decisively defeat the Soviet sytems, despite STYX having twice the range of the GABRIEL I SSM. Widely exported, the OSA I and OSA II boats and NANUCHKA missile corvettes proved something of a liability in actions in the Gulf of Sidra and Gulf wars, though the Indian Navy made good use of their OSA's in 1971 (Operation TRIDENT and PYTHON) This package contains FSX Native OSA I and II Missile boats, NANUCHKA I Missile Corvette, Zhuk Patrol boat, for AICarriers2, and a gyppo pilotable OSA I
Posted Jan 29, 2014 03:17 by Lazarus Starkweather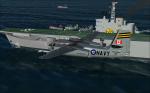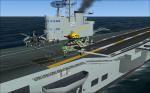 35.83Mb (3408 downloads)
Its not great, but not totally pukeworthy either...Its a beta version as development is on going... Six of the 1942 design Light Fleet hulls were originally to be completed as Colossus-class ships, but the rapid development of carrier-based aircraft required modifications to the original design. The catapult, arrestor cables, and aircraft elevators had to be upgraded to handle faster and heavier aircraft, while the flight deck was reinforced. The ship was built to Admiralty rather than merchantile standards , with warship scale water tight compartmentalization , torpedo protection scheme, armoured magazines and separate staggered boiler and machinery spaces. The modifications increased the full-load displacement by 1,500 tons, and the draught by 1 foot 6 inches (0.46 m). This led to the six ships being reclassified as the Majestic class in September 1945. Five carriers were launched before the end of World War II, with the sixth launched in late September 1945. Only Magnificent and Terrible were completed as designed; an axial deck light Fleet Carrier(CVL) outwardly identical to the preceding Colossus class CVL. The remaining ships were rebuilt to RAN,RCN and MLD naval specifications with the revolutionary Admiralty designed Angled Deck, steam catapult and mirror Landing Sight (the 'Meatball', or 'Ball'). Its a generic Majestic as builds of the individual ships; all quite different in appearance, continues as time and interest permits. I figured I may as well put the latest version out, as its not too gawd-awful, and it would be a shame to waste Jens-Ole's beautiful Bonnie and Mellie deck textures. While the size/scale and general outline is accurate enough for government work, rivet counters will continue to be outraged. FSX Acceleration enabled, 4 wires, one catapult, meatball, hi deff textures by Jens-Ole Kjolberg. Various deck parks of Trackers,HUP, Seakings, Gannets, Skyhawks, AI HUP, HO4S,and Seabat plane guard helios
Posted Jan 25, 2014 16:52 by Lazarus Starkweather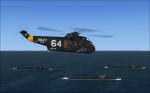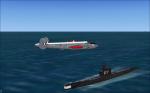 59.40Mb (1031 downloads)
Another batch of Soviet submarines, comprising the fab '50's first generation HEN classes, the notorious HOTEL SSBN(re-tooled model replaces previous version), ECHO SSGN and NOVEMBER SSN, the WHISKEY SS, ROMEO SS, and JULLIETE SSG, and the second generation VICTOR I and VICTOR III SSN's, in anticipation of the upcoming KBT FSX P-3. For FSX use with AICarriers2.
Posted Jan 25, 2014 05:56 by Lazarus Starkweather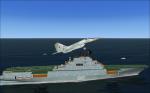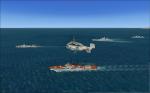 10.79Mb (1798 downloads)
Of a number of CV/CVL's studied under the 1145 projects were the MERKUR light fleet catobar(Catapult Take Off But Arrested Landing) designs. Displacing 45000 tons, these 950 ft ships would have beed classed 'Light Fleet Carriers' by virtue of their modestly sized airgroups. Of the same design lineage as the Kiev class Aviation Cruisers, the Kiev's were preferred due to inexperience with steam catapults and deck edge elevators, uncertainties as to aircraft development( various navalized SU-7 and MiG-21-23 were mooted) and Soviet Naval doctrine of the day resulted in selection of the ASW optimized Kiev class. As a beta release, and in deference to the authors modest modeling abilities, there are some warts, but its easy on the FPS, and a fun platform for Mig-29K's and SeaFlankers ops. Fully acceleration enabled (2 cats, 4 wires, meatball) with escorting Kirov CGN, SLAVA CG, UDALLOY I and II DDG's, KA-25 and Ka-27 plane guard Helio's. The UDALLOY II is a updated model(previously released with the Delfin SWATH CVL) with some of the annoying snags fixed and flight deck corrected. All with running lights, hard decks, internal lighting and lighted flight decks. An updated config file for the IRIS MiG-29K is included, which fixed the tip vortices hanging out in space, and activates differential braking for improved deck handling.
Posted Jan 25, 2014 04:40 by Lazarus Starkweather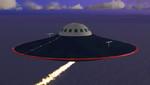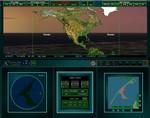 19.96Mb (3947 downloads)
UFO A51 Model Version 2 This model and the gauges have been developed for FSX Flight Simulator Acceleration or with SP2 and SP1 installed. It has also been tested with Microsoft Acceleration but compatibility is not guaranteed by the author.The format for the panel and gauges is developed for a 4/3 monitor. Use the Wide Screen Panel.cfg if you have a 16/9 Monitor. For more information see the documentation inside the zip file. Created by: Dietmar Loliet
Posted Jan 22, 2014 15:06 by Chris E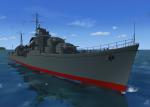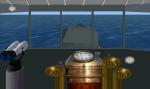 8.16Mb (1064 downloads)
FSX Pilotable IJN destroyer Suzutsuki. This FS-model is a very detailed CFS2 IJN warship made by Usio no Ibuki in a high quality. My AddOn is converted for FSX and provides a pilotable ship with 2D panel as navigation bridge and five VC-cameras. Twelve other cameras allows you to explore the ship, including the option to swivel the torpedo launcher. Included are artillerie-, AA-gun-,depth charges-, and general ship-effects. Bitmaps and configuration by Erwin Welker
Posted Jan 21, 2014 05:44 by Erwin Welker