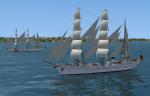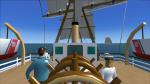 7.59Mb (1336 downloads)
FSX package with four pilotable three mast sailing training ships of the Gorch Fock class. There is the "Gorch Fock/2" of the german navy, the US coastguard vessel "Eagle", the "Sagres" from portugals navy and the "Mircea" from the romanian Navy. All models are made by Henrik Nielsen and belongs to his huge ai-fleet package "179_ai_ships_and_ai_ship_traffic.zip". His fleets brings ship traffic into the empty sea of the default FSX and more reality into empty harbours, f.i. a tallship race in the fjord of Kiel/Germany. My addon provide four pilotable versions of those pretty sail training ships. Forteen camera views let you explore the ships; not only the decks but also the views of sailors working high above in the masts. A saved flight for a tallship race into the harbour of Kiel/Germany is included. Configuration for the pilotable versions and cameras by Erwin Welker
Posted Jan 16, 2015 08:14 by Erwin Welker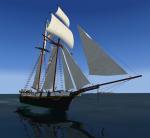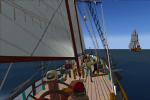 7.18Mb (1000 downloads)
FSX/FS2004 Topsail schooner La Recouvrance. This was an agile and fast escort ship of the French IRIS-class in 1817, armed with 6 to 8 guns. A replica makes daytrips arround Brest harbour. My model is extremly detailed and is has four animated canons, four animated carronades and two animated gunners. Fifteen cameras let you explore the beautyful ship and the virtual decks. An ai-model of the french replica with reduced parts is included. FSDS 3.5 model made by Erwin Welker
Posted Jan 14, 2015 04:25 by Erwin Welker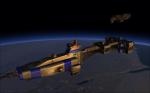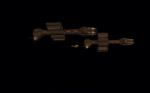 65.96Mb (1711 downloads)
Earth Alliance Omega class Destroyer and Hyperion class Heavy Cruiser. AI Starships from the Babylon 5 universe for FSX AI or whatever use. Omega base mesh warehouse model extensively re built, corrected, animated and textured by Lazarus. Not ideal, but a substantial update of the previously released version while a new Omega is built. Hyperion class heavy cruiser mesh and textures by Lazarus. I hope you all enjoy, had a blast modeling this. Sorry for the old Omega, but it looks fine and will due until the new ship comes from the yard. Night mapped, landable hangar deck/bay, improved state of the art in texturing, modeling and animating.
Posted Jan 10, 2015 05:58 by Lazarus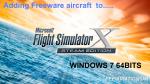 73.77Mb (1617 downloads)
This is a way to install freeware aircraft that I have for FSX Steam - and so far is working for me using a laptop with Windows 7 64 Bits. Not tested on other operating systems(Windows 8, etc etc). Airplanes used for the process were The Flamenco and VAL BN Islanders for FSX, available here in Simviation. Also here's a link for a video: http://youtu.be/xz-GgQdisYo
Posted Dec 23, 2014 03:07 by Rafael Ortiz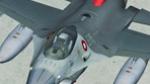 0.24Mb (1508 downloads)
That is a fix for the FSX Viperden-type F16s, which is the F-16 Figthting Falcon (VIPER) by Kirk Olsson adapted to FSX by Danny Garnier. That fix is about the canopy transparency which happens to cause troubles with the latest FSX versions. A fix already released gives a completely clear canopy, which does not respect the F-16 canopy's tinted hue (NOTE FOR THE VAULT MANAGER! This file does not need a specific Viperden-type F-16 as they are several of that type I think. However, should you have a specific such F-16 you want to promote (and having make sure by yourself that my fix works with it), you may link to that specific F16)
Posted Dec 15, 2014 08:23 by G. Guichard
0.53Mb (431 downloads)
10 performance profiles for some of the most popular GA aircraft in FSX. should also work if your using FS9, P3D, or Xplane as your simulator. aircraft are as follows. C172, C182, C206, C208, C310, C750, PA28A, PA34, BE20, BE68. Include Vspeeds and fuel burn data for climb cruise and descent. requires PlanG Flight planning software available for free here. http://www.tasoftware.co.uk/planG.htm
Posted Dec 8, 2014 17:37 by CountryFlyboy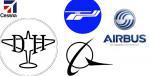 0.01Mb (1195 downloads)
A series of flight plans from various airports accross the US, Europe and the far East.
Posted Dec 3, 2014 02:33 by uploader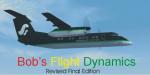 2.29Mb (734 downloads)
This is a revised version of my Flight Dynamics Tutorial, Final Edition, in PDF format. I have added a few things and changed some content to reflect my current understanding about editing the flight dynamics of the aircraft of the various versions of Microsoft's Flight Simulator. This is for anyone wanting to know more about why some aircraft in the simulator fly the way they do, as well as those interested in changing the way the aircraft fly.
Posted Nov 25, 2014 12:53 by Bob Chicilo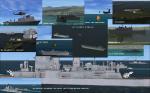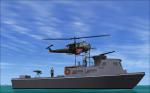 231.02Mb (2251 downloads)
Ships and routes intended to complement the Vietnam War Scenery Project. http://vietnamwar.project.free.fr/ seventy some odd ships, over 150 routes for the major operational areas including DIXIE and YANKEE station, PRIAZ station, North SAR, MARKET TIME/GAME WARDEN, mobile Riverine Force, gun line, PLNNV opforces up north and soviet AGI's.Models are a mix of new ships, fully restored Earl Watkins classics Misspilon AOR and CF Adams DDG, some Virtual navy classics, and a number of Colin Glendinnings gems. Routes cover the whole schmere from Breezy Cove to Hainan to Subic-Sagley. There are also modern PLAN ships prowling the area, from Hainan, South China Sea and Spratleys, as far north as the Yellow Sea, and Currituck seaplane tenders working the theater and points north to HK, Okinawa, the Pescadores and Iwankuni as well as a Catalina Island route. Decks and vehicle ramps of the LST`s are hardened, if a helicopter fits on it, its landable. Still basically in a alpha state, but no time for fsx, and it would be a shame to bin the lot as it all works and looks allright. A big thanks to you all, its been fun. I didn`t get to do as much with the Nam Can-breezy cove as I would have liked, and there are a few traffic conflicts out at sea at hold areas, and some groundings in the riverine legs due to differences between the FSX world and google earth, but its at least a six out of ten effort. You will need to download some external packages for this to work, but its worth it! See Readme for further details
Posted Nov 21, 2014 14:19 by Lazarus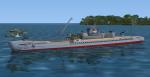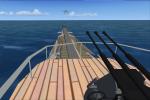 17.61Mb (1686 downloads)
FSX/FS2004 Package IJN submarine aircraft carrier I-400. Such kinds of japanese submarines with a length of 120 m was the biggest submarines of WWII. And it is not imaginable, that those submarines was able to carry three Aichi Seiran floatplanes in their hanger. The package contains two pilotable and two ai-versions. One of the pilotable versions has many animations, like a catapult launch of an Aichi Seiran, a second Seiran with folded wings and disassembled floats leaves the hangar, a crane and a mast will be raised. The second version can submerge. Both provides a rotatable periscop and a 2D panel with conning bridge, the submerge version has also three internal views. Eleven external and four VC-cameras allows you to explore the boat. The ai-versions are suppossed to be used with the great tool "AiCarriers2". One version carries an Aichi Seiran on the catapult, the second version has an empty catapult. You can use that version for catapult launches with my M6A Aichi Seiran (requires M6A-Aichi-Seiran.zip)using my saved flight and AiCarriers2. Special effects and -sounds are included and the configuration for ten more special sounds is prepared. Made with FSDS 3.5 by Erwin Welker.
Posted Nov 11, 2014 04:15 by Erwin Welker