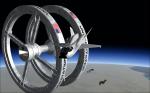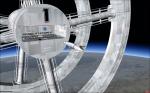 17.50Mb (2240 downloads)
Doug Turnbull's iconic Space Station V from Kubrick's masterpiece '2001. A Space Odyssey' Major upgrade from previous version, re-framulated mesh, texture mapped and animated, 2 landable hangar bays. May be used as a scenery object, or with AICarriers2, and; of course, Rob's brilliant space gauge set. Also enclosed; a light aerospaceplane, cockpit alaised to Tim Conrad's CR-14 Cylon attack craft. Just a doodle, a WIP, a modeling and animation exercise; has animated landing gear, doesn't do much otherwise. Pulls 4.5 Gee vertical, though! meshes created and textured in sketchup, animated in FSDS 3.5, compiled in MDLX. I took some liberties with the space station to make it work. First off, its finished. You could not spin a half completed station. The wheels counter-rotate to cancel gyroscopic precession, and the docking bays are non rotating zero-gee bays. While the spaceplane rolling into the bay looks great on film, it would be impracticable and down right dangerous to have a 300,000 lbs nuclear spaceplane flailing into space dock. Not great, and I just threw some basic textures on it, it could use some higher rez skins...someday. Have fun, and remember to close the pod bay doors...
Posted Jan 22, 2015 06:19 by lazarus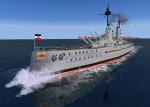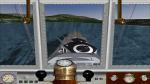 6.38Mb (1093 downloads)
FSX/FS2004 WWI Battleship SMS Konig. This was at this time a modern "Dreadnought"-styled 175 meter warship of the german imperators navy with five 30 cm twin turrets, fourteen 15 cm casematt turrets and ten 10 cm guns. All main turrets of my FS-model are animated in azimuth and elevation. Twenty four cameras let you explore the beautiful ship and the virtual decks including three navigation and command bridges. Ship and weapon effects are included. FSDS 3.5 model made by Erwin Welker
Posted Jan 19, 2015 09:34 by Erwin Welker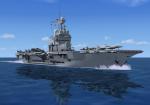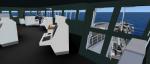 38.22Mb (4980 downloads)
FSX Pilotable french aircraft carrier RFN "Charles De Gaulle". The Ai-model has top payware quality and is made by Sylvain Parouty. His ai-versions are available at www.Mirage4fs.com. His photorealistic and extremly detailed model carries ten aircrafts on the flight deck and at least five in the hanger. My AddOn provides a pilotable ship with 2D panel as navigation bridge and the virtual views shows a detailed navigation bridge with crew, shown by five VC-cameras. Ten external cameras allows you to explore the realistic ship. There are plenty of views of the flight deck and hangers with Rafale and Super Etendart figher jets. Even two pilot cockpit views are included (Rafale and Super Etendart). This is a complete ship. Panel bitmaps and configuration by Erwin Welker
Posted Jan 17, 2015 07:14 by Erwin Welker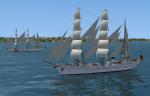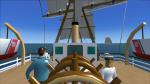 7.59Mb (1311 downloads)
FSX package with four pilotable three mast sailing training ships of the Gorch Fock class. There is the "Gorch Fock/2" of the german navy, the US coastguard vessel "Eagle", the "Sagres" from portugals navy and the "Mircea" from the romanian Navy. All models are made by Henrik Nielsen and belongs to his huge ai-fleet package "179_ai_ships_and_ai_ship_traffic.zip". His fleets brings ship traffic into the empty sea of the default FSX and more reality into empty harbours, f.i. a tallship race in the fjord of Kiel/Germany. My addon provide four pilotable versions of those pretty sail training ships. Forteen camera views let you explore the ships; not only the decks but also the views of sailors working high above in the masts. A saved flight for a tallship race into the harbour of Kiel/Germany is included. Configuration for the pilotable versions and cameras by Erwin Welker
Posted Jan 16, 2015 08:14 by Erwin Welker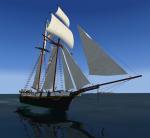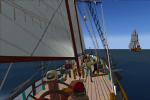 7.18Mb (968 downloads)
FSX/FS2004 Topsail schooner La Recouvrance. This was an agile and fast escort ship of the French IRIS-class in 1817, armed with 6 to 8 guns. A replica makes daytrips arround Brest harbour. My model is extremly detailed and is has four animated canons, four animated carronades and two animated gunners. Fifteen cameras let you explore the beautyful ship and the virtual decks. An ai-model of the french replica with reduced parts is included. FSDS 3.5 model made by Erwin Welker
Posted Jan 14, 2015 04:25 by Erwin Welker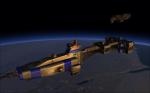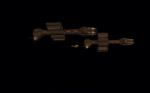 65.96Mb (1696 downloads)
Earth Alliance Omega class Destroyer and Hyperion class Heavy Cruiser. AI Starships from the Babylon 5 universe for FSX AI or whatever use. Omega base mesh warehouse model extensively re built, corrected, animated and textured by Lazarus. Not ideal, but a substantial update of the previously released version while a new Omega is built. Hyperion class heavy cruiser mesh and textures by Lazarus. I hope you all enjoy, had a blast modeling this. Sorry for the old Omega, but it looks fine and will due until the new ship comes from the yard. Night mapped, landable hangar deck/bay, improved state of the art in texturing, modeling and animating.
Posted Jan 10, 2015 05:58 by Lazarus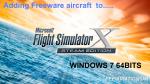 73.77Mb (1614 downloads)
This is a way to install freeware aircraft that I have for FSX Steam - and so far is working for me using a laptop with Windows 7 64 Bits. Not tested on other operating systems(Windows 8, etc etc). Airplanes used for the process were The Flamenco and VAL BN Islanders for FSX, available here in Simviation. Also here's a link for a video: http://youtu.be/xz-GgQdisYo
Posted Dec 23, 2014 03:07 by Rafael Ortiz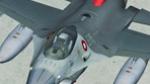 0.24Mb (1454 downloads)
That is a fix for the FSX Viperden-type F16s, which is the F-16 Figthting Falcon (VIPER) by Kirk Olsson adapted to FSX by Danny Garnier. That fix is about the canopy transparency which happens to cause troubles with the latest FSX versions. A fix already released gives a completely clear canopy, which does not respect the F-16 canopy's tinted hue (NOTE FOR THE VAULT MANAGER! This file does not need a specific Viperden-type F-16 as they are several of that type I think. However, should you have a specific such F-16 you want to promote (and having make sure by yourself that my fix works with it), you may link to that specific F16)
Posted Dec 15, 2014 08:23 by G. Guichard
0.53Mb (421 downloads)
10 performance profiles for some of the most popular GA aircraft in FSX. should also work if your using FS9, P3D, or Xplane as your simulator. aircraft are as follows. C172, C182, C206, C208, C310, C750, PA28A, PA34, BE20, BE68. Include Vspeeds and fuel burn data for climb cruise and descent. requires PlanG Flight planning software available for free here. http://www.tasoftware.co.uk/planG.htm
Posted Dec 8, 2014 17:37 by CountryFlyboy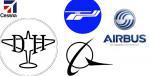 0.01Mb (1184 downloads)
A series of flight plans from various airports accross the US, Europe and the far East.
Posted Dec 3, 2014 02:33 by uploader