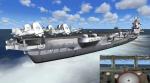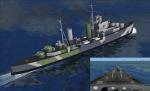 3.04Mb (2679 downloads)
FSX double pack for pilotable British Navy carrier "HMS Victorious" from 1944 and 4 cruisers of the Dido-class. The carrier has 3 different deck configurations with Corsair fighter planes on deck. This ships are generally flight simulation ai-ships, made by Fraser Paterson and Philip Chandler from flyingstations.com. A download there is required (Victorious_1944.exe). Features: Both ships with bridge, sound and air files with special effects for the cruisers only. Several camera views let you explore the ships. Bitmaps and configuration by Erwin Welker
Posted Oct 6, 2011 16:42 by Erwin Welker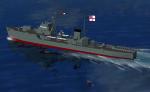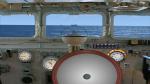 2.14Mb (1296 downloads)
FSX features for a pilotable WWII frigate ("Grumman-Martlet-Ruler-class-CVE-package-1" from the "Retro Carrier Group" required). This japanes warship from Mark Schimmer is originally used as scenery object or as a generic escort ai-ship (with british flags) within the addon from the Retro Carrier Group. My AddOn provides a pilotable ship with bridge, sounds and special effects like forward firing AA-guns or exploding depth charges, causing a oil leak at a hitten submarine. 7 camera views let you explore the ship: Standing at the stern you can see the detailed deck or you can turn around to handle the AA-gun. Man 3 of 5 triple AA-guns, stand on the fly bridge or at the bow, fire the AA-gun at the front deck or the main turret. Bitmaps and configuration by Erwin Welker
Posted Sep 27, 2011 16:08 by Erwin Welker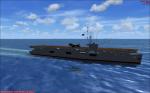 1.63Mb (785 downloads)
A repaints for Mark Fitch's Casablanca CVE, and Mick Posch's magnificent H-21C Shawnee, as the first assault Helicopter Carrier, USS. Sicily; and a what if Marine Corps HR2P-1 Sea Elephant Amphibious medium lift heicopter. The Commencement Bay Class CVE's were an improved Bouge/Casablanca class escort carrier. Built on a T-3 Tanker hull instead of the C-3 hull of the Bouges, the Commencement Bays were slightly larger, but were externaly nearly identical to the Bouges. USS.Sicily operated Corsairs, AD's, TBM's and HO2S's off Korea, and served as the first Assault Helicopter Carrier(LPH) by 1953, operating a HO2S,HUP1/HRP-1's and HOS4/HRS4 airgroup and a Marine combat battalion. Though evaluated by the navy, the H-21 was passed over in favor of the HOS4, though its smaller brother, the HUP-1, served in large numbers.
Posted Sep 23, 2011 07:25 by Retro Carrier Group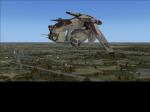 14.86Mb (3305 downloads)
This is my Star Wars Episode 2 LAAT/I or better known as the Republic Gunship. I believe it is a first ever to, I don't know of any other one for fsx ever made until now. It's not anything amazing no panel no vc. It's just something I threw together using model converter x, google sketchup, and gmax. Enjoy. This is "for now" the final version. I am going to learn how to make animations in gmax. So I will be releasing a new animated ship soon. Feel free to tweak and edit it.
Posted Sep 16, 2011 00:45 by Skyler Henry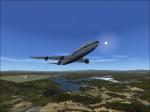 0.07Mb (2038 downloads)
Want some heavy exhaust smoke for those heavy older jets? Here it is... Simple to install. Uploaded by D Everest but I take no credit.
Posted Sep 13, 2011 11:02 by D Everest
0.00Mb (805 downloads)
Callsigns for airlines from North America and Canada.
Posted Sep 8, 2011 09:59 by eldar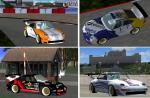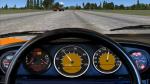 6.29Mb (6839 downloads)
FSX Porsche 911 GT2 from the year 1998 (993). Four textures sets are included. The 3D-model and the basic textures (beta version) are made by Jessy Corrales. Photographical 2-d panel, original Porsche racing sound and 4 sets of repainted textures by Erwin Welker.
Posted Aug 18, 2011 07:27 by Erwin Welker
0.00Mb (713 downloads)
Airline callsigns for Europe and Asia
Posted Aug 17, 2011 10:38 by eldar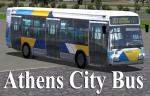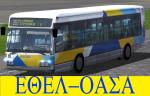 14.41Mb (6147 downloads)
FSX/2004 Athens City Bus Package This is a complete freeware package of Athens City Bus #207 (Actual Line)of ETHEL-OASA (Athens Transportation System).Included 2D Panel and sound(No VC). Original model Mitsuya Hamaguchi (hama). Repaint By Yiannis Katehis Tsetsas
Posted Aug 10, 2011 03:04 by YIANNIS KATEHIS TSETSAS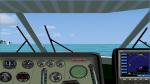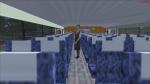 1.81Mb (1680 downloads)
FSX modified panel plus cameras for the Passenger hovercraft ferry from Mitsuya Hamaguchi (Requires hover_v03.zip). Makes the Hovercraft useable in FSX. The 2D panel matches th VC and additional there are 5 external and 6 internal views. Configuration by Erwin Welker.
Posted Jul 28, 2011 08:47 by Erwin Welker