0.00Mb (3335 downloads)
FIXES: - the center of gravity was too far aft , making it backflip when you tried to drive up the ramp - the gear were too spongy making it bounce like a rocking horse when you got off - the weight was to light , making it slippery on the deck when riding on the LCAC * by Bruce Fitzgerald
Posted Dec 9, 2008 03:49 by Bruce Fitzgerald

0.75Mb (5246 downloads)
Creating VIP Parking in FSX - an Illustrated Guide. After landing your favorite FSX aircraft, are you frustrated by ATC directing you to a gate which is nowhere near a logical spot? This guide shows how to create a reserved parking gate at any airport and have ATC direct you properly to that gate. This concept will work for a specific aircraft of your choice. The technique is based upon investigations and information developed by Jim Vile and Reggie Fields. Please unzip to a temporary folder and read the directions carefully. Compiled in Doc and PDF formats for your flying enjoyment by David "Opa" Marshall.
Posted Dec 7, 2008 21:20 by David "Opa" Marshall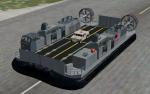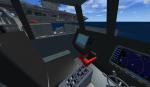 10.47Mb (21563 downloads)
FEATURES: - animated ramps, props, rudders and thrust nozzles - Hard Deck and Loading ramps for Multiplayer amphibious assault operations - improved flight dynamics for carrying other players - amphibious (extend gear prior to beaching) - more realistic sound files - Dynamic VC - this model was re-worked to carry my new Humvee , or any vehicle over land and sea at over 50 knots. a dynamic VC and loadmaster view has been added as well. In addition,the new hardened deck and loading ramps (shift+E) now make multiplayer amphibious assault operations a reality. - Dont forget to lower and raise the landing gear when transitioning between land and water and use a nice flat beachhead if you have vehicles aboard - * compiled with the FSX SDK for FSX ONLY by Bruce Fitzgerald
Posted Dec 6, 2008 04:14 by Bruce Fitzgerald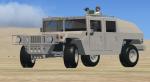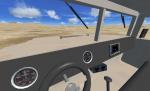 13.87Mb (17174 downloads)
FEATURES: - animated driver and steering wheel - animated gunner in new ACU camo - good offroad and hill climbing dynamics - Dynamic VC - This model was created for use with my new LCAC for some amphibious assault action in Multiplayer or simply as a standalone offroad vehicle... other Army fighting vehicles are in the works so stay tuned * compiled with the FSX SDK for FSX ONLY by Bruce Fitzgerald
Posted Dec 6, 2008 04:10 by Bruce Fitzgerald

1.79Mb (9956 downloads)
This is my first model made in FS9 and FSX. I made the Hindenburg from FSDS v3. Although the Hindenburg doesn't have effects (Animations), and the model is partly made poorly, and the texture is unrealistic, this is the only model for FSX and FS2004 because there is no Hindenburg Downloads for FSX and FS9. Splash screen are included for both FS. By Victor Vu.
Posted Nov 25, 2008 23:18 by Victor Vu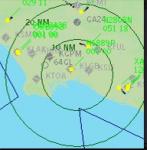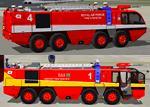 5.23Mb (7455 downloads)
This is the original Rosenbauer Panther firetruck, posted by Mitsuya Hamaguchi. The firetruck also has some repaints in it, view Readme for details. I added the FSX radar panels. You get the radar panels to use in multiplayer, or free flight (works in Free Flight without Delux). By Jonathan Koch Hougaard.
Posted Nov 10, 2008 09:13 by Jonathan Koch Hougaard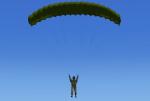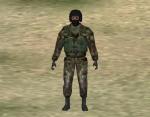 2.02Mb (30025 downloads)
Realistic freefall and open chute flight dynamics , ambient leg animations , chute deploys with flaps , animated head and torso , red smoke and rescue strobe - compiled with FSX SDK *for FSX ONLY by Bruce Fitzgerald
Posted Nov 5, 2008 12:00 by Bruce Fitzgerald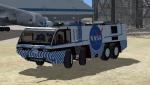 1.22Mb (6665 downloads)
Textures only for the Rosenbauer Panther Fire Truck in NASA scheme. Requires Mitsuya Hamaguchi's Rosenbauer Panther. Repaint by K Lewis.
Posted Nov 2, 2008 17:29 by Kent Lewis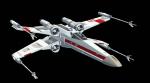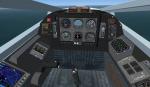 11.52Mb (44494 downloads)
The StarWars Classic X-Wing. This model Features: A reasonable Mach 1.8 Vmax - Good High Altitude performance - exceptional manueverability and G tolerance - Hover flaps (see readme) - animated R2D2 - animated S-Foils that are tied to spoilers (which have zero drag and are visible in multiplayer) - Dynamic VC - Detailed external model - custom sound . *compiled with FS9 SDK / tested in FSX w/Acceleration winXP DX9 *for FSX by Bruce Fitzgerald
Posted Oct 10, 2008 18:07 by Bruce Fitzgerald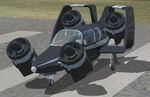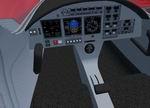 4.64Mb (36951 downloads)
FSX Moller M400 Skycar. This package contains a simulation of the Moller M400 Skycar, and was developped in close cooperation with the Moller company. Besides all the usual animations you find in an aircraft addon, it contains a wealth of features and animations specific for this M400 Skycar, like: automated nacelles, ductvanes and folding wings; true VTOL operation; full virtual cockpit, with moving sidesticks, throttle lever and all needed instruments/switches to drive/fly this Skycar; accurate lighting; seat-dependant "camera" views. By Rob Barendregt and Stephen Vernava.
Posted Sep 12, 2008 03:59 by Stephen Vernava.