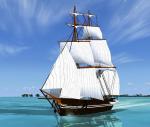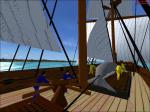 0.86Mb (1265 downloads)
FSX camera configurations for the Captain Ahabs whaling ship "Pequod" from Rotule/Pierre de Rotalier. This classical sailingship with square yards is famous through Herman Melville's novel "Moby Dick". Features: 7 camera views: An external bowview, with Captain Ahab at the helm, at the jibboom, on the main- or foremast, look out for whale blows or watch the whale slaughtering on the maindeck. Improved sounds and replaced effects for proper functions in FSX. Configuration by Erwin Welker
Posted Jul 18, 2011 04:20 by Erwin Welker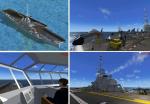 5.84Mb (1502 downloads)
FSX panel and cameras for a pilotable French aircraft carrier "Clemenceau" from Sylvain Parouty. Features: The Panel has a bridge, a cannon gunner view and a cockpit of a F-8 Crusader. The cannon can be rotated for 180 degrees. 7 camera views let you explore the ship: Stand on the bridge as airboss or at several spots of the flight deck, see the deck as pilot from a F-8 cockpit or mann and operate a 10 cm gun turret. Bitmaps and configuration by Erwin Welker
Posted Jul 16, 2011 05:59 by Erwin Welker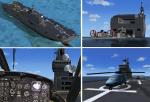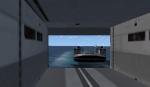 4.99Mb (1339 downloads)
FSX panel and cameras for pilotable French Navy carriers "Mistral" and "Tonnerre" from Jean Pierre Baril. This 2 versions of flightsimulation ai-ships for amphibious attacks are animated with moving elevators with helicopters (Mistral) or with docking and undocking hovercrafts (Tonnerre). Download required at mirage4fs.com (veh_mistral__AI_V2.zip). Features: The Panel has a bridge and for a flightdeck view a Bell UH helicopter cockpit. 7 camera views let you explore the ship: Watch the animated LCAC hovercraft or the helicopter on the elevator, have an external view, see the flight deck or stand as airboss at the bridge. Bitmaps and configuration by Erwin Welker
Posted Jul 16, 2011 05:58 by Erwin Welker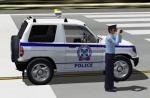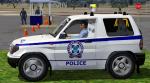 1.34Mb (3165 downloads)
This is a repaint of Ellehihk Astynomia' ELL.AS' (Hellenic Police) model of Mitsubishi Pajero by Mitsuya Hamaguchi (hama).Original Textures by Mike Keller You can Download the FSX Model at Simviation FSX Misc Page . The Files For FSX Are DDS 5 . So i Hope you Enjoy the of road ride because this baby can go anywere!!! By YIANNIS KATEHIS TSETSAS
Posted Jul 15, 2011 15:48 by YIANNIS KATEHIS TSETSAS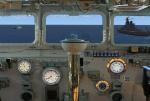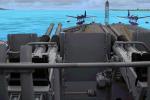 6.93Mb (1444 downloads)
FSX features for the battleships of the IOWA-class from Gart Shetter (requires IOWACLASSBATTLESHIP.ZIP). This American warship had a very long service, from WW II until the end of the 20th century. Options: Photo realistical quadruple AA-guns and remote fire control which can be rotated for 360 degrees. Photo realistical bridge and fore deck. Included are sounds, special effects and modified camera views for the huge ship. Bitmaps, configuration for all the views, sounds and effects from Erwin Welker
Posted Jul 15, 2011 05:29 by Erwin Welker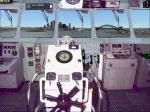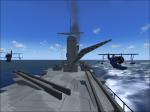 1.40Mb (1105 downloads)
FSX Panel with multiple camera views and effects for the great animated WWII cruiser USS Salt Lake City from Bruce Fitzgerald (requires cruiser ca_25.zip). Panel features: Photorealistic generic Bridge with a Gun turret view and a remote fire contol optics, which both can be rotated for 360 deg. From the remote fire control the the twin turret can be fired (sound- and visual effects). Additional camera views allows to explore the ship (Mast view, fore-, rear-, boats- and animated catapult deck. Panel-, camera- and effect configuration by Erwin Welker
Posted Jul 15, 2011 05:21 by Erwin Welker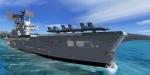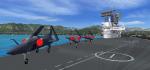 1.64Mb (2999 downloads)
FSX features for a pilotable British Navy carrier "HMS Ark Royal". The version is generally a flightsimulation ai-ship, made by Fraser Paterson and Philip Chandler from flyingstations.com. A download there is required (Victorious Early War.exe). Features: Photorealistic panel, sound and airfiles. 7 camera views let you explore the ship: Have external views, see the flight deck or stand high above at the island. Bitmaps and configuration by Erwin Welker
Posted Jul 14, 2011 04:16 by Erwin Welker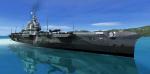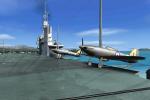 1.45Mb (1779 downloads)
FSX features for a pilotable british Navy carrier "HMS Victorious" from 1940. The version is generally a flightsimulation ai-ship, made by Fraser Paterson and Philip Chandler from flyingstations.com. A download there is required (Victorious Early War.exe). Features: Photorealistic panel, sound and airfiles. 7 camera views let you explore the ship: Have external views, see the flight deck or stand high above at the island. Bitmaps and configuration by Erwin Welker
Posted Jul 14, 2011 04:13 by Erwin Welker
0.06Mb (2030 downloads)
This effect was originally released as freeware by Iris Simulations with their F15E model. Modified to last longer, heat effects only. Start up smoke dissipates in seconds. Jet startup with 900 minutes of heat to add a little more realism to your sim.
Posted Jul 12, 2011 23:24 by T.Marson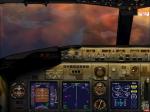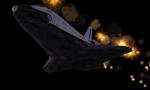 0.47Mb (5437 downloads)
FSX flights part 2 for the Space Shuttle Atlantis. At the first flight you do a reentry from the orbit back to the stratosphere with the engines turned off. Glowing flames appears at the windshield of your cockpit. In the external view you will see fireballs dancing around your shuttle. The second flight is the final approach to Cape Canaveral/Florida. The space shuttle Atlantis-1.zip from Bruce Fitzgerald is required. Flights from Erwin Welker.
Posted Jul 10, 2011 07:03 by Erwin Welker