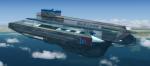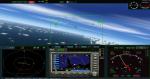 44.62Mb (699 downloads)
This is a VERY large carrier. Bigger then most airports. It was originally made for FSX but works in P3D 4 if you use the FSX to P3D Migration tool. This was the "SERVER" aircraft used on the Black Ice Air server several years ago. Be prepared to add lot of down trim when spawning. After it settles down it flies SLOW but smooth. Landing on it is sketchy due to FSX issues I haven't worked out ...Yet INSTALLER SET FOR P3D Uninstaller available after install. (This files is a self installing .exe file which simviation has scanned with Norton and found to be safe).
Posted Jun 2, 2019 17:07 by GEORGE VENTURINI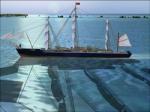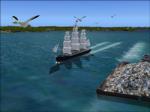 3.79Mb (506 downloads)
FSX - Tall Ship Bermuda. Credits to Ian Thatcher for the Cfg sources and wake effect to compile all the models..thanks so much!! Visit FSX-Shipyards.com for large collections of freeware ships and boats and submarines.. Don't forget to Copy and Paste the "Effects" into your main Effects Folder. Updated for FSX by Ewin Sheridan (fsx-shipyards.com). Ron Jeffers
Posted May 18, 2019 21:18 by Ewin Sheridan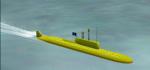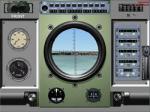 2.90Mb (656 downloads)
FSX - Oscar Class Submarine This is a detailed version of the "Oscar Class Submarine" and comes with a Basic 2D Cockpit & 3D Views, Animated Flag, etc. Includes 2 Versions and both have their own "Sound Files".This version also has a basic working "Autopilot". Also included are the FSDS Source Files for those that might like to learn more about Designing or for those that might like to upgrade what work I have already done.
Posted May 10, 2019 03:41 by James Harris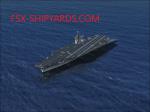 2.59Mb (967 downloads)
FSX - Nimitz-Class Carrier Version 4 (Pilotable Version). Compatible with FSX and P3D up to V3 (Not V4). This New Version comes in 4 Models, 2 with Clear Flightdecks and 2 with FA-18's on the Flightdeck. Also included is Animated Flag, Radar, Blast Shields, Carrier Side Lifts, Updated Flightdeck, Updated Hull, Updated Textures, AutoPilot and much more.
Posted May 7, 2019 20:56 by James Harris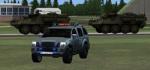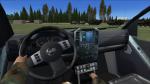 11.10Mb (1094 downloads)
FSX/Acceleration/FS2004/P3dV3 Nissan Pathfinder Military SUV. This models despicts the German version used by the "Feldjaeger", the military police of the German forces. The animations can be controled using a police feature switch console which allows to turn on the blue strobe lights, a toggling text display, a Stop board comes together with a patrolling soldier and an opening tail door. The car has a photorealistical 2D panel and a matching VC. The FDE and the police effects are made by Mitsuya Hamaguchi (Hama), the other effects and lights are made by Pierre J. Carosin. The FSDS 3.5 models with panels are made by Erwin Welker.
Posted May 5, 2019 04:09 by Erwin Welker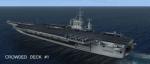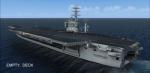 115.46Mb (1268 downloads)
FSX Javier's Carriers Nimitz Class Updated for FSX. Here you have an update for all the CVN-70 to CVN-77 With many configurations. Don't mix with the original Javier's models CVN-68-69. All the models have been modified with Gmax, to put the numerals in the bow, and always with the permission of Javier Fernandez. The speed has been lowered to 20 knots, for more realistic and easy for trap, not 50 as in the FSX. By Antonio Diaz.
Posted Apr 9, 2019 04:27 by uploader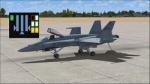 0.94Mb (599 downloads)
Simple Ramp Gauge for FSX. Activation with a klick: Exits 1-4, Tailhook, Wing fold, Jetway, Pushback (left, straight and right) Only tested in FSX & Acceleration!
Posted Apr 9, 2019 03:40 by uploader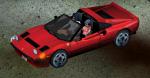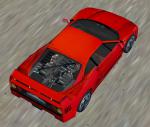 92.97Mb (826 downloads)
FSX/Acceleration/FS2004/P3dV3 Ferrari Package with four Ferrari supersport and racing cars. This Addon contains the rare and beautyful 288 GTO from 1984 which is based on the 308. The 308 GTS with Magnum at the wheeel is best known from the TV series. And the incredible F-40 is included as sport- and racing car. 288 GTO and F-40 let you see the engines and the 308 GTS allows you to drive with open roof top. All models has photorealistical 2D panels and matching VCs. Cameras for FSX and P3d showes you more of the beauty of that wonderful sportcars. Optional files for FS2004 with 32bit sounds and animated wheel for the 2D panel are included. This files and also the special gauges, effects and lights are made by Pierre J. Carosin. The FSDS 3.5 models with panels are made by Erwin Welker.
Posted Mar 30, 2019 04:32 by Erwin Welker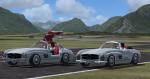 13.33Mb (469 downloads)
FSX, Acceleration, Glossy Vintage Sportscars Mercedes Benz 300 SL. FSX, Acceleration, Glossy reworked vintage sportscars. Attention FS2004 and P3d users: The cars will not run in FS2004 but they works in P3dv3 but they will not have shiny textures and they will not work in P3dv4! The package comes with Sean Connery's 007 Aston Martin DB5 and Mercedes Benz 300 SL "Gullwing" and Convertible. This models replaces my versions from 2016. In the meantime I got the trick to work with Alpha channeling and now my cars has shiny textures. Both Mercedes models has now an improved quality and both models showes more differences; the Gullwing is in the style of 1955, the convertable from 1957. The Mercedes sport cars are based on the "Silver Arrow" racing car the "Gullwing", later also available as convertible version. They were buildt between 1954 and 1963. Equipped with a 3 liter 210 hp engine it was and it is one of the most famous cars ever. The Gullwing doors or the convertable roof are animatedand, also the two ladies in the style of the fifteeth. The 3rd version is the roadster racing together with the "Gullwing". Sean Connery's James Bond 007 DB5 is the worlwide best known movie car ever with all its special gadgets, known from the movies from the 1960's like "Fireball" or "Goldfinger" but also from "Golden Eye" and "Skyfall" and other movies. The sim model has many, many animated gadgets, including the ejection seat so can you watch the ejection of the talkative lady. All sim models provides 2D-panels and detailed VCs with realistic gauges, great sounds and excellent handling. Cameras let you explore the cars inside and outside and let you see the engine. FDE tuning made by Knud Kristofferson. Most gauges and effects are made by J.P. Carosin. FSDS 3.5 model with panel and sound by Erwin Welker
Posted Mar 23, 2019 03:43 by Erwin Welker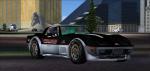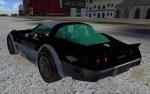 12.53Mb (507 downloads)
FSX/Acceleration/FS2004/P3dV3 Chevrolet Corvette C3 Indianapolis pacecar from 1978. The model comes with photorealistic 2D panel and equal VC. The T-roofs and the hood with the V8 engine underneath are animated. The special gauges and lights are made by Pierre J. Carosin. The FSDS 3.5 models with panels are made by Erwin Welker. The special gauges and lights are made by Pierre J. Carosin.
Posted Feb 28, 2019 03:05 by Erwin Welker