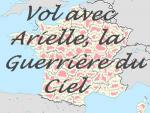 8.80Mb (389 downloads)
I met this fantastic lady, Cloud9gal, who was quite enthusiastic about translating the CFS2 radio calls into French. I thought, "You know, it would be a welcome change to hear a woman's voice barking out those commands." And so, the character of Arielle, the Sky Warrior was born. These files contain the rough French translations of CFS2 gvr files one through seven, similar to the British and German files previously made by Franz von Baron. They will provide you with a distinctively feminine French atmosphere without having to add files via the mission builder. Please pay your proper respects to Cloud9gal in the forum, as well as Franz von Baron for his ground-breaking work, and Martin Wright for his SplitGVR program.
Posted Dec 19, 2009 10:06 by Ed Rufle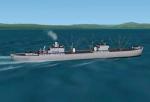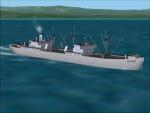 0.18Mb (1397 downloads)
This is a generic WWII armed fleet oiler which can be used in any navy. It is multi-LOD for high FPS. To install simply extract the ZIP file and place Fleet_Oiler folder in your CFS2/Ships folder. This model also has navigation lights for night missions.
Posted Dec 5, 2009 00:25 by Tom Sanford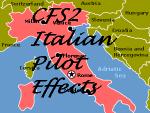 0.39Mb (556 downloads)
These wave files were taken from the Italian Radio Chatter package and modified. I like them so much I use them in my American install and pretend my pilot is an Italian immigrant. I got the Idea from Nibbio's PilotKill effects. I always loved his effects, but I think these are slightly more realistic. I love it when a pilot is wounded and you hear him cry "Mio Dio!" (my God). The intent of these sound files is to increase player immersion by providing more feedback whenever the player, a friend, or a foe is injured or shot down. Dandolo513 recorded the originals.
Posted Oct 26, 2009 03:07 by Ed Rufle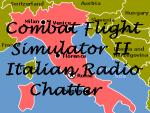 8.91Mb (657 downloads)
This is a quick and easy way to add an Italian ambiance to your Italian campaigns. Most of the credit goes to Dandolo 513(SOH) for making the original Italian recordings and to Franz Von Baron for his tutorial and ground breaking works. I am only the editor, and I do not speak Italian. That being the case, I consider this a work in progress and anyone is free to add to or improve it.
Posted Aug 22, 2009 14:46 by Ed Rufle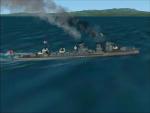 0.01Mb (1102 downloads)
This is a tweaked version of the original DP file for Walker's magnificent Shikinami, which positions the smoke effects more precisely, as well as correcting the speed settings for the ship. The speed settings in the DP are in KPH, rather than knots or MPH. The Shikinami's settings should be at 40KPH for cruise and 70KPH max to reflect her correct max speed of 38KTs.
Posted Aug 5, 2009 23:11 by Tom Sanford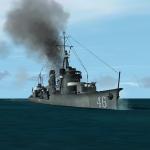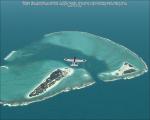 2.28Mb (1911 downloads)
IJNS Shikinami Japanese destroyer WW2 version.1 cfs2 ship only. A variant of the Fubuki class of Japanese destroyers, present at a number of naval actions and part of the Tokyo Express. The model IJNS Shikinami, was created using FSDSpro, it has multi-res mdl. Feel Free to upload this to any other cfs2 sites, this is Freeware but is copyrighted against commercial use. This item includes 2x WW2 missions. P J Walker.
Posted Aug 3, 2009 14:16 by peter jonathan walker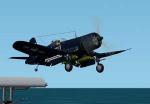 0.16Mb (1467 downloads)
A short tutorial on making any aircraft carrier/prop aircraft into a true catapult combination. This is an adaptation of GreenGhost's Gauge by Klausreiss to use Peter Dowson's FSUIPC.DLL for a CFS2 Catapult for aircraft carriers. I just did the testing and package assembly for the download. I have tried to make it as simple to understand as possible. If you need assistance, contact me by email. The examples included here refer to the carrier USS_Sicily50 by Collin Glendinning (available at: http://www.simviation.com/lair/cfs2shipyard.htm) and the aircraft DB_F4U4B_Corsair(my modification of DBolt's F4U-1C with Keltiheart's skin). With the explanation and by viewing the files, you can apply this to any carrier and aircraft you may wish.
Posted Jun 25, 2009 01:37 by Tom Sanford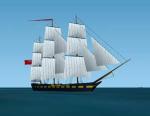 0.26Mb (538 downloads)
This is an original model of the HMS Surprise, a Frigate of the 6th Class...very small at 125', as compared to the average frigate in the 175'-200' range. She was built in 1797 by the French as the Unite and captured by the British, who renamed and upgunned her to from 24 8-pounders to 32-pounders. A typical British Bulldog, she was sent to neutralize the 44-gun French privateer Acheron in the novel/movie Master & Commander.
Posted Jun 23, 2009 23:15 by Tom Sanford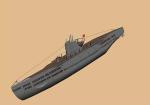 0.09Mb (931 downloads)
This is a submerged version of my AI German Type VII U Boat. It is running at periscope depth, and all that is visible above the surface is the periscope and a small bow wave (also included) that it generates. The shadow of the sub can be seen from high altitude, if you have Aircraft Shadows selected in Settings. The sub can be bombed or rocketed, as well as strafed. It will show on your Tactical Display.
Posted Jun 23, 2009 23:07 by Tom Sanford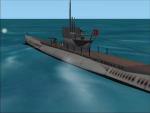 0.47Mb (1780 downloads)
This is the pilotable version of my Type VII U Boat. The Type VII was the most numerous U Boat of WWII and was in production from 1938 through the end of the war. The Panel, DP, AIR and CFG files are by PSULLYKEYS. This version will is armed with an 88mm deck gun and 20mm AAA, as well as the MK10 Torpedo. Guns Only or Torpedoes are selectable payloads. The trigger fires the 88mm forward, and the cannon key fires both the 88mm and 20mm broadside in both directions. The torpedo loadout is 12. The vessel submerges/surfaces using the EXITS/Canopy command. When submerged only her periscope is visible above the surface unless you have aircraft shadows enabled, in which case the shadow will be visible from above. The VII Boat is equipped with a full panel. She has a compass, nav panel (must be in GPS mode to have knot meter function), rudder trim and a full GPS gauge. The VII Boat can be launched in missions from any water runway, but is most easily launched from one of my sub tenders (most notably the Invisible Tender), all of which are available here at SimV.
Posted Jun 23, 2009 22:58 by Tom Sanford