24.32Mb (29 downloads)
Repaint pack for the Nemeth Designs EC135 Payware. Done up in a couple Reach Air Medical liveries that operate in California. Total of 7 repaints in this pack. Works in FSX and P3D.
Posted Dec 6, 2022 14:45 by Delta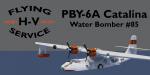 97.94Mb (60 downloads)
Repaint pack for the Aerosoft Catalina X payware. These are for the PBY-6A Civ version. Readme is included for instructions. Total of 5 repaints in this pack. Tested and working in P3D and FSX. Fairly big upload as there are lots of texture files.
Posted Dec 6, 2022 14:37 by Delta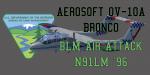 100.91Mb (85 downloads)
Inspired by Scorchs OV-10 pack in which he had a BLM bronco in. I decided to do the entire BLM fleet from the 1990s. Total of 6 aircraft and 10 repaints. You will need the Aerosoft Bronco X payware for these to work. Works in both FSX and P3D.
Posted Dec 2, 2022 16:38 by Delta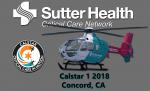 15.01Mb (37 downloads)
Texture pack for the Nemeth EC135 payware. 3 liveries of CALSTAR birds employed by Sutter Health, owned and operated by REACH. Confused yet? Paints cover 2018 and 2019.
Posted Dec 2, 2022 16:28 by Delta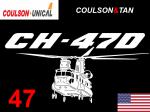 44.00Mb (121 downloads)
Scorch of SATO has given me permission to add some liveries to his Coulson paint. So 6 new paints are included in this pack as well as a touched up version of his 0CU. Tested and working in P3D and FSX. Included in Orange County Fire, L.A. County Fire, NSW Fire, Victoria Fire, and 2 Chile contract liveries. Enjoy!
Posted Nov 24, 2022 10:22 by Delta
29.07Mb (69 downloads)
This is the Department of Forestry pack I have compiled. They are the green liveries of the late 70s and early 80s. Tested and working in FSX and P3D. Requires the Carenado Cessna 337 payware to work. This pack covers all the Air Attacks and one FLIR I could find. Hopefully didn't miss any. Original base paint by Dirk Hueschelrath, modified by me, Delta, to be accurate of the old days. Included are A11, 12, 14, 21, 41, 51, 61, and FLIR, for a total of 8 liveries.
Posted Nov 23, 2022 00:21 by Delta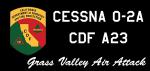 39.23Mb (129 downloads)
I have compiled a pack of CDF Air Attack liveries for the Carenado Cessna 337. You will need the payware for these to work. Tested in FSX and P3D. Total of 10 liveries, A12, 14, 21, 23, 24, 31, 33, 41, 44, 46. Keep your eyes out for the Green flavor, coming soon! Original paint by Rick Bubier.
Posted Nov 22, 2022 03:29 by Delta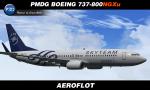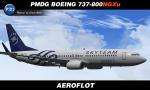 108.26Mb (24 downloads)
P3D PMDG Boeing 737-800NGXu in Aeroflot - SkyTeam livery. Textures in UHD format for PMDG model. Description and installation in Readme file. Repaint by Sergey Gleba aka serg09. Link to my products on SimMarket: http://secure.simmarket.com/paintsim.mhtml
Posted Nov 9, 2022 02:50 by Sergey Gleba | PaintSim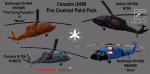 32.72Mb (119 downloads)
Repaint pack of 4 liveries for the Cerasim UH60. Will work in both FSX and P3D, basically anywhere the Cera works youre good to go. The liveries you get are 2 Northwest liveries, "Nemo" and "Dory". "Nemo" is also known as "The Flying Pumpkin". The 3rd livery you get is an older Helinet paint. Currently it sports a silver and yellow paint job but you get the Army green with dayglo orange in this pack. 4th and final paint is the Coulson-Unical ACU paint. Very unique livery!
Posted Oct 29, 2022 00:04 by Delta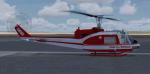 14.57Mb (58 downloads)
Repaint for the Milviz Redux Huey. This will only work on the UH-1C model. Vigili del Fuoco #31, these birds have now been retired and replaced by the Bell 412.
Posted Oct 23, 2022 09:27 by Delta