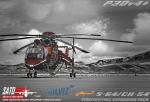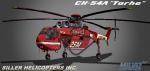 626.08Mb (215 downloads)
This project took the better part of 8 total months for development as well as the official approval of MilViz to modify their original S-64/CH-54 models. Much thanks is due to them and the Simulated Air Tanker Operations Community for assisting in the creation of this pack, as it was not all entirely me. I have updated this pack to include 7 new firefighting versions of the S-64 and CH-54 models used in aerial firefighting across the world. This package includes a number of updates to the Skycrane/Tarhe. The 7 models come down to the different tank designs in use, along with their assorted different external equipment variations. These include tank and equipment variations for the S-64E, S-64E+, S-64F, and CH-54A. The largest difference with these versions is the removal of the lesser seen water cannon and the addition of a working pond snorkel to ALL versions in this package. Versions equipped with the "ram snorkel" retain the use of this stock feature along with the new pond snorkel. External models include versions like the newly upgraded E+ model with composite rotors and the Italian F model with radome noses. Along with several other external tank models. I have also overhauled the sounds to match closer to the real Skycrane, as they were all taken in person from up close recordings I have of the S-64. In addition to these above modifications I have also included 14 liveries to accompany the new models. Operators consist of US, Australian, and Italian operators. Later repaints to include Canada are planned. This is a component based update, only the new sounds, external models, and textures are included. The panel and remaining files are required from the original MilViz/Nemeth Product. This was done to protect the overall product per my agreement with MilViz as well as this expansion pack is to be released as FREEWARE. New models by Nicholas Mitchell "Scorch00", repaints also by Nicholas Mitchell, Boris Cotic, and Connor Rocha. Original base model by MilViz/Nemeth Designs. This pack is a considerable amount of upgrades, which result in a large file size. This expansion package is to be used in P3Dv4 and above, the new models are NOT compatible with FSX. The MilViz/Nemeth S-64/CH-54 main product is required for this expansion package to work. Detailed Readme Files are included
Posted Mar 5, 2021 20:16 by Nicholas Mitchell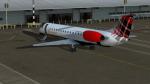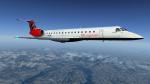 29.12Mb (57 downloads)
Loganair Embraer ERJ145LR 4K HD textures for the payware ERJ v2 by Feelthere/Wilco. Textures only
Posted Dec 31, 2020 00:10 by Kelvin Keeble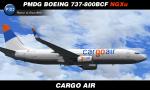 68.89Mb (51 downloads)
PMDG Boeing 737-800BCF NGXu in Cargo Air livery. Textures in UHD format only for new payware PMDG model. Description and installation in Readme file. Repaint by Sergey Gleba aka serg09. Link to my products on SimMarket: http://secure.simmarket.com/paintsim.mhtml
Posted Dec 17, 2020 04:34 by Sergey Gleba aka serg09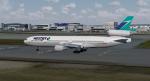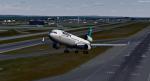 4.57Mb (99 downloads)
Fictional repaint of the SkySim MD11v2.2. Used in P3Dv4.5 and tested in P3Dv3
Posted Nov 28, 2020 04:26 by Ash Oxley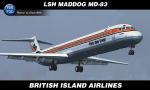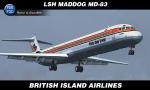 21.16Mb (29 downloads)
P3D V4+ LSH Maddog MD-83 in British Island Airlines - BIA livery. Texture only for payware Maddog model. Repaint by Sergey Gleba aka serg09. Link to my products on SimMarket: http://secure.simmarket.com/paintsim.mhtml
Posted Nov 10, 2020 12:40 by Sergey Gleba aka serg09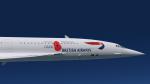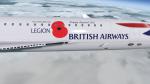 0.33Mb (110 downloads)
BA Poppy Appeal 2003 livery for the payware DC designs Concorde. Gives accurate livery points.
Posted Nov 9, 2020 16:54 by Kelvin Keeble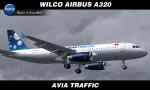 77.66Mb (104 downloads)
FSX/P3D Nordica textures only for payware Carenado ATR 72-500 model. Repaint by Sergey Gleba aka serg09. Link to my products on SimMarket: http://secure.simmarket.com/paintsim.mhtml
Posted Oct 31, 2020 06:02 by Sergey Gleba aka serg09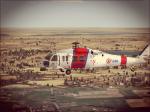 1.42Mb (84 downloads)
Polish Navy SAR textures for the payware Cerasim UH 60 Black Hawk. Texture by Voteh.
Posted Oct 30, 2020 12:59 by Voiteh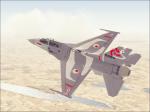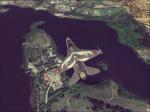 3.64Mb (80 downloads)
Polish Airforce textures for the payware IRIS F16D. Texture by Voiteh
Posted Oct 25, 2020 04:53 by Voiteh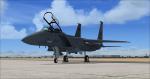 9.74Mb (122 downloads)
Textures only for the payware MILVIZ F-15E Strike Eagle, this livery represents an F-15E from the 17th Weapons Squadron based at Nellis Air Force Base Nevada. Hopefully you enjoy this addition to the FSX Acceleration MILVIZ F-15E Strike Eagle. https://milviz.com/flight/products/F15E/index.php
Posted Oct 22, 2020 14:01 by Dustin Kosman