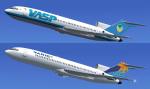 14.50Mb (387 downloads)
Varig and Vasp textures for the payware Legendary 727 V1.5 Professional.
Posted Aug 9, 2010 11:28 by Michel O. Florindo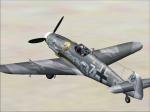 2.39Mb (507 downloads)
Textures for the payware AFS typhoon in the new colours that are applied to 6 Sqn
Posted Aug 8, 2010 13:36 by UKMIL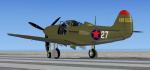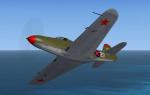 6.05Mb (362 downloads)
Textures only Bell P-39D-2 "27 White" Airacobra (41-38555), 16 GvIAP, Kuban, April - May 1943. Pilot N. Iskrin. This repaint of the payware SimTech P-39 Airacobra is by Enrique Medal, using a repaint by David Green.
Posted Aug 6, 2010 13:50 by Enrique Medal
11.09Mb (472 downloads)
Textures only for the payware Sky Simulations dc9-10 YV857C of JD Valenciana Airlines, Texture by Gustavo La Cruz
Posted Aug 2, 2010 16:24 by Gustavo La Cruz
12.50Mb (858 downloads)
Textures only for the payware Sky Simulations dc9-10 YV1382 "Pitufo" of SBA Airlines, Texture by Gustavo La Cruz
Posted Aug 2, 2010 16:13 by Gustavo La Cruz
12.38Mb (952 downloads)
Textures only for the payware Sky Simulations dc9-30 YV2430 of SBA Airlines, Texture by Gustavo La Cruz
Posted Aug 2, 2010 03:43 by Gustavo La Cruz
12.18Mb (930 downloads)
Textures only for the payware Sky Simulations dc9-30 YV1920 of Aserca Airlines, Texture by Gustavo La Cruz
Posted Aug 2, 2010 02:58 by Gustavo La Cruz
11.93Mb (632 downloads)
Textures only for the payware Sky Simulations dc9-30 YV2245 of Aserca Airlines,"Red livery", Texture by Gustavo La Cruz
Posted Aug 2, 2010 02:38 by Gustavo La Cruz
11.66Mb (615 downloads)
Textures only for the payware Sky Simulations dc9-30 YV1879 of Aserca Airlines,"blue livery", Texture by Gustavo La Cruz
Posted Aug 2, 2010 02:31 by Gustavo La Cruz
12.26Mb (580 downloads)
Textures only for the payware Sky Simulations dc9-30 YV-707C of Aserca Airlines,"yellow livery", Texture by Gustavo La Cruz
Posted Aug 2, 2010 02:19 by Gustavo La Cruz