13.37Mb (5890 downloads)
Demo version with banners in VC and model. The Airbus A380 is a doubledecker, four-engined airliner manufactured by Airbus S.A.S. It first flew on April 27, 2005 from Toulouse, France. Commercial flights should begin in 2006 after 15 months of testing. During much of ist development, the aircraft was known as the Airbus A3XX. The A380 is now the largest passenger airliner, topping the Boeing 747, which was the largest for 35 years. However, the Antonov An-225 retains the record of being the world's largest commercial aircraft. The media has termed the A380 a "superjumbo", with some comparing it to Howard Hughes's Spruce Goose. The first A380 prototype was unveiled during a ceremony in Toulouse, France, on January 18, 2005. Its manufacturer's serial number is 001, and is registered as F-WWOW. The new Airbus will initially be sold in two versions: the A380-800, carrying 555 passengers in a three-class configuration or up to 800 passengers in a single-class economy configuration. Expected range for the -800 model is 8,000 nautical miles (14,800 km). The second model, the A380-800F dedicated freighter, will carry 150 tons of cargo 5,600 miles (10,400 km). Airbus made the cockpit layout, procedures and handling characteristics similar to those of other Airbus aircraft to reduce crew training costs. Likewise, the A380 features a glass cockpit and side-stick flight controller. Panel, GAUGES, model, sound and textures by www.afs-design.de - Author: A.Meyer.
Posted Feb 14, 2011 16:47 by Andreas Meyer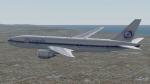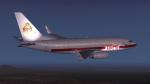 8.73Mb (427 downloads)
Textures only for Overland/Simmersky Boeing 777-200ER in Oceanic Airlines flight 815 colors and 737-700 in Ajira Airways flight 316 colors.High detailed and accurate repaints with improved nightlights. Textures are in high quality 32bit format. These are textures only! Payware SMS 737 required.
Posted Feb 13, 2011 06:30 by Pierre Van Belle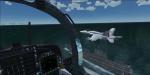 0.22Mb (524 downloads)
Update of config and flight dynamics for Areal Foundry F/A-18 Hornet.
Posted Feb 9, 2011 23:08 by Michal Lubiscak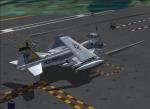 0.09Mb (451 downloads)
Update of configuration and flight dynamics for A-6 Intruder by AlphaSim.
Posted Feb 9, 2011 23:07 by Michal Lubiscak
8.86Mb (712 downloads)
Textures for the payware PMDG B737-800 model. Installation instructions are included. Europe Airlines va
Posted Jan 31, 2011 00:42 by Fran Vranken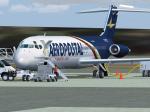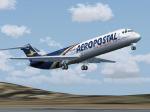 10.23Mb (1453 downloads)
McDonnell-Douglas DC-9-51,(cn 47771/883), registration YV137T, and renamed "El Neoespartano", an aircraft with the new Aeropostal livery. Real colors, new wings, stabilizers and other details. Files upgraded from the original version. Fully reworked new textures only for the SkySimulations DC-9-51 model (payware package). Look at http://www.skysimulations.com/ for detailed info. By Juan Ernesto Oropeza.
Posted Dec 29, 2010 00:17 by Juan Ernesto Oropeza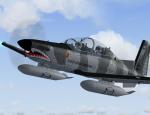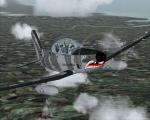 2.90Mb (473 downloads)
IRIS T-6A Texan II - FS9 V1- Fictional Texan FAD 2903 textures only for the payware IRIS T-6A Texan II which you can purchase from http://www.irissimulations.com/ Repaint by Dave Gore fooflyer
Posted Dec 10, 2010 16:10 by Dave Gore fooflyer
13.47Mb (1687 downloads)
Demo version with banners in VC and model. The MCR Ultralight is a side by side two-seater airplane with incredible performance and capability. Fast and agile, the VLA was specially designed to reach top speed while providing the most enjoyable experience to pilots The MCR Sportster is a very high performance aircraft, that can cruise as fast as 300 km/h with only a 100 hp engine, at very low cost. Thanks to the highest level of technology available, and very light material, the Sportster has a very efficient direct control system that guarantees the same satisfaction as flying a fighter jet. The MCR Sportster can be equipped with a choice of different power plants, but may also be fitted with other options such as : Ballistic Recovery System parachute Extended range wing tanks. Toe operated Hydraulic brakes The MCR Sportster is available in kit form in respect with the CNSK regulation (specific kit airworthiness certificate) or in the "experimental" category depending on the registration country.
Posted Nov 26, 2010 07:36 by Andreas Meyer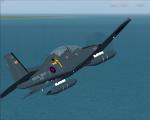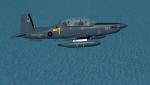 3.03Mb (199 downloads)
IRIS T-6A Texan II - FS9 V1- FICTIONAL Royal Navy Colours This repaint requires the payware IRIS T-6A Texan II which you can purchase from http://www.irissimulations.com/ Texures colours Royal Navy Buccaneer Dark Sea Grey From 1969 Based at Lossiemouth United Kingdom
Posted Nov 22, 2010 05:35 by Dave Gore fooflyer
1.30Mb (532 downloads)
Just Flight Robinson R-44 Raven South African Police Force textures as based at Potchesform in NW South Africa.
Posted Nov 20, 2010 14:57 by Warren Offic