13.71Mb (8227 downloads)
DEMO Version with banners in VC and model: The Airbus A380 is a doubledecker, four-engined airliner manufactured by Airbus S.A.S. It first flew on April 27, 2005 from Toulouse, France. Commercial flights should begin in 2006 after 15 months of testing. During much of ist development, the aircraft was known as the Airbus A3XX. The A380 is now the largest passenger airliner, topping the Boeing 747, which was the largest for 35 years. However, the Antonov An-225 retains the record of being the world's largest commercial aircraft. The media has termed the A380 a "superjumbo", with some comparing it to Howard Hughes's Spruce Goose. The first A380 prototype was unveiled during a ceremony in Toulouse, France, on January 18, 2005. Its manufacturer's serial number is 001, and is registered as F-WWOW. The new Airbus will initially be sold in two versions: the A380-800, carrying 555 passengers in a three-class configuration or up to 800 passengers in a single-class economy configuration. Expected range for the -800 model is 8,000 nautical miles (14,800 km). The second model, the A380-800F dedicated freighter, will carry 150 tons of cargo 5,600 miles (10,400 km). Airbus made the cockpit layout, procedures and handling characteristics similar to those of other Airbus aircraft to reduce crew training costs. Likewise, the A380 features a glass cockpit and side-stick flight controller. Panel, GAUGES, model, sound and textures by www.afs-design.de - Author: A.Meyer.
Posted Nov 12, 2011 12:34 by Andreas Meyer
8.08Mb (1326 downloads)
DEMO version with banners in VC and model. The Mikoyan-Gurevich MiG-21 (NATO reporting name "Fishbed") is developed in the Soviet Union interceptor. Already in 1959 put into service, the MiG-21 is the most produced combat aircraft since World War II and the most numerous jet aircraft ever, with about 11,000 copies. With more than 50 years of production, it is also the longest-built fighter aircraft around the world and stood at about 50 Air Force on four continents. It also makes Aircraft with more than 20 versions in four generations. Among other things, the legendary single-seat variant of MiG-21 MF and two-seat variant of the MiG-21 US. Also be produced in the People's Republic of China today MiG-21 variants, known as the J-7. Even today, includes some 500 MiG-21 and more than 1000 J-7 / F-7 (Chinese copies) to the inventory of the Air Force in the world. Not least, the MiG-21 was the most important Fighter aircraft of the Air Force / Air Defense of the GDR with more than 20 years. By Andreas Meyer -
Posted Nov 4, 2011 18:20 by Andreas Meyer


6.27Mb (889 downloads)
FS2004/FSX Horizon Air textures only for the payware Omwings_Fokker-MK4000
Posted Nov 3, 2011 14:23 by Jim Waters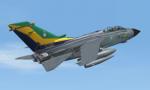 1.40Mb (302 downloads)
RAF GR4 of 13 SQN textures only for the payware Lago Tornado. By Ukmil.
Posted Oct 28, 2011 08:31 by UKMIL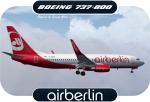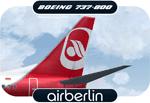 14.90Mb (3251 downloads)
Air Berlin textures only for the payware iFly Boeing 737-800 model. High quality textures in 32 bits. Repaint by Sergey Gleba aka serg09. Paint Kit by Denis Minaev.
Posted Oct 22, 2011 12:18 by Sergey Gleba aka serg09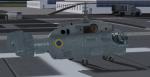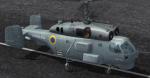 2.78Mb (391 downloads)
Fictional Venezuelan Navy textures only for the payware Ka-27 Helix from Alphasim.
Posted Oct 20, 2011 15:39 by Brian Josep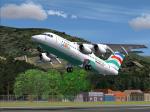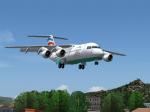 3.12Mb (649 downloads)
BAe 146-200 (RJ-85A), registration EI-RJL, an aircraft for the new Venezuelan airline LAMIA (Linea Aerea Merida Internacional de Aviacion). Textures only for the Eurowings Pro BAe 146-200 (payware package). By Juan Ernesto Oropeza.
Posted Oct 17, 2011 15:02 by Juan Ernesto Oropeza
4.49Mb (193 downloads)
textures only for the Justfligh Robinson R44 helicopter in U.S. patriot colors. Requires Justflight R44 installed in FS9 for this to work
Posted Sep 26, 2011 01:42 by Lloyd Horton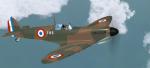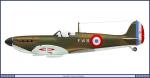 85.54Mb (1019 downloads)
As far as is known this aircraft was unique is so far as although the French Air Force had placed an odder for a number of Spitfires, only one was delivered before France was over run. very little is known about this aircraft or what happened to it, only one B/W photo is known, so the placement of the wing roundels is not confirmed, only a guess based on the placement and size of similar aircraft. Painted by Ian Roussel.
Posted Sep 24, 2011 13:33 by Ian Roussel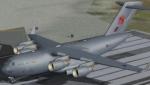 8.48Mb (942 downloads)
This texture depicts the seventh C17A delivered to the United Kingdom's Royal Air Force, ZZ177 (09-0207), in 99 Squadrons 10th Anniversary of C17 operations tail colours. Requires Payware Virtuavia C17.
Posted Sep 21, 2011 12:37 by Andy Shields