7.70Mb (267 downloads)
FSX Pacific Coastal Beechcraft King Air B200, registration CY-GPC. Textures only for the payware Carenado Beech B200 HD model. Repaint by Hani Michal.
Posted Oct 26, 2012 07:44 by Hani Michal
8.52Mb (223 downloads)
Only textures for the payware Carenado King Air B200 HD represent COWI Aerial Survey OY-CKP. Repaint by Hani Michal.
Posted Oct 26, 2012 07:29 by Hani Michal
12.90Mb (4426 downloads)
Demo version: The A350 XWB (Xtra Wide-Body) is Airbus response to market demand for a medium capacity long range wide-body family. Designed with airlines priorities in mind, the A350 XWB confronts the challenges of high fuel prices, rising passenger expectations and increasing environmental concerns. Available from 2013, it has an entirely new, uncompromised, 21st Century design with a wider and taller fuselage for extra space and passenger comfort. A complete family of airliners sized to generate cost reductions and provide unprecedented operating flexibility for airlines; three basic passenger versions are being offered. With a range of up to 8,300nm/15,380km they include the A350-800 for 270 passengers in a spacious three-class configuration; the A350-900 for 314 passengers and the A350 - 1000 seating 350 passengers. An ultra long - range version, the A350 - 900R, will fly even further while a freighter version, the A350 - 900F, will complement the passenger models. Panel, GAUGES, model, sound and textures by www.afs-design.de. Demo version with banners on body and VC.
Posted Oct 19, 2012 15:20 by Andreas Meyer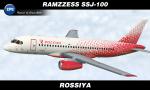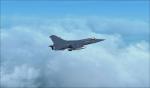 9.98Mb (2165 downloads)
This is an special VUELING repaint, due to the 50 million passengers carried. Requires the payware Wilco Airbus Vol.1 for FSX. Airbus A320 Vueling EC-JZQ.
Posted Oct 14, 2012 19:14 by Josep T.G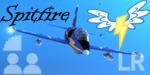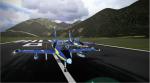 32.69Mb (617 downloads)
This pack includes 5 Wonderbolt Textures for Lotus Simulations Aero Vodochody L-39C Albatros. Based off of Hasbro's My Little Pony Friendship is Magic series. Textures By:Fay "Twitchy" Cheung
Posted Oct 5, 2012 20:28 by DanielA.B.
5.73Mb (1255 downloads)
Textures only for the payware Carenado Beech Bonanza A36 in the colours of the KLM Flight Academy, also called KLM Luchtvaartschool. Made by Marius Krämer.
Posted Oct 3, 2012 17:12 by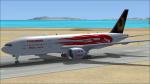 3.78Mb (338 downloads)
Textures for the payware Overland Boeing 777-200ER Firebird Airlines livery. By Shikhar Gupta.
Posted Sep 19, 2012 08:52 by Shikhar Gupta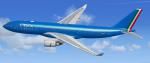 5.92Mb (178 downloads)
Textures only for payware Justflight R44 helicopter in fictional flames livery. Enjoy and happy flying!
Posted Sep 15, 2012 12:44 by Lloyd Horton
8.90Mb (688 downloads)
EC-FFK Air Europa retro textures only for the payware Quality Wings B757-200.
Posted Sep 15, 2012 06:11 by Trino Rojas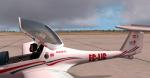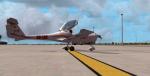 11.73Mb (337 downloads)
EC-LIC textures for the payware Aerosoft Katana. Registrations 8203 and 8203 from high-resolution photographs.
Posted Sep 14, 2012 02:33 by Trino Rojas