48.59Mb (149 downloads)
Blue and white Piper PA-28-181 Archer II ZS-EOD textures. Inspired by the real world South African registered ZS-EOD, an unlucky Cherokee 180 which has in the past crash landed and even suffered the ultimate indignity of having been storm damaged on the very evening before being awarded as a grand prize in a raffle drawing as part of the Reach for a Dream Foundation at the 2015 Rand Airshow. This real world damage can be seen in Screenshot 2 on the left side of the fuselage near the registration. For the payware Carenado Archer II for FSX. Repaint by Tom Tiedman.
Posted Mar 16, 2016 06:42 by Tom Tiedman
23.80Mb (215 downloads)
Gray and gray/black panel textures with night textures for the payware Alabeo Piper PA-23 Aztec. This package also contains a texture file to change the color of the yokes from white to black.
Posted Mar 15, 2016 16:30 by Peter Mueller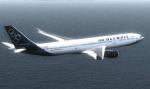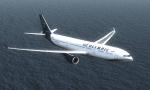 7.77Mb (282 downloads)
Olympic Air fictional A330-300 textures for the payware Overland SMS Airbus A330-300 model. Textures only.
Posted Mar 12, 2016 13:14 by Dimitrios Moschos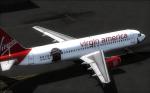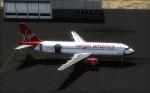 6.68Mb (304 downloads)
Virgin America San Francisco Giants special textures for the payware Overland SMS Airbus A320 CFM model. Textures only.
Posted Mar 12, 2016 13:11 by Dimitrios Moschos
14.10Mb (291 downloads)
Boeing 737-300, 400 and 500 in following liveries: -300: Peruvian Airlines -400: Peruvian Airlines -500: Peruvian Airlines and LC Peru. Textures for the payware Wilco - 737 Pilot in Command Evolution Deluxe1 Wilco - 737 Pilot in Command Evolution Deluxe
Posted Mar 7, 2016 09:33 by Raoul
9.73Mb (257 downloads)
Real-world repaint for the payware Alabeo D17 Staggerwing. I found a single photo of a really great looking Staggerwing, and just had to make it into a repaint. The photo showed just the front, and the caption gave just the registration number, so I've made some assumptions on what the tail looks like, and whether the reg is also painted on the wing.
Posted Mar 6, 2016 05:33 by Brian Zaenglein
4.06Mb (376 downloads)
Livery for the payware Captain Sim Boeing 727-200F model
Posted Mar 6, 2016 05:13 by Michael Mainiero
7.76Mb (317 downloads)
Asia Pacific Airlines operates cargo charter services from Guam and Honolulu to other outlying islands in the Pacific Ocean. Textures for the payware QW Boeing 752F SF model with P&W Engines.
Posted Mar 6, 2016 03:18 by Michael Mainiero
0.99Mb (69 downloads)
FSX McDonnell Douglas DC-9-51 Alisarda registration I-SMEA, ver. 1.0. Textures only for the payware Sky Simulations DC9 Version 2
Posted Mar 5, 2016 17:25 by Stefano Meneghini
0.08Mb (135 downloads)
Weight & balance and Center of Gravity calculator for the payware A2A Simulations Cessna 182T
Posted Feb 29, 2016 08:41 by Kevin D. Murray Sr.