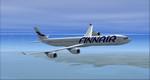 4.22Mb (317 downloads)
Finnair texture for the payware CLS A346-556. Finnair operates 4 A340-300's as of 2016, so I thought this would texture would make sense, as maybe in an alternate universe they use 600's instead.
Posted Jun 25, 2016 03:40 by KarlKosmonaut
85.87Mb (857 downloads)
This package replaces all my previously uploaded files for the payware Alabeo Piper Aztec. It contains the following features: Two repaints (N8686U and D-IKLS), one texture bitmap without registration number, gray/black panel textures, gray panel textures, a black yokes option and another optional panel texture for some P3Dv3.x users. Repaint by Peter Mueller
Posted Jun 11, 2016 10:11 by Peter Mueller
5.63Mb (407 downloads)
New Air Serbia textures for the payware CLS Airbus A330 model for FSX and FS2004.
Posted May 30, 2016 13:57 by David Krunic
11.42Mb (430 downloads)
7T-VCD Tasilli textures for the payware PMDG 737-8 NGX WL for FSX. by HADDAD Mohamed anis
Posted May 29, 2016 00:56 by HADDAD Mohamed anis
11.42Mb (121 downloads)
7T-VCC Tasilli textures for the payware PMDG 737-8 NGX WL for FSX. by HADDAD Mohamed anis
Posted May 28, 2016 10:49 by HADDAD Mohamed anis
11.42Mb (120 downloads)
7T-VCB Tasilli textures for the payware PMDG 737-8 NGX WL for FSX. by HADDAD Mohamed anis
Posted May 28, 2016 10:43 by HADDAD Mohamed anis
30.61Mb (495 downloads)
7T-VKC for the payware PMDG Boeing 737-8 NGX WL for FSX. By HADDAD Mohamed anis
Posted May 28, 2016 05:16 by HADDAD Mohamed anis
30.84Mb (209 downloads)
7T-VKB textures for the payware PMDG Boeing 737-8 NGX WL for FSX. By HADDAD Mohamed anis
Posted May 28, 2016 04:51 by HADDAD Mohamed anis
32.74Mb (255 downloads)
7T-VKA Mont chabord textures for the payware PMDG 737-8 NGX WL for FSX. by HADDAD Mohamed anis
Posted May 28, 2016 04:38 by HADDAD Mohamed anis
6.65Mb (477 downloads)
Textures for FSX, Eurofighter model by Just Flight. Ala 14, 142 Sqn, based in Albacete AB. Nato Tiger Meet 2016, Zaragoza AB,
Posted May 14, 2016 18:38 by Antonio Diaz