16.69Mb (220 downloads)
A2A P-51 Mustang (civ( Voodoo is a highly modified North American P-51 Mustang that is the 2013 and 2014 Unlimited-class champion of the Reno Air Races. This is a representation of the plane as she looked at the 2015 races. Textures only. By Jimmy(Braindart)Snow
Posted Sep 14, 2015 14:51 by Jimmy Snow
12.18Mb (215 downloads)
Textures for the Carenado Piper PA28 Arrow I-SPAX of Bari flight school in Italy
Posted Sep 12, 2015 12:07 by Carlo Boninsegna
67.65Mb (801 downloads)
UHDT Cathay Pacific textures for the payware FSX Wilco` Airbus A340 600. Enjoy
Posted Sep 9, 2015 03:43 by TRINO ROJAS
60.59Mb (461 downloads)
UHDT Cathay Pacific textures for the payware FSX Wilco` Airbus A340 300. Enjoy
Posted Sep 7, 2015 03:43 by TRINO ROJAS
4.92Mb (265 downloads)
'Black Magic' textures for the payware Carenado B200. Ever seen a Halloween-themed repaint? You have now! I made this because I'm tired of boring white airplanes. PG-13 image on the tail.
Posted Sep 6, 2015 16:56 by Brian Zaenglein
1.96Mb (254 downloads)
Iris Pilatus PC 21 fictional repaint in US Navy theme. You need the payware PC 21 Aircraft by Iris. Repaint kit by iris Repaint by Dave Gore fooflyer Please enjoy this repaint
Posted Sep 5, 2015 15:36 by Repaint by Dave Gore fooflyer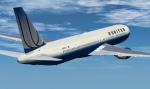 5.28Mb (225 downloads)
United new livery textures for the payware Level D B767-300
Posted Sep 4, 2015 17:53 by TRINO ROJAS
19.61Mb (945 downloads)
Wilco A340 300 Lufthansa D-AIGS textures.
Posted Aug 31, 2015 10:02 by TRINO ROJAS
21.66Mb (1022 downloads)
Lufthansa D-AIHZ "LEIPZIG" textures for the payware Wilco A340 600
Posted Aug 30, 2015 16:14 by TRINO ROJAS
19.61Mb (370 downloads)
Lufthansa D-AIGS textures for the payware Wilco A340 600
Posted Aug 30, 2015 16:06 by TRINO ROJAS