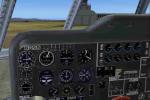 21.72Mb (7484 downloads)
Original model by Tom Gibson, Greg Pepper, Dave MqQueen. I added some extra gauges in the virtual cockpit. RADIO, ATC, GPS and MAP icons. Also include Automatic Pilot, Cowl Flaps and Lights Siwchs, even a Clock with Wind Direction Vector (click on the center of the clock, gauge from Tom Gibson's California Classics DC6-B).
Posted Feb 24, 2009 18:20 by Jorge Buiatti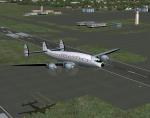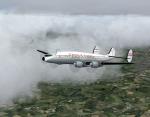 3.80Mb (792 downloads)
FS9 Skyways of London Airlines textures for ALPHASIM BOAC L-049 Constellation. G-ALAK was built for TWA but served with B.O.A.C. sold to Skyways of London, ACES, and Trans Bolivian. Later broken up at Miami in 1974. Textures by Gary Harper.
Posted Feb 24, 2009 15:57 by Gary Harper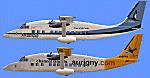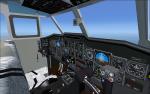 6.78Mb (7375 downloads)
FS2004 Shorts SD3-60 36 passenger twin turboprop STOL transport. This is the passenger version with two liveries, G-BPFN of Aurigny (Channel Islands)and C-GLAO of Air Labrador. New model with full moving parts and reflective textures. Full package for FS2004 with custom panel, VC, full cabin modelling, sounds, check and ref lists. By Jean-Pierre Brisard, Barry Blaisdell and Bob May - Premier Aircraft Design.
Posted Feb 21, 2009 16:16 by bob.may@premaircraft.com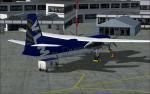 2.06Mb (7113 downloads)
Fokker 50 VLM Airlines. VML(Flemish Air Transport Company) is a Belgian business airline.
Posted Feb 21, 2009 09:14 by Robin Como

2.53Mb (3324 downloads)
FS2002/2004 Anderson Greenwood Model 14.(Miss Alice) The Anderson Greenwood Model 14 was a light GA aircraft first designed/ built in 1950. Only five were ever made, with a least one still flying. Unique in its twin tailboom and fuselage pod layout, the Model 14 would fit right in with today's sporting planes. This is a repaint of Tim Conrad's original aircraft, and has been tweaked to do away with the "Mirrored Glass" of the original so you can see inside, and I've changed the pannel CFG so you have AP and a more usable GPS. Tweaks and repaints by Don Brynelsen.
Posted Feb 19, 2009 05:46 by Don Brynelsen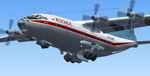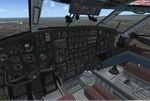 59.37Mb (16300 downloads)
Antonov An-12BK (Cub) Package for FS 2004 - beta-version. Legendary Russian turboprop long ranger transport, which is well known in many countries. GMax model, complete animation, detailed worker VC with 3D by crew and animation co-pilot. 8 versions textures, panel and gauges, view from a cabin of the navigator. Effects. Paint-Kit. Detailed manual is included. It is necessary to read this manual! Author - Vladimir Zhyhulskiy (model, 2D panel,VC, gauges,textures, effects), Dmitriy Smirnov (textures, aerodynamics).
Posted Feb 10, 2009 06:52 by Vladimir Zhyhulskiy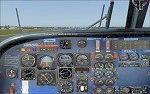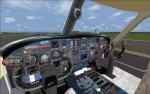 17.07Mb (7923 downloads)
FS2004 Dornier Do228-212 upgrade. 19 seat passenger and utility STOL aircraft. Caribbean Island Hoppers, Air Guadeloupe & Air Caraibes. New photorealistic panel with IFR, VFR and landing views. All new custom gauges with smooth needle action and 3D appearance, programmed in C+++. New fuel and electrical systems. VC also updated. New flight dynamics taken from Pilot's Operating Handbook. Panel tutorial enclosed. Aircraft by Jean-Pierre Brisard, Bob May, Joe Zerilli - Premier Aircraft Design. Professional quality panel upgrade by Benoît Dubé, Jean-Pierre Bourgeois, Jean-Pierre Brisard and Jean-Pierre Langer.
Posted Feb 5, 2009 07:25 by bob.may@premaircraft.com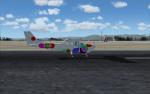 1.26Mb (598 downloads)
Cessna 172 Re-paint Named "Spotted" For use for the default C172, Might work with Other 172, but i have not tested. By Bryce Mazzarella, Mazza in the forums.
Posted Jan 29, 2009 19:19 by Bryce Mazzarella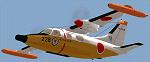 6.05Mb (2605 downloads)
Mitsubishi MU-2E Japanese Coast Guard New model with full animation, dynamic shine & reflective textures. Includes a 2D Panel and VC. This is a non-pressurized version of the MU-2 with radars and a sliding door which can be used to drop survival equipment. Full package for FS2004 By Jean-Pierre Brisard, Bob May, Joe Zerilli ¦ Premier Aircraft Design
Posted Jan 19, 2009 12:33 by bob.may@premaircraft.com

5.01Mb (4132 downloads)
Mitsubishi MU-2K of Saab Technologies. New model with full animation, dynamic shine & reflective textures. Includes a 2D Panel and VC with a complete passenger cabin. Operated by Saab Technologies (formerly Saab Nyge Aero) in support of the Swedish armed services. The aircraft are mainly used for target towing and training in electronic warfare. Full package for FS2004 By Jean-Pierre Brisard, Bob May, Joe Zerilli ¦ Premier Aircraft Design Sabb Technologies livery by Marcel Gisel
Posted Jan 19, 2009 12:28 by bob.may@premaircraft.com