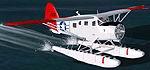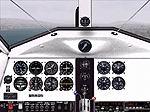 2.26Mb (1447 downloads)
FS2004 Noorduyn Norseman On Floats. The Noorduyn Norseman was built from 1935 until 1959. They have been used all over the world in both civil and military roles. The famous US band leader and composer Glen Miller disappeared in a Noresman over the English Channel durring WWII. They have been used primarily for bush planes on both wheels and floats with most of them being used in Canada. The Noorduyn company continues to this day in Montreal building aircraft interiors. Made with FSDS 2.6. Includes custom panel bitmap by Ken Mitchel. Includes three paint schemes, Canadian, USAF and Bush Flying Unlimited. Full moving parts including water rudders and opening doors. Features a fully funtional VC. Dynamics based on Fred Banting's DH. 2.5MB
Posted Jul 13, 2010 13:16 by archive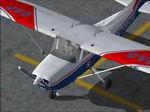 1.25Mb (1576 downloads)
FS2004 Cessna Skyhawk Civil Air Patrol Textures only. Used the default FS2004 C-172 Skyhawk. This CAP repaint is done under N706DE Aircraft reg. The texture is compressed as DX3/DX1 no mips, to improve frames. Repainted by Steven Nagley. 1.3MB
Posted Jul 13, 2010 13:16 by archive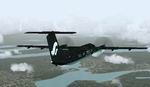 4.32Mb (4116 downloads)
FS2004/2002 de Havilland Dash 8-100 Airwave Airlines. Original AI Dash 8 made flyable. Paint by Keith Gorex. 4.4MB
Posted Jul 13, 2010 13:16 by archive

0.08Mb (802 downloads)
FS2002/2004 Sky Circus Textures for default Cessna 182RG. Red, Yellow, Orange over white airshow scheme for use with the Cessna 182 included in Flight Simulator. Repaint by Don Brynelsen. 85K
Posted Jul 13, 2010 13:16 by archive

0.20Mb (669 downloads)
FS2002/2004 Cessna 182RG White and Violet Textures for use with the default Cessna 182RG in a white and multi-hued violet scheme. Repaint by Don Brynelsen. 208K
Posted Jul 13, 2010 13:16 by archive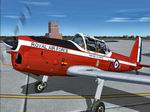 1.41Mb (810 downloads)
FS2004 De Havilland Chipmunk - WP962 RAF Museum Textures Only. This aircraft currently resides in the RAF Museum In Hendon, London In this scheme. Requires Rick Piper's Chipmunk here. By Ben Hartmann of UKMIL repaints. 1.4MB
Posted Jul 13, 2010 13:16 by archive
3.89Mb (1822 downloads)
FSX/FS2004 Grumman AA-5 Cabair 'G-OTIG' Textures Only. First introduced in 1974, the AA-5 series were unique in their bonded honeycomb airframes, producing a simple, smooth, and strong structure. With a sliding canopy and quick controls, the AA-5 were a breed apart. The later AA-5B series had more powerful engines, giving a needed boost in performance. This aircraft is currently based at Elstree, Herts, UK, In this scheme. Requires the freeware aircraft by Tim Conrad (here). By Ben Hartmann of UKMIL repaints. 4MB
Posted Jul 13, 2010 13:16 by archive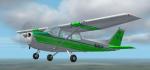 2.50Mb (363 downloads)
"Reactor Coolant" is a beverage made by my friend's company and is popular at Science Fiction conventions. Since he is fellow flight simmer, I decided to create a virtual advertising airplane for him. Repaint is by Don Brynelsen using the Mark Rooks paintkit.
Posted Jul 11, 2010 15:31 by Don Brynelsen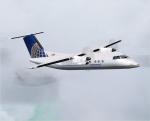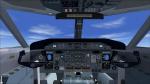 19.13Mb (11076 downloads)
FS2004 de Havilland (Bombardier) Dash8-Q202 The Dash8-Q202 39 seat regional airliner is a development of the earlier Dash8-100 powered by two uprated PW123D engines and with ANVS (Anti Noise and Vibration System). This is a re-release of our existing Dash8-200 with a new livery (Continental Connection), new improved flight dynamics, reworked VC textures and updated specifications. Check and ref lists included. Existing texture sets for PAD Dash8-100 and 200 models will fit this new model. Full package for FS2004 with custom sound. By Jean-Pierre Brisard, Barry Blaisdell, Kevin Pardy and Bob May - Premier Aircraft Design.
Posted Jul 6, 2010 14:29 by bob.may@premaircraft.com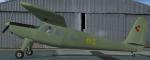 2.14Mb (443 downloads)
Completely fictional livery for Tim "Piglet" Conrad's Helio H-295 Super Courier. East German Military TEXTURES ONLY file by Sean Karges.
Posted Jul 2, 2010 12:13 by SeanTK