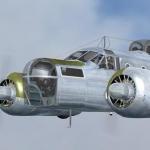 35.33Mb (616 downloads)
Damian Radice Five Extra International Paints for the Beech AT-11 KANSAN by Milton Shupe All textures are copyright owned by Damian Radice, Milton Shupe, or others as noted in the AT-11 Release Readme.
Posted Jan 23, 2011 10:35 by Milton Shupe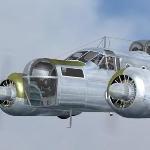 20.93Mb (666 downloads)
AT-11 KANSAN DXT3 Texture Set WITH NO MIP MAPS Uploaded by Milton Shupe These 10 folders replace the original 5 distributed with the package, and the 5 extra International texture sets available by Damian Radice. The aircraft.cfg distributed in the original download or the AT-11 was setup for all 10 sets. The folders in this set each are 44MB smaller than the original folders for a savings of 440MB.
Posted Jan 23, 2011 09:58 by Milton Shupe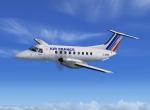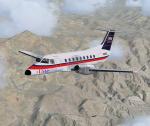 12.55Mb (5535 downloads)
The Brasilia went into service in 1985 and is still giving good service across the world a quarter of a century later. It is a twin turbo-prop commuter airliner with accommodation for 30 passengers. Full package for FS2004 with custom panels and VC, full moving parts and air stairs. Realistic and pleasant flight dynamics. The package includes 4 liveries. Sound package by Aaron Swindle. Model by Jean-Pierre Brisard and Bob May - Premier Aircraft Design.
Posted Jan 17, 2011 12:53 by bob.may@premaircraft.com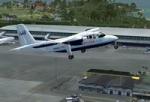 6.35Mb (2420 downloads)
This Anguilla Air Services AAC BN2 Islander. Based in the island of Anguilla this airline serves the Northern Islands of The Caribbean. Full model including VC. BN2 Islander model by Marcel Kuhnt.
Posted Jan 15, 2011 09:27 by Kenje Thomas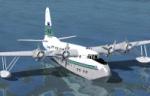 14.64Mb (3091 downloads)
The Solent was a large and powerful flying boat airliner of 1946 built for BOAC and TEAL (Tasman Empire Airways Ltd). The last Solent was retired in 1960. A Solent 3 of BOAC and Solent 4's of TEAL (early and late) and Aquila Airways included. Version 3 model with much better panel and virtual cockpit. For FS2004, an FSX version is available separately. By Jens B. Kristensen
Posted Jan 5, 2011 14:26 by Jens B. Kristensen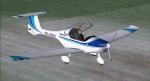 6.78Mb (3791 downloads)
ATEC 122 ZEPHYR. A two-seat, low-wing ultralight, manufactured in the Czech Republic by ATEC v.o.s. The model is created using Gmax, with 2D cockpit, fully clickable virtual cockpit and all moving parts. Works with FS2004 and FSX. Model created by Pavel Karásek.
Posted Jan 3, 2011 05:20 by uploader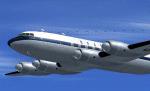 13.37Mb (2117 downloads)
The HP81 Hermes was a British airliner from 1948, used by BOAC for its African routes in the early 1950s, and then by various charter companies for the next 10 years. Five variants are included here: BOAC (early and late), Airwork, Air Safaris and Skyways. Version 2.0 for FS2004, an FSX version is available separately. By Jens B. Kristensen.
Posted Dec 27, 2010 09:05 by Jens B. Kristensen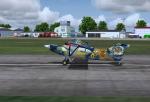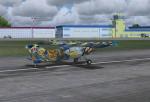 18.28Mb (2224 downloads)
FS2004 Maule M7 Taildragger Bush Flying. This is the complete aircraft with 2D and Virtual cockpit (VC). Original by Mikko Maliniemi. Handdrawn repaint by Ingo Schwan.
Posted Dec 26, 2010 07:51 by Ingo Schwan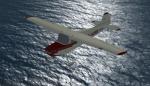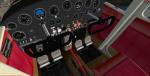 2.89Mb (7282 downloads)
FS2004/FSX Cessna 170B. Glass fix so it is ow transparent from inside. Exterior glass will seem grey in some video cards. Doors and engine cowl : shift-e Side windows : spoiler key (/) 2) POP-UP PANELS : Note - this model does not include a 2D panel shift-2 : radios shift-3 : GPS shift-4 : Nav Enlarge shift-5 : Compass shift-6 : Mini Panel
Posted Dec 26, 2010 04:36 by Mike Hudson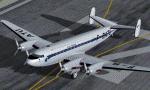 12.92Mb (2747 downloads)
Version 1.0 December 2010. A french airliner of the immediate postwar years, the Languedoc served Air France and a few other airlines until the end of the 1950's. Textures for Air France, LOT (Polish Airlines) and Aviaco (Spain) are included. This is for FS2004; an FSX version is available as a seperate download. By Jens B. Kristensen.
Posted Dec 22, 2010 05:12 by Jens B. Kristensen