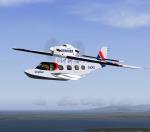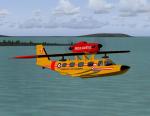 17.24Mb (5047 downloads)
This elegant STOL flying boat amphibian was designed in Germany and is built almost entirely of lightweight, non-corrosive, composite materials. The prototype first flew in 1983 but no production was started at that time. In November 2009 Dornier Seaplane, now based in Florida, USA, announced that production would start in 2011 and the aircraft would be built in Quebec, Canada. The Seastar is powered by two Pratt & Whitney PT-6 turboprops arranged on top of the cantilever parasol wing in a 'push-pull' configuration. Twelve passengers can be carried in the short range high density seating configuration or six in the corporate executive cabin. The Seastar can operate from water or land bases, including short grass fields. Complete package for FS2004 including custom panel and VC with both 6 and 12 seat interiors. Custom PT-6 sounds and full moving parts. Realistic and pleasant flight dynamics. The package includes 3 liveries, the prototype Dornier livery, a fictional Kenmore Air livery and a fanciful Canadian Forces Search & Rescue scheme. By Jean-Pierre Brisard & Bob May- Premier Aircraft Design.
Posted Dec 4, 2010 19:50 by bob.may@premaircraft.com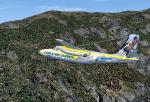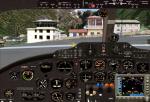 15.14Mb (4736 downloads)
FS2004 Aero Commander AC560 Lukla Air Service. This is a complete aircraft with 2D and virtual cockpit (VC). Original model by Milton Shupe, Repaint by Ingo Schwan.
Posted Dec 3, 2010 13:02 by Ingo Schwan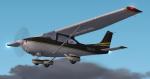 0.88Mb (316 downloads)
Repaint for the default 2002/2004 Cessna 182S in a black over white scheme. Repaint by Don Brynelsen using the paintkit by Andrew Van Sickle.
Posted Nov 23, 2010 11:55 by Don Brynelsen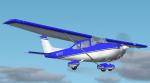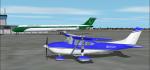 0.89Mb (345 downloads)
A repaint for the default Cessna 182S in a nice blue over white scheme. Repaint by Don Brynelsen using the Andrew Van Sickle paintkit.
Posted Nov 23, 2010 11:51 by Don Brynelsen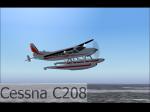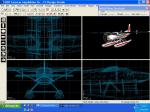 2.69Mb (1032 downloads)
New model of the Cessna C208 Caravan with floats. Created using FSDS v3. By Shawn Jacob
Posted Nov 21, 2010 18:30 by Shawn Jacob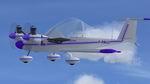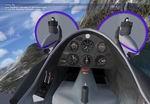 1.68Mb (3378 downloads)
FS2004/FSX Colombian Cricket MC 10 CriCri. A tiny but agile plane! CriCri - the world smallest aerobatics ultralight with two engines. Created by Renaud Balu.
Posted Nov 19, 2010 05:51 by Alexis Chevrie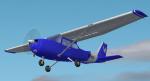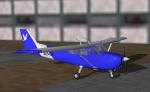 0.88Mb (241 downloads)
Repaint of the default Skyhawk based on a Chicagoland based aircraft that tows advertising banners. Repaint by Don Brynelsen using the paintkit by Mark Rooks
Posted Nov 16, 2010 14:36 by Don Brynelsen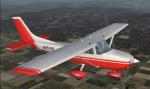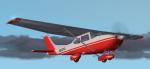 0.93Mb (532 downloads)
Repaint textures for the default Skylane. Repaint by Don Brynelsen using Andrew Van Sickles paintkit
Posted Nov 16, 2010 14:33 by Don Brynelsen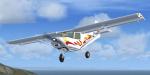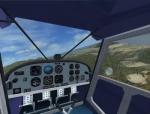 5.24Mb (2944 downloads)
FS2004 I.C.P. Savannah UltraLight (File version 3.8) The ICP Savannah is one of the top selling ultralights in Europe. It is dependable and easy to fly. Its STOL performance makes it easy to operate from any airfield. The Savannah is also a very good airplane for cross-country flights during which one can appreciate its great stability. Full package includes: Aircraft,Textures and panel: Massimo Taccoli FD files : Dennis Seeley Gauges : Dennis Seeley & Massimo Taccoli Sounds : Modified from original by Mike Hambly
Posted Oct 15, 2010 10:33 by Massimo Taccoli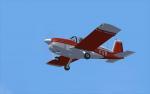 3.13Mb (807 downloads)
This fix contains amendments to issues that others are experiencing. See readme for more info. And also corrects the missing DI adj. knob.
Posted Sep 23, 2010 08:59 by Ron Watson