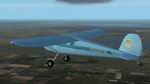 0.41Mb (354 downloads)
FS2002/2004 Cessna 140 Cinderella's Cessna III textures only for the Cessna 140 created by Brian Gladden. This scheme is the latest in my series of aircraft based on the Disney Princess Cinderella. These are the textures only and require you have mr Gladden's aircraft here. Repaint by Don Brynelsen. 416K
Posted Jun 25, 2010 06:02 by archive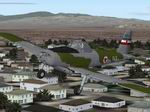 9.26Mb (1570 downloads)
FS2004 SOKO J-20 Kraguj. Light COIN Aircraft developed by SOKO for the Yugoslav Air Force during 1960's. While cheap and easy to operate and maintain, jet were deemed to be far more useful, and production stopped after about 50 planes. Several Kraguj's (Swallow) have made their way to the civil register in recent years.This FS2004 model has VC (virtual cockpit) with custom gauges, full ani's and four paint schemes, two of them civil "Warbird" schemes. Tim Conrad. 9.5MB
Posted Jun 25, 2010 06:02 by archive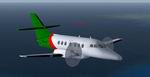 3.64Mb (1285 downloads)
FS2004 Jetstream 32 Caribintair HH-DCT. Original model by HJG (Historic Jets Group). ,Includes panel by Matthias Lieberecht. Textures by Titico Hernandez. 3.7MB
Posted Jun 25, 2010 06:02 by archive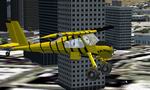 6.72Mb (1809 downloads)
FS2004 Wilga Honolulu Air Taxi. Aircraft by Joe Binka and Bruce Thorson. Repaint by Marty Beaston. 6.9MB
Posted Jun 25, 2010 06:02 by archive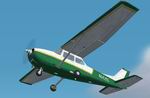 1.08Mb (610 downloads)
FS2004/2002 White and Green textures only for Cessna 172 Skyhawk. The skyhawk done up in a nice rental fleet type scheme for use with the 172 found in the sim. Repaint by Don Brynelsen using Mark Rooks paint kit. 1.1MB
Posted Jun 25, 2010 06:02 by archive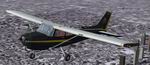 1.11Mb (554 downloads)
FS2004/2002 Cessna 172 Skyhawk Pirate scheme textures only Avast! here be a pirate inspired paint scheme for use with the default C172 found in the sim. Repaint by Don Brynelsen using a paint kit created by Mark Rooks. 1.1MB
Posted Jun 25, 2010 06:02 by archive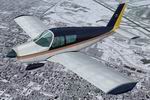 0.58Mb (808 downloads)
FS2004/2002 Piper 180 Cherokee Pirate textures only. A nice black, gold and white Pirate inspired scheme for use with the AI Cherokee found in the sim. Add a litte "What the..?"action to your A.I. traffic or if you've made the 180 flyable, take her up yourself. Repaint by Don Brynelsen. 590K
Posted Jun 25, 2010 06:02 by archive
0.06Mb (1110 downloads)
FS2004 DHC-2 Beaver Floats Update. This is an update for FS 9 of the DHC-2 Floats Beaver by John L. Woodward (here). I have updated the flight dynamics, changed the water effect, added float points and the second water rudder. Bob Chicilo. 58K
Posted Jun 25, 2010 06:02 by archive

1.00Mb (784 downloads)
FS2002/FS2004 De Havilland Canada DHC-6 Twin Otter: "Coast Air" (New Zealand) livery. (Updated & fixed) Coast Air was a New Zealand airline that flew around the south island during the late 1980s. Livery is for the short-nose Twin Otter by Eric Dantes & Maricio Iilanes. This file is TEXTURES ONLY. By Sean Karges.
Posted Jun 19, 2010 22:01 by SeanTK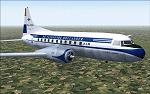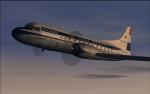 3.18Mb (591 downloads)
This is the KLM Convair CV340 as it was painted in the fifties and flew on European routes but also in the Caribbean for KLM's West Indies Division. There was no difference in livery, only in registration and in the aircraft's name. I have redone my former two FS2002 repaints for this aircraft and upgraded them for FS2004.
Posted Jun 15, 2010 05:49 by Jaap de Baare