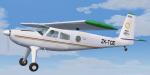 2.19Mb (555 downloads)
ZK-TCE, New Zealand registered Helio H-295 Super Courier. Textures only. Requires original model. Livery by Sean Karges.
Posted Jun 29, 2010 13:34 by SeanTK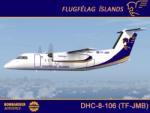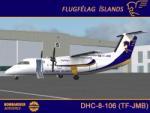 3.29Mb (1982 downloads)
FS2004 Dreamwings Design Dash8 Q-108 in Air Iceland/Flugfelag Islands livery, registration TF-JMB. Here's another Dash-8 especially for the Icelandic simmers out there or those who prefer the challenge of simming the skies and airports of the northernmost latitudes. This is one of two (2) Dash 8-106's flown by Air Iceland (Icelandic: Flugfelag Islands) and bears registration TF-JMB. Flugfelag Islands, a subsidiary of Icelandair Group, is a regional airline with bases at Reykjavik Airport and Akureyri Airport. It operates scheduled service to destinations in Iceland and Greenland, as well as the Faroe Islands. I want to give due credit to and thank Elmar Voigt, who inspired this project and repaint and worked with me to get every detail of it as realistic as possible. Some of those details include the text 'flugfelag.is' on the bottom of the fuselage (just like the real aircraft) and a tug painted in Air Iceland/Flugfelag Islands colors with their logo on the doors. All repainted textures in this package are 32-bit with no mips for maximum quality. Repaint by Jeffrey S. Bryner and Elmar Voigt, Model by Dreamwings Design. This is a "textures only" package; you must have the Dreamwings Design Dash8 Q100 model. See readme.txt for links to the great Dreamwings Dash8 Q-100 model.
Posted Jun 29, 2010 06:28 by Jeffrey S. Bryner
0.42Mb (243 downloads)
Special Livery of J.E.Narcizo's C-150 Aerobat made for Simviation forum member Fozzer. Uploaded for multiplayer use. All Original texture files by J.E.Narcizo Modification into GBPLF livery by Shane Griffith You will need the original aircraft for this to work
Posted Jun 25, 2010 06:08 by admin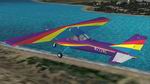 1.25Mb (566 downloads)
FS2002/2004 Cessna 172 Skyhawk (Pineapple Charlie II) Textures only. Go island hopping in this new texture for use with the default FS2002/2004 C172. This is a total redo of my earlier Pineapple Charlie paint scheme, which I felt I could do better. I'm very pleased with this new scheme and I hope you will be too. Repaint by Don Brynelsen using a paint kit created by Mark Rooks. 1.3MB
Posted Jun 25, 2010 06:02 by archive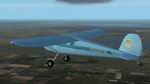 0.41Mb (335 downloads)
FS2002/2004 Cessna 140 Cinderella's Cessna III textures only for the Cessna 140 created by Brian Gladden. This scheme is the latest in my series of aircraft based on the Disney Princess Cinderella. These are the textures only and require you have mr Gladden's aircraft here. Repaint by Don Brynelsen. 416K
Posted Jun 25, 2010 06:02 by archive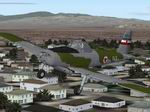 9.26Mb (1526 downloads)
FS2004 SOKO J-20 Kraguj. Light COIN Aircraft developed by SOKO for the Yugoslav Air Force during 1960's. While cheap and easy to operate and maintain, jet were deemed to be far more useful, and production stopped after about 50 planes. Several Kraguj's (Swallow) have made their way to the civil register in recent years.This FS2004 model has VC (virtual cockpit) with custom gauges, full ani's and four paint schemes, two of them civil "Warbird" schemes. Tim Conrad. 9.5MB
Posted Jun 25, 2010 06:02 by archive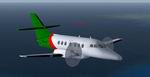 3.64Mb (1256 downloads)
FS2004 Jetstream 32 Caribintair HH-DCT. Original model by HJG (Historic Jets Group). ,Includes panel by Matthias Lieberecht. Textures by Titico Hernandez. 3.7MB
Posted Jun 25, 2010 06:02 by archive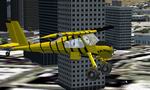 6.72Mb (1771 downloads)
FS2004 Wilga Honolulu Air Taxi. Aircraft by Joe Binka and Bruce Thorson. Repaint by Marty Beaston. 6.9MB
Posted Jun 25, 2010 06:02 by archive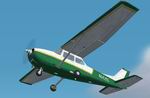 1.08Mb (578 downloads)
FS2004/2002 White and Green textures only for Cessna 172 Skyhawk. The skyhawk done up in a nice rental fleet type scheme for use with the 172 found in the sim. Repaint by Don Brynelsen using Mark Rooks paint kit. 1.1MB
Posted Jun 25, 2010 06:02 by archive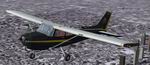 1.11Mb (514 downloads)
FS2004/2002 Cessna 172 Skyhawk Pirate scheme textures only Avast! here be a pirate inspired paint scheme for use with the default C172 found in the sim. Repaint by Don Brynelsen using a paint kit created by Mark Rooks. 1.1MB
Posted Jun 25, 2010 06:02 by archive