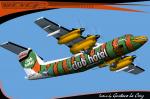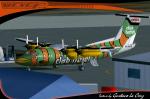 14.78Mb (1624 downloads)
Dash7-103 of Arkia with special livery "Club Hotel , reg. 4X-AHC, Model by Milton Shupe, texture by Gustavo La Cruz (Note: requires a zip utility such as Izarc - default Windows will report as invalid)
Posted Jun 13, 2010 22:23 by Gustavo La Cruz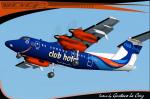 14.71Mb (2990 downloads)
Dash7-103 of Arkia with special livery "Club Hotel , reg. 4X-AHA. Model by Milton Shupe, texture by Gustavo La Cruz (Note: requires a zip utility such as Izarc - default Windows will report as invalid)
Posted Jun 13, 2010 22:03 by Gustavo La Cruz
11.29Mb (3953 downloads)
The Canadair Cl-215 made its maiden flight on 23 October 1967. The first delivery was to the French civil protection agency in June 1969. Production of CL-215s continued through to 1990 with 125 built. This amphibious aircraft serves a number of roles in a number of countries, ranging from forest fire fighting to oil spill control on the open sea. Nicknamed the "Waterbomber" or "Super Scooper," the aircraft can skim lakes, open water or reservoirs to fill its tanks with water. The water is mixed with additives and then dropped on wildfires and occasionally structure fires. The aircraft has a 2,673 l (1,410 US gal) fluid capacity, and is able to fill its tanks from a source as shallow as two metres in a mere 12 seconds. Model by Massimo Taccoli, texture by Gustavo La Cruz (Note: requires a zip utility such as Izarc - default Windows will report as invalid)
Posted Jun 13, 2010 18:40 by Gustavo La Cruz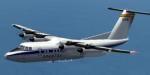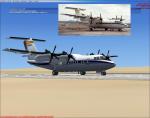 5.00Mb (1448 downloads)
Dash-7 Spantax Textures for the DASH-7 by Milton Shupe. By Enrique Medal.
Posted Jun 4, 2010 18:48 by Enrique Medal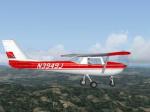 5.92Mb (19535 downloads)
FS2004 Cessna 150/2 Aerobat V2. An updated version of the RanchoJEN 150 with five models. This version fixes some bugs and add support to more flexible texturing works. 3D model by J.E.Narcizo - 2d Panel by Horst Paetzold (not VC) - RanchoJEN.
Posted Jun 4, 2010 04:31 by RanchoJEN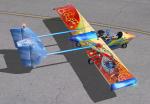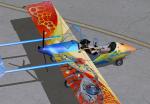 8.78Mb (4116 downloads)
FS2004 Sadler Vampire Ultralight "Fly St. Barth". This is the complete aircarft. Original of the excellent model Vampire Ultralight by Byron Warwick. Repaint by Ingo Schwan.
Posted Jun 2, 2010 02:07 by Ingo Schwan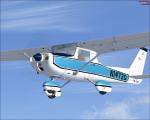 11.73Mb (1128 downloads)
FS2004/FSX Cessna 150L N1472Q real world freeware repaint textures only for the Fravin Cessna 150L available at fs-tutorials.com. A light blue/dark blue/black on white depiction of a real world Cessna 150 known to lolligag around Georgia USA, as well as other regions too numerous to list throughout her long and storied life of bringing joy to all who have flown her. Restoration underway by her current owner includes new upholstery and carpet among other things. 72 Queenie enjoys long walks on the beach, curling up on the sofa with a good book, and most of all... punchin' holes through clouds! Repaint by Tom Tiedman (External link - please report if broken)
Posted May 14, 2010 04:08 by Tom Tiedman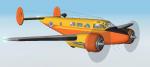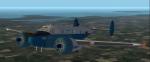 15.91Mb (1648 downloads)
The Expeditor in two liveries: Island Hopper Airways, a small Passenger/Cargo carrier based in the Bahamas, and Corsair Airways "Princess Alice". Also included is a set of blank textures for your own repaints. Original aircraft by F. Giuli, Sound and repaints by Don Brynelsen.
Posted May 10, 2010 11:53 by Don Brynelsen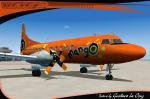 84.47Mb (3555 downloads)
Convair 580 of Mango Airlines. Model by Tom Gibson, sound pack by Cielo simulation, texture by Gustavo La Cruz
Note:
requires a zip utility such as
Izarc
- default Windows will report as invalid
Posted May 10, 2010 04:40 by Gustavo La Cruz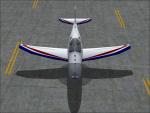 0.66Mb (3990 downloads)
This is the single-engine Javelin by Next Generation Aircraft Design. Not to be confused with its sibling, the twin-Javelin. It can cruise at 255 knots while flying across the United States. It seats four, and plenty of baggage. It is one slick customer! It is one of several models I have built. More aircraft are coming soon!
Posted May 6, 2010 19:17 by David Sommerfeld