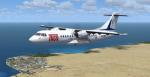 5.98Mb (167 downloads)
Transporte Aereo de Cabo Verde (TACV) textures for the VirtualCol ATR 42-600. Repaints by MoacirJr
Posted Aug 12, 2019 10:46 by uploader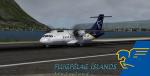 3.32Mb (206 downloads)
Virtualcol ATR 42-500 Air Iceland textures. Requires the now freeware Virtualcol ATR42. Textures by Fabio Lagattolla
Posted Aug 11, 2019 02:36 by uploader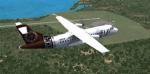 6.19Mb (171 downloads)
FGiji Air textures for the ATR 42-600 by VirtualCol. Repaints by MoacirJr
Posted Aug 11, 2019 02:32 by uploader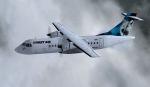 0.61Mb (196 downloads)
FSX/P3D Virtualcol ATR 42-300 First Air textures Textures only for Virtualcol's now freeware ATR for FSX. Repaint by Todd Disrud.
Posted Aug 11, 2019 02:26 by uploader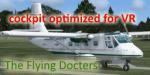 15.93Mb (1710 downloads)
FSX GAF Nomad 22B. The GAF Nomad 22B is a twin-engine turboprop, high-wing, short takeoff and landing (STOL) aircraft. 172 aircraft were built by the Australian Government Aircraft Factories (GAF) in the period 1975-85. This model is available in three deliveries, including those from "The Flying Doctors". The Nomad 22 was used in this popular Australian TV series (1986-92). It is a brand new model for FSX, made with FSDS v3.5. This is my first model built from scratch, but has full animation of all control surfaces, nose wheel control, wheels, doors, propellers... It also features a 2D cockpit panel made with standard meters. Most of the work was put into the virtual cockpit. This is optimized for use with virtual reality glasses. I use FSX-Flyinside with the Oculus Rift. The open cockpit gives a very nice view all around. All instruments and switches (in VR) are comparable to the original cockpit and are easy to read and operate. By Ivo Verlaeckt.
Posted Aug 10, 2019 15:43 by Ivo Verlaeckt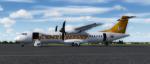 2.17Mb (186 downloads)
ATR 72-212 Conviasa textures for the Virtualcol ATR72-200. Textures by Josh Binney
Posted Aug 10, 2019 04:58 by uploader

0.65Mb (275 downloads)
ATR 72-600 Bangkok Airways textures for the Virtualcol ATR72-600.
Posted Aug 10, 2019 04:49 by uploader

2.26Mb (234 downloads)
ATR 72-500 Air New Zealand Link (Mount Cook) textures for the Virtualcol ATR72-500 released as freeware. Josh Binney
Posted Aug 10, 2019 04:43 by uploader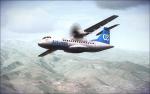 5.59Mb (252 downloads)
Textures for ATR42-300 Air Europa Express. New model for FSX by Virtualcol ATR42-300 series. Antonio Diaz
Posted Aug 10, 2019 04:39 by uploader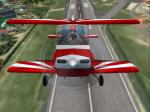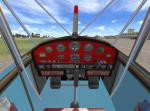 18.24Mb (623 downloads)
FSX/P3Dv3,v4 Skybaby The Stits SA-2A Sky Baby was a homebuilt aircraft designed for the challenge of claiming the title of "The World's Smallest". FSX/P3Dv3,v4 model by A.F.Scrub
Posted Aug 4, 2019 03:15 by A.F.Scrub