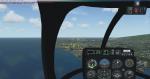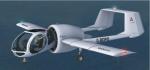 29.20Mb (1196 downloads)
This is an update for FSX of the Edgley Optica by Craig Richardson. I have given it a 2D panel from a picture I took of the VC. I added scrape points and adjusted the wheels; changed the size and position of the GPS; added windows for the radios and a hud; and I updated the flight dynamics. Model does not work in FS9.
Posted Jun 26, 2020 11:36 by Bob Chicilo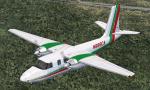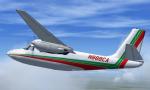 12.90Mb (388 downloads)
FSX AC-500 N888CA. Aircraft not included; requires the ac500vc1.zip file of the original aircraft created by Milton Shupe, Scott Thomas and Andre Folkers. This AC-500 is painted as N888CA which was used to test the TKS glycol anti-ice system. Contains a link to a 20-minute video about the TKS systems. Repaintable blank texture files are included. Repainted by R.E. Wyman.
Posted Jun 25, 2020 18:16 by R.E. Wyman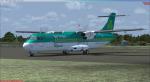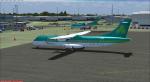 7.24Mb (998 downloads)
ATR72-600 with the old Aer Lingus Livery. Model by ISDT. Textures Stefan Bree. Not compatible with P3D. 2d panel. No VC.
Posted Jun 25, 2020 15:02 by Chris BG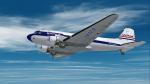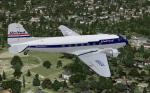 3.52Mb (341 downloads)
FS9/FSX United DC-3 Cargoliner textures for Manfred Jahn and team FS2004 Douglas C-47 Skytrain Base Pack 1.0. United textures by Gary Harper.
Posted Jun 18, 2020 13:00 by Gary Harper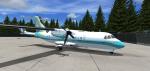 11.87Mb (441 downloads)
Paradise Island Airlines ATR-300. This aircraft was made by Max .M ISDT. No VC
Posted Jun 13, 2020 13:11 by Shawn Penn (Bahamas Flyers)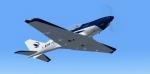 11.30Mb (1764 downloads)
FSX Acc. "Blackshape BS100 Prime" The Blackshape BS100 Prime is a revolutionary ultralight aircraft featuring a full carbon fiber frame, which makes for an extremely strong and low weight aircraft. The unparalleled, standard safety features and specially designed 4 spar cockpit ensure you will fully enjoy the high speed and agility that the Prime was built for. Full package for FSX Acc. model, custom panel and 3D VC, Three liveries. Original source file design and flight dynamics by M. Taccoli.
Posted May 30, 2020 05:40 by Massimo Taccoli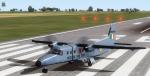 1.07Mb (484 downloads)
Indian Airporce textures for the Premier Aircract Dornier Do-228
Posted May 27, 2020 14:33 by Kalyan Mukherjee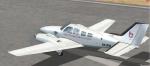 2.21Mb (292 downloads)
IPN ESIME textures only for the default Beechcraft Baron 58
Posted May 21, 2020 10:12 by Axel Miranda Roque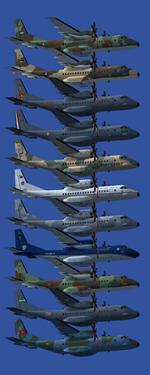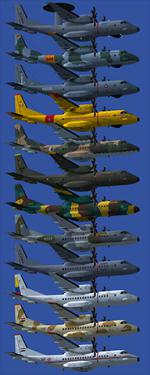 116.94Mb (2847 downloads)
23 completely new HD-textures with overworked base files for the CASA C-295 by Premier Aircraft Design: Algerian AF, Austrian AF (fictional), Bangladesh Army, Brazilian AF (MP), Chilean Navy (MP), Czech AF, EADS, EADS (AEW), Ecuadorian AF, Egyptian AF Camo, Egyptian AF White, Indonesian AF, Jordanian AF, Kazakhstan AF, Mexican AF, Oman AF, Philippine AF, Polish AF, RCAF (MP), Saudi Arabian AF, Thai Army, Uzbekistan AF and Vietnamese AF. I modified the panel as well, but the original one is included. Credit goes to Jean-Pierre Brisard & Bob May from Premier Aircraft Design: https://www.premaircraft.com/index.html Will not work in P3D v4+. Enjoy and Greetz, Dagobert
Posted May 17, 2020 05:02 by Dagobert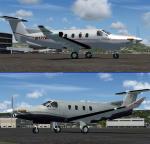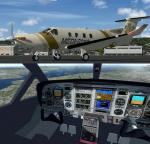 26.51Mb (5694 downloads)
Pilatus PC-12 FSX Native Pack for FSX and P3D 4. Fixed wrong prop direction. Original FS2002 model converted to FSX native format and compatible with FSX and P3D including v.4.5. Multiple liveries included. Virtual cockpit. Original model by Brian Gladden. Assembled using the original pack from Michael Pook. FSX and Prepar3Dv4 Adaptations by Speedbird77.
Posted May 14, 2020 11:08 by anon