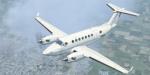 2.08Mb (883 downloads)
FSX default Beechcraft King Air 350 fictional textures 'Atlanta Tours and Shuttles'. By Lucas Denson
Posted May 1, 2009 23:23 by Lucas Denson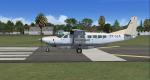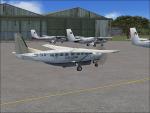 5.39Mb (1736 downloads)
Textures only for the Default FSX Cessna 208B Grand Caravan in the colours of Safarilink of Nairobi, Kenya
Posted Apr 24, 2009 14:28 by Bashir Ismail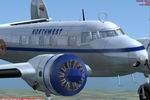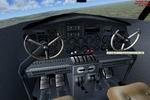 15.13Mb (21412 downloads)
Lockheed L-10A Electra, Northwest registration NC14935, 1934 livery. This is the beautiful FS9 L-10 Electra by Arik Hohmeyer with the panel modified to include FSX compatible XML gauges. Aircraft now works in FSX with full functions and no error warnings., High detailed and reflective textures and a high detailed Virtual Cockpit. The Lockheed L-10 Electra was a twin-engine, all-metal monoplane airliner developed by the Lockheed Aircraft Corporation in the 1930s to compete with the Boeing 247 and Douglas DC-2. Including new 2D panel and Weight Tool. Tested for FSX, Panel updates by Danny Garnier
Posted Apr 22, 2009 10:36 by Danny Garnier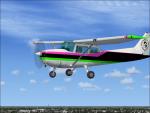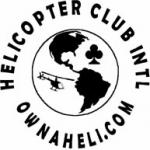 1.01Mb (791 downloads)
By request a repaint of the default FSX Cessna 172 in the Helicopter Club International paint scheme. Repaint By Earl Triplett.
Posted Apr 21, 2009 19:13 by Earl Triplett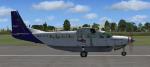 5.24Mb (3691 downloads)
Textures only for the Default FSX Cessna 208B Grand Caravan in the colors of FedEx
Posted Apr 18, 2009 18:23 by Bashir Ismail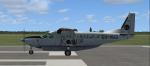 5.05Mb (1214 downloads)
Textures only for the Default FSX Cessna 208B Grand Caravan in the colours of Coastal Aviation of Dar es Salaam, Tanzania
Posted Apr 15, 2009 16:10 by Bashir Ismail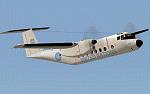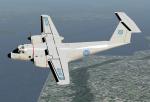 21.10Mb (16504 downloads)
FSX De Havilland CC-115 (DHC-5) Buffalo, Canadian Forces. This model depicts CC-115 s/n 115461 in United Nations peacekeeping livery. On August 9th 1974 this aircraft was shot down by Syrian SAM missiles whilst flying from Beirut to Damascus on U.N. peacekeeping duties. The aircraft was completely destroyed and the crew of 9 were all lost. As a tribute to the crew, the Canadian Warplane Heritage Museum (CWH), Hamilton, Ontario has restored a derelict Buffalo to static display condition and painted it to replicate 115461 in it's U.N. livery. This restored aircraft is now on public display and CWH are also using MSFS, with this PAD model loaded, to give visitors a feel of how 461 looked when operational. Full package for FSX/SP2, panel, VC and custom sounds. Full model animations including animated flight crew. Flying tips and html check/ref lists included. By Jean-Pierre Brisard and Bob May - Premier Aircraft Design.
Posted Apr 14, 2009 15:54 by bob.may@premaircraft.com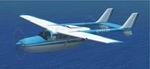 0.16Mb (6111 downloads)
This is an updated update for FS X acceleration, of the Cessna 337 Skymaster by Mike Stone. I did not remember that I had changed the sound.cfg file when I put the original update together; so I have added a corrected sound.cfg file so there will be sound. Most of what was needed was to update the panel and adjust some lights. You need the original aircraft for this to work. No virtual cockpit. IF YOU ALREADY HAVE MY UPDATED UPDATE FOR FSX OF THIS AIRCRAFT ALL YOU NEED TO DO IS OPEN THE AIRCRAFT.CFG FILE AND PAGE DOWN TO THE [AIRSPEED_INDICATORS] SECTION AND MAKE SURE IT READS "airspeed_indicator.0 = 1" WITHOUT THE QUOTES. DELETE ANYTHING AFTER THE ONE. FOR EVERYONE ELSE THIS UPDATE IS THE ONE YOU NEED. Bob Chicilo.
Posted Apr 14, 2009 03:31 by Bob Chicilo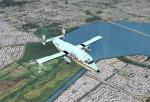 0.98Mb (1138 downloads)
FSX/FS2004 Short 330 Air Puerto Rico 1985 Textures for the Premier Aircraft Design S330. Suitable for both the FSX and FS2004 versions.
Posted Apr 12, 2009 11:18 by Carlos Marrero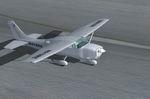 12.30Mb (12420 downloads)
Cessna 206H Stationair adapted for FSX and repainted by Danny Garnier. Includes revised VC and 2d panels. Panel uses FSX compatible gauges. Cessna 206H 300 hp Registration N919ME. The line's combination of a powerful engine, rugged construction and a large cabin has made these aircraft popular bush planes. Cessna describes the 206 as "the sport-utility vehicle of the air." These airplanes are also used for aerial photography, skydiving and other utility purposes. They can also be equipped with floats, amphibious floats and skis. Alternatively, they can be fitted with luxury appointments for use as a personal air transport. Model by Guidee Francois-Denis and NEHR Gerd R. for Garmin gauges
Posted Apr 12, 2009 07:17 by GARNIER D