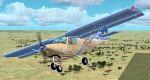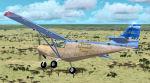 2.44Mb (315 downloads)
This is a repaint in a fictional African Charter livery for the I.C.P. Savannah version 3.8 by Massimo Taccoli, Flight Dynamics by D.G. Seeley, new gauges by Dennis Seeley, and sound by Mike Hambly. Preview: http://www.simviation.com/phpupload/uploads/1288691370.jpg
Posted Nov 1, 2010 20:08 by L. T. 'patchz' Davis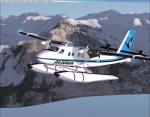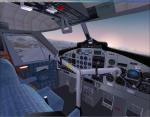 20.28Mb (6930 downloads)
Premier Aircraft Design DHC6-300 Twin Sea Otter Floats Package. For FSX, (VC), cabin. 5 Premier Aircraft paint skins. Rugged back country aircraft. Floats only, no gear.
Posted Nov 1, 2010 02:29 by T.Marson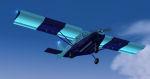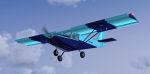 1.79Mb (260 downloads)
This is a repaint in a fictional private livery for the I.C.P. Savannah version 3.8 by Massimo Taccoli, Flight Dynamics by D.G. Seeley, new gauges by Dennis Seeley, and sound by Mike Hambly.
Posted Nov 1, 2010 00:00 by L. T. 'patchz' Davis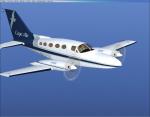 20.82Mb (8227 downloads)
(fixed) Premier Aircraft Design Cessna 414A For FSX, virtual cockpit (VC),passenger cabin. Added camera definitions for copilot, 2 passenger cabin views, wing, gear. Alpha channels FOR all included skins, I've left the textures as 32 bit bmpmaps for further editing of dirt marks, and shadows. 5 textures included.
Posted Oct 31, 2010 13:13 by T.Marson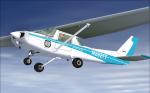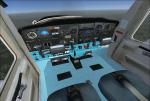 2.30Mb (868 downloads)
FSX Cessna 150 Aerobat Hawaii Police Aerial Surveillance repaint textures N2927T in blue and white for the 'Just Flight' FSX freeware Cessna 152, which you must have previously installed in FSX. Easy installation. By Tom Tiedman
Posted Oct 29, 2010 05:56 by Tom Tiedman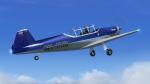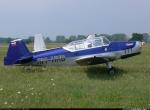 2.84Mb (586 downloads)
FSX/FS2004 Zlin Z-126 Trainer FS2004 and FSX OM-HHB Textures. Requires the model by Pavel Karásek. Textures by Jozef Košík.
Posted Oct 25, 2010 12:47 by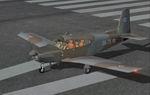 4.71Mb (2391 downloads)
SIAI_208M. Derived from the S205, in 1968 the S.208 version became available, produced basically as a five-seat, more powerful version of the S.205, with some 60% of its structural components in common. The package features very accurate visual model and VC, highly reflective metallic skin and full animations. The panel background has been created entirely from scratch, based on photographic material found on the net and some photos from an official operating manual.
Posted Oct 25, 2010 08:27 by Capt. I. D'Attomo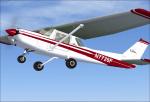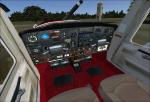 2.50Mb (1162 downloads)
FSX Cessna 150 repaint textures in a new red and white paint job with matching interior for N7726F, a real world 1966 Cessna 150F that Col. Steve soloed in 40 years ago, for the 'Just Flight' FSX freeware Cessna 152, which you must have previously installed in FSX. Easy installation. By Tom Tiedman
Posted Oct 24, 2010 08:28 by Tom Tiedman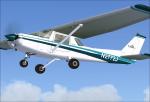 2.58Mb (801 downloads)
FSX Cessna 150 repaint textures N2772J in blue and white with matching interior for the 'Just Flight' FSX freeware Cessna 152, which you must have previously installed in FSX. Easy installation. By Tom Tiedman
Posted Oct 23, 2010 01:59 by Tom Tiedman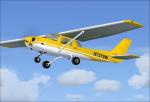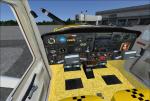 2.46Mb (725 downloads)
FSX Cessna 150 Commuter N7279W yellow and white repaint textures with matching interior for the 'Just Flight' FSX freeware Cessna 152, which you must have previously installed in FSX. Easy installation. By Tom Tiedman
Posted Oct 22, 2010 09:02 by Tom Tiedman