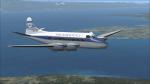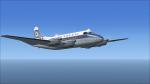 2.37Mb (131 downloads)
Sudflug International operated 3 DH 114 Heron Srs 2s from 1955 to 1963. This is a repaint of the DH 114 Heron Srs 2 in their colors. The freeware DH 114 Heron Srs 2 by the Classic British Flight Sim group - CBFS is needed for this repaint. The textures are 32bit BMP. It was tested on FSX-SE, but should work on FSX/FS2004/P3Dv1-3.
Posted Jul 25, 2018 21:14 by Ted Giana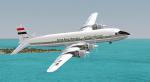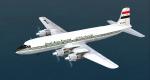 6.43Mb (86 downloads)
FS9/FSX United Arab Airlines textures for the Tom Gibson/Greg Pepper Doublas DC-6B. United Arab textures by Gary Harper.
Posted Jul 22, 2018 23:04 by Gary Harper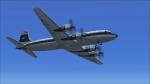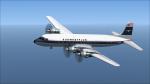 8.50Mb (109 downloads)
Textures for the Calclassic Douglas DC-6B in Sudwestflug colors. The freeware Cal Classic DC-6B by Greg Pepper and Tom Gibson is needed for this repaint. The German charter operator Südwestflug was founded in 1964 as a sort of feeder company for the company Contracta GmbH & Co KG. This company was active in the holiday home industry which built and sold their houses in Spain. To promote the homes to potential clients, they purchased the first of ultimately three DC-6B airliners in September 1965. Deficiencies found in the maintenance of the machines led to the start of a ban, and a negative image of the airline. The German newspapers wrote at that time of the "Wild Westflug", which was quite damaging. In order to avert an impending bankruptcy, they decided to make a far-reaching change in their image and changed their name to Germanair on 28 October 1968. They operated 3 DC-6Bs under their tenure. Th
Posted Jul 20, 2018 01:09 by Ted Giana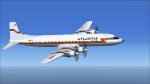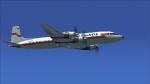 4.64Mb (109 downloads)
Textures for the Calclassic DC-7C in Atlantis Airways colors. The freeware Cal Classic DC-7C by Greg Pepper and Tom Gibson is needed for this repaint. Atlantis Airways operated this single DC-7C from 1968 to 1969. This repaint was tested on FSX-SE. It should work on FS2004, FSX & P3D v1-3.
Posted Jul 20, 2018 00:12 by Ted Giana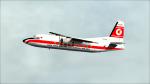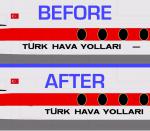 3.01Mb (164 downloads)
Updated version of the original Turkish F27 (THY_F27_TC-TEK.zip) Textures only for Mike Stone/Bjorn Kesten's Fokker F27. THY text on port side moved aft to intended position. For convenience's sake, this is a reupload of the original file.
Posted Jul 11, 2018 10:51 by fs10inator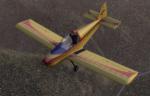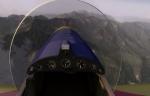 54.17Mb (1026 downloads)
FSX/P3D Argo 02. Argo-02 - this ultra-light training aircraft, presented nizkoplanom classical cantilever structures made of wood, which has a cantilever tailplane. The device is equipped with a spring landing gear with tail wheel. As the power plant is used two-cylinder two-stroke engine with air cooling type RMZ-640, which by means of a V-belt gear launches dvuhlopasny monoblock wooden propeller to rotate. Docs in Russian.
Posted Jul 10, 2018 09:20 by mike leitz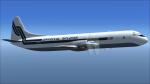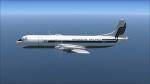 2.54Mb (142 downloads)
Textures for the Libardo Guzman L-188 Electra in Universal Airlines colors. Universal Airlines operated the L-188 Electra from 1967 to 1972. This repaint should work FS2004. Textures are in DXT3 format.
Posted Jul 9, 2018 03:59 by Ted Giana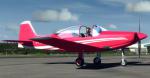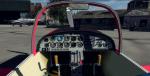 6.96Mb (2731 downloads)
(update - both liveries now show up) This is the Sequoia Falco F8L version for FSX and P3D v1 - v4+ , converted to FSX native format with kindly permission by Massimo Taccoli. The aircraft was designed by the renowned Italian designer Stelio Frati in 1955, and originally built in Italy by Aviamilano then Aeromere and later Laverda. The Falco is currently sold in kit or plans form for amateur construction by the Sequoia Aircraft Company of Richmond, Virginia. The aircraft is single-engined, propeller driven and designed for private and general aviation use. Full package for FSX and all P3D versions, model, custom panel and 3D VC, Two liveries. Original source file design by Chris Lampard modified and improved with 2D panel and a working 3d VC By Massimo Taccoli, Flight Dynamics made by Dennis G. Seeley. Converted to FSX native by Bluebear. IMPORTANT to read the 'Readme' to get the correct panel for your sim version!!
Posted Jul 4, 2018 10:44 by Bluebear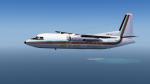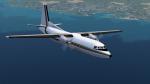 4.03Mb (123 downloads)
Texturs for the CalClassics Fokker F-27 in Gulf Air colors. The freeware CalClassic F-27 by Tom Gibson and Bernward Bockheim is needed for this repaint. Gulf Air operated the F-27 from 1967 to around the early 1980s. Gulf Air started to replace them in 1977 with the 737-200. This repaint was tested on P3D v3 and FSX. The textures are in 32bit BMP. This repaint should work on FS2004 as well. (Not P3Dv4+)
Posted Jun 29, 2018 00:09 by Ted Giana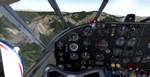 61.68Mb (1263 downloads)
FSX/P3D v4 Beechcraft D18S/SNB. (Beech 18 / Twin Beech). This is a full FSX/Prepar3D v4 compliant updated and replacement version of the Beechcraft D18S/SNB file B18DC05.ZIP and is compatible with any repaints produced for that file. Simple installation instructions are provided. By Dave Carroll.
Posted Jun 25, 2018 10:17 by uploader