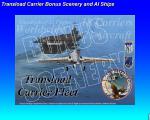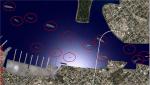 11.46Mb (419 downloads)
Garry Smith Archive Files: FS2004 Scenery - Transload-Carriers-Bonus This package contains scenery enhancements for San Diego, including the Naval Air Station (North Island) and the dockyards up past the bridge. Furthermore, this also contains a fleet of 14 AI ships which will sail out of the harbour. All required models were installed along with the scenery. Hence, there's no need to hunt for any AI ship models from various sim sites. "Transload-Carriers-Bonus" is intended to be used in conjunction with the "Transload Carrier Fleet" installation, so please ensure that you have already installed that package. Developed by Garry J. Smith
Posted Aug 10, 2018 06:05 by Ronald Falzon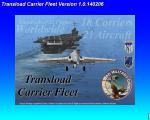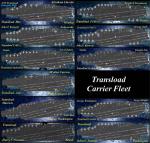 31.12Mb (871 downloads)
Garry Smith Archive Files: FS2004 Scenery - Transload-Carrier-Fleet There are 18 Nimitz-class aircraft carriers in various locations around the planet, modified and updated by Richard Hogen in his freeware package "Carriers 2006". TVA has adopted these Nimitz Carriers as its own worldwide fleet. Please read ALL the documentation in this package to ensure correct installation, operation and functioning of the Carrier Fleet. All carriers are equipped with navaids and arrestor-cables. A sufficient number of AI aircraft are also integrated in this package. Flight-plans and Parking-spots ensure each carrier has a squadron of aircraft on deck at all times. Developed by Garry J. Smith
Posted Aug 4, 2018 02:32 by Ronald Falzon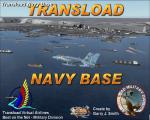 13.27Mb (500 downloads)
Garry Smith Archive Files: FS2004 Scenery - Transload Military Base - NAVY - YTNV - Port Smith. This is an imaginary Military Base created for Transload Virtual Airlines. And it's equipped with four major runways with lots of parking for military aircraft of all sizes. This scenery has tons of AI ships sailing within the local area and from an alternative area just 30km away. There are 200 AI aircraft parked throughout the base which depart/return to the base frequently - 1 to 3 AC depart every 5 minutes for Circuits. AI traffic use two runways for takeoffs and landings. All of the AI aircraft and all of the AI ships are contained in this scenery package. Aircraft included consist of: B747 (Airforce 1), C141B's, F16 D's, C130H's, and C130J's. Developed by Garry J. Smith
Posted Aug 3, 2018 16:06 by Ronald Falzon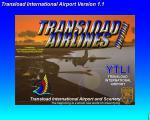 61.99Mb (449 downloads)
Garry Smith Archive Files: Transload International Airport Scenery (YTLI) Version 1.1 for Microsoft Flight Simulator 2004. The scenery consists of an International Airport Terminal, a Domestic Airport Terminal, a Military Base, a Space Station facility and Shuttle launch Platform, Stone Air Research and Test Facilities, and Bush and Sea base facilities. Four types of runways: Main Runway - Domestic Runway - Grass Runway and Water runway. Full harbour and facilities exist in the nearby bay area. An extremely detailed scenery including freeways, plethora of buildings, Freeway and other signs. Over 130 parking spaced for all types of aircraft including sea/water parking. Some added features include: Erupting Volcano, several electrical storms some distance from the airfield, fireworks and other animations. Additionally this file will install comprehensive Terrain Meshing for the entire Tasmanian Region as well as the latest Landclass files. Finally, over 30 other Tasmanian airfields are included in this scenery pack
Posted Aug 3, 2018 09:38 by Ronald Falzon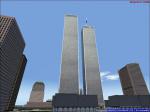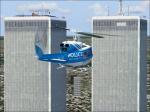 7.29Mb (2539 downloads)
FS2004/FSX Scenery--World Trade Center Twin Towers, New York, NY. Scenery created by Luis Jimenez, owner of Tico Sim, This is beta version, not landeable, no night lights, no effects, and needs further work to correct some problems and improve other things.
Posted Oct 2, 2017 11:28 by MrocznyLuzio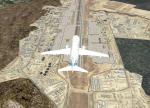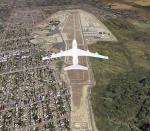 50.55Mb (1199 downloads)
Afghanistan OAAC-Charikar, OAAD-Dehdadi, OAAK-Andkhoi, OAAN-Ajrestan North, OABD-Dostmohammadkhan Kalay, OABN-Bamyan, OABT-Bost Airport Lashkar Gah, OADY-Dwyer, OADZ-Darwaz, OAFG-Khost-O-Fering, OAFH-Helmand, OAFN-Noshaq, OAFR-Farah, OAFT-Tapa, OAFZ-Faizabad, OAHR-Herat, OAIX-Bagram, OAJL-Jalalabad, OAKB-Kabul, OAKG-Khojaghar, OAKN-Kandahar, OAKS-Khost, OALL-Lal, OAMN-Maimana, OAMS-Mazar-I-Sharif, OAQN-Qala-I-Nawa, OASD-Shindand, OASG-Sheberghan, OASH-Shank Air Base, OATD-Kara Tapa (Toorghodi), OATN-Tereen, OATQ-Talulqan Toorghodi, OATW-Teh Wareh, OAUZ-Kunduz, OAYL-Yakawlang, OAZJ-Zaranj
Posted Jun 22, 2017 10:42 by Andrey Anta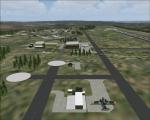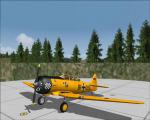 18.27Mb (612 downloads)
This Nato-Combat-Airbase, located in Central Germany near Ramstein (Rhein / Mosel region), was the homebase of JG73 and JaboG35. The airport has been closed in 1994, was reanimated by Fritz Becker for FS2004 use and I did the rework to make it ready for AI-Traffic. The included AI-Package contains the Dornier Do-28, Fiat G91R, Douglas C-47 / DC-6B, McDonnell-Douglas F-4E, Nord-Aviation Noratlas ND2501, North-American T-6, and the Republic F-84F. All aircraft perform "Touch and Go" in the local traffic pattern per attached flightplan. Note: Lago's FSE is not required this time.
Posted Jun 2, 2017 04:32 by Ronald Falzon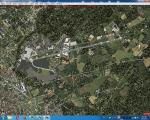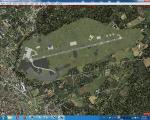 0.69Mb (186 downloads)
How does this UPDATE enhance the existing Kaufberen AB (ETSL) v2 ? I have created an underlying Airbase Polygon. Klaus Jone did not create any base polygon for Kaufberen, but he removed the default one. Just compare the screenshots...BEFORE and AFTER. Requires Kaufbeuren V2 Base file
Posted May 31, 2017 15:33 by Ronald Falzon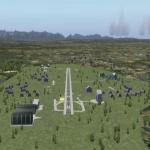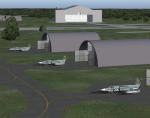 8.18Mb (379 downloads)
This UPDATE enhances the existing Lechfeld AB (ETSL) v2. Lechfeld Air Base is a German Air Force base located 1 km east of Lagerlechfeld in Bavaria. Klaus Jone did a magnificent job in creating this scenery for us flightsimmers. At the time - in 2005 - Klaus Jone depended heavily on the payware Lago FSE to create the emplaced buildings / objects for most of his military airbases, including Lechfeld ETSL. Nowadays, the Lago FSE program is not readily available. After looking at all the screenshots which Klaus Jone packed with this scenery, it's disappointing to install it and then NOT see all those lovely hangars, shelters and buildings. How bare and empty it appears...without Lago FSE!! Well, I have replaced the buildings / objects with similar ones that You CAN see, if you have the required libraries. This scenery was made with EZ-Scenery. No Lago FSE or other payware is required.
Posted May 15, 2017 00:42 by Ronald Falzon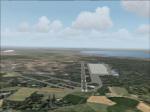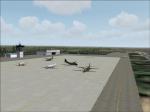 0.62Mb (259 downloads)
This airfield, located about 20 NM in the west of Hannover (Capital of Lower Saxony, North Germany), is the home base of the German Air Force "Air-Transport-Wing 62" flying presently Transall C-160. During the "Berlin Blockade" the airfield played an important part in supporting the "Luftbrucke".
Posted May 7, 2017 12:39 by Ronald Falzon