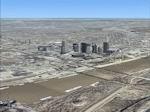 77.07Mb (1655 downloads)
FSX St Louis Photoreal Scenery. This is high resolution, 1 meter/pixel, terrain scenery for St Louis, Missouri (MO). Section, R, is one of 30. A map and descriptions show the section locations and some feature details. This photoscenery is for day use only and will work for any season, but shows only the USGS aerial photo data taken in March 2002. The default FSX mesh works well with this photoscenery and no additional mesh for the area needs to be purchased. The 30 sections of scenery, totalling 2 Gb, contains photoreal terrain textures, encompassing an area bounded by 31.7 E-W and 27.4 N-S miles (about 870 square miles). Each section is independent, but the user may want most or all sections to provide continuity and completeness. By Jim Jones.
Posted Oct 4, 2008 06:36 by Jim Jones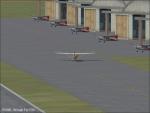 0.00Mb (963 downloads)
This is a fictitious remake of EGNB - Brough in East Yorkshire, England. Features: 40+ GA Parking Spots 2 Gates for Medium Jets Picnic Areas Plus much more... **This is Still A Work In Progress**
Posted Oct 3, 2008 22:27 by Richard.M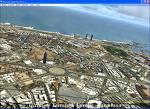 90.66Mb (17963 downloads)
FSX/FS2004 Barcelona , Spain, Area Scenery. This is a photoreal scenery from LEBL airport and its surroundings. Seasonal and Night Lightning textures are included.
Posted Oct 2, 2008 08:05 by Jesse Fonseca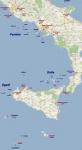 50.36Mb (4668 downloads)
FS2004/FSX Small Islands Of Italy part 1 (southeast) photoreal scenery, v3.0. The file contains all the islands of the southeast portion of Italy including Capri, Ischia and Procida, Islands Pontine (Ponza, Ventotene, Palmarola, Zannone)., Islands Tremiti, Islands Egadi (Favignana, Levanzo, Marettimo), Ustica, Islands Eolie (Lipari, Volcano, Salina, Stromboli, Panarea, Filicudi, Alicudi)., Pantelleria, Lampedusa and Linosa. By Fulvio Mazzokan.
Posted Oct 2, 2008 07:49 by Fulvio Mazzokan
0.00Mb (1051 downloads)
This scenery is for ARNZ's Friday Night Flight 9th November 2007 Two sets of Icebergs have been reported roughly 60nm off the southern coast of New Zealand. Author: Rob Sitter
Posted Sep 29, 2008 16:47 by Richard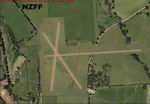 0.95Mb (1606 downloads)
Melton;NZRT-Rangiora(updated version from FSX default); and NZFF-Forest Field. Christchurch, New Zealand, Small Airfields Scenery. These airfields are all in Christchurch/Canterbury. They are all very close to NZCH-Christchurch international airport. The Canterbury Aero Club operate out of these airfields, mainly NZRT and NZWL. By Troy Chapman.
Posted Sep 29, 2008 03:30 by Troy Chapman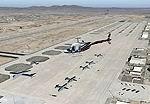 97.83Mb (4663 downloads)
FS2004/FSX Tucson Arizona Hi-Res Scenery Part 2: Davis Monthan AFB (KDMA). This is the second part of high resolution ground scenery for Tucson, AZ, containing Davis Monthan AFB and 90 sq km around it. The resolution of the airport area itself is 0.3 m/pix. The area around is in 1.2 m/pix resolution. Also covers the Aerospace Maintenance and Regeneration Group (AMARG), aka "The Boneyard", where more than 4400 aircraft, including 700 F-4 Phantom IIs are stored. Connects seamlessly with the Tucson Intl. overlay (TUS2008HR.zip) By Gottfried Razek.
Posted Sep 28, 2008 05:52 by http://www.blueskyscenery.com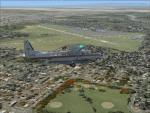 0.36Mb (1867 downloads)
This updates Sacramento Executive Airport in Sacramento California. Taxiways, runways, parking (over 160 spaces) were updated using real world satellite images from Google Earth. Vehicle roads were also updated, as well as the accurate placement of buildings. Many scenery objects from the default FSX scenery libraries were used. View Readme file for installation and notes. Compiled using Airport Design Editor.
Posted Sep 27, 2008 18:02 by Phillip Coyle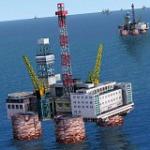 0.02Mb (11283 downloads)
GoM Fun Rigs Pack Did you know that there are over 6150 complex sites defined in the Gulf of Mexico related to oil and natural gas production? I didn't. The scale of this is huge. In those complexes sit a wide variety of assets, Jackups, Semisubmersibles, Submersibles, drill ships, platforms, etc. There are 6972 of those listed in the database. Roughly 3290 of those are in use. The majority are unmanned. The rest are either removed, abandoned, or in some other status. Of the ones in use, 2259 complexes have helipads. The instructions are simple. Place this BGL file in your Add-on Scenery, Scenery folder and start your sim. Then enjoy flying around a much more populated Gulf of Mexico. Created by Chris Gaeth
Posted Sep 24, 2008 05:01 by Danny
23.83Mb (2073 downloads)
Oceana Naval Air Station (Apollo Soucek Field) Virginia Beach, Virginia, USA (KNTU), Added hangers, vehicles, STATIC F-22S,F-18S,CHOPPERS,B-52,B-747, MD-80. Added ILS approuches, 05L 110.70MHz, 05R108.95MHz, 14R 109.35MHz, 14L 110.75MHz, VOR Ident ONS., new starts, helipads etc.
Posted Sep 23, 2008 16:06 by FSXF-Thunder