3.85Mb (173 downloads)
Trackr V15 has been released, now with automatic connection to FSUIPC. http://fstrackr.net
Posted Jan 3, 2015 12:19 by Mario DANTAS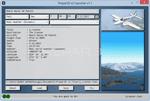 2.16Mb (2371 downloads)
"Prepar3D v2" starts directly in flight. Users are not able to load or edit their flights but only after starting with the default flight. This little utility helps you prepare your flights or load your previously saved flights prior to starting Prepar3D v2. For those who likes things in minimal and compact this utility is very simple, clean and fast.
Posted Jan 28, 2014 09:01 by duval
0.45Mb (1001 downloads)
Prepar3D v2 Launcher Utility. Why you need it? "Prepar3D v2" starts directly in flight. Even you enable the scenario starup menu on startup there is no option to load your flight from there. Every time, after the default flight gets loaded, you have to go to the menu and load your saved flight from there which is a total waste of time. I created this little utility to solve this little but annoying problem until Prepar3D development team takes care of it. The program will launch "Prepar3D v2" directly with your saved flight that you choose as you will expect. This method is also a faster way to start the simulator as you don't need to wait anything to be loaded except your saved fight.
Posted Dec 6, 2013 03:06 by Ahmet Mehmetbeyoglu