1.03Mb (8140 downloads)
FS Recorder For FSX With Full HD 1080p. FS Recorder is an add-on module for Microsoft Flight Simulator available for FS2004 and FSX. It allows recording and playback of flights, similar as the instant replay and video recorder built into FS, but with a lot more features. The recorded flights can be played back either using the user's aircraft or as AI traffic, which allows you to fly formations with yourself. A number of settings allows to customize FS Recorder to your needs. Matthias Neusinger. Further details from http://www.fs-recorder.net/
Posted Mar 17, 2012 07:40 by Shahzeb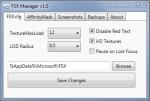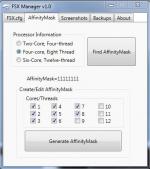 0.24Mb (3541 downloads)
FSX Manager is a simple, easy-to-use utility for FSX that works as an interface with different aspects of FSX. It enables you to apply common tweaks to the fsx.cfg file without digging through the AppData folder to find it. It also allows you to view FSX screenshots and save them as JPEG files (FSX saves them as bitmaps). Additionally, it comes with a backup feature (currently only for the fsx.cfg file) that allows you to back up and restore any files that FSX Manager edits. Minor updates will be announced at everythingfsx.blogspot.com
Posted Mar 10, 2012 15:09 by Bram Osterhout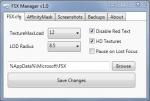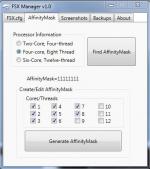 0.24Mb (1020 downloads)
FSX Manager is a simple, easy-to-use utility for FSX that works as an interface with different aspects of FSX. Version 1.0 enables you to apply common tweaks to the fsx.cfg file without digging through the AppData folder to find it. It also allows you to view FSX screenshots and save them as JPEG files (FSX saves them as bitmaps). Additionally, it comes with a backup feature (currently only for the fsx.cfg file) that allows you to back up and restore any files that FSX Manager edits.
Posted Feb 24, 2012 02:51 by Bram Osterhout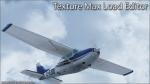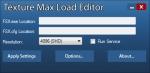 2.57Mb (8697 downloads)
TMLE was designed to make the use of High Definition and Super High Definition textures easier. By default, FSX's maximum texture resolution is set to the 1024x1024 scale. TMLE can modify this to 2048x2048, and even 4096x4096, allowing you to take full advantage of HD textures. TMLE is not available in very many places these days, as the original Frosty Software website is no loner active. One day, a friend asked me if I had the original installer exe. Fortunately, after some searching on my hard drive, I was able to locate it. The idea came to us that it would be cool to make TMLE available to the public again, but not before contacting the original author. I contacted Steve Frost and he was kind enough to grant me permission to upload it. A huge thanks goes out to him for the permission and for developing such a simple, yet useful tool!
Posted Dec 29, 2011 02:35 by Steve Frost, Brandon Filer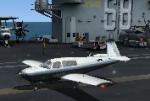 2.30Mb (3341 downloads)
This utilty allows any FSX acceleration aircraft to simulate a moving tailhook (This version 2 works also with XP).
Posted Nov 4, 2011 14:40 by Jacques Lecaille
0.54Mb (2636 downloads)
Tired of having to program AI (and suffer the overhead) just to have some "eye candy" sitting around your airport. No more! Static Aircraft .mdl Maker ("SAMM") will convert just about any FS8 or FS9 flyable or AI aircraft into a FS9 scenery model. (FSX will display most of these models satisfactorily.) Just "point" SAMM to the aircraft you wish to convert, decide where to save the scenery file and, presto, "eye candy". Most aircraft will convert using SAMM's default settings. Where, the static model is not quite right using default settings or if you want to make your static models as efficient as possible, SAMM includes a set of tools to help you. This re-release is to facilitate future updates from http://stuff4fs.com. Current users will be automatically updated. Previous version had 1195 downloads.
Posted Aug 18, 2011 18:33 by Don Grovestine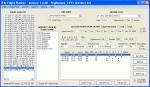 1.56Mb (11971 downloads)
AI Flight Planner is a fully-integrated, comprehensive AI flight planning system for both FS9 and FSX. It can use either TTools-format text files or compiled MSFS traffic files as source data. Among its unique features are: departure and arrival times may be specified using local time, airports specified using either ICAO or IATA codes, similar legs in weekly flight plans created automatically, comprehensive error checking and traffic file validation and conversion. Version 2 adds a full range of flight plan and repaint installion capabilities as well as several other new functions. These new capabilities were developed in cooperation with AIG (Alpha-India Group). While intended to meet AIG's specific requirements, AIFP version 2 remains a general purpose tool that may be used to install anyone's flight plans and repaint packages. This re-release of Version 2 is to facilitate future updates from http://stuff4fs.com. Current users of Version 2 will be automatically updated. Previous version had 2736 downloads.
Posted Aug 18, 2011 18:23 by Don Grovestine
0.00Mb (921 downloads)
This replaces the default multiplayer camera so that you can view multiplayer aircraft directly. (like ai traffic)
Posted Jul 13, 2011 18:24 by FSROCKS
4.53Mb (6165 downloads)
FSX Flightplan Creator using Excell V.2 Had to correct formulas. Here's a complete list of all airports in the FSX airports file with an Excell sheet to calculate distances between airports and a sheet to create flightplans for an airport by Gary McDonald
Posted Jul 5, 2011 08:40 by uploader
0.47Mb (4333 downloads)
FSX Pushback utility PushkunX. This is the support application for Flight Simulator X. You can execute gPushkunXh from a menu on FS. You will play any sound file before and after push back. By Koji Tsubakimoto
Posted Jun 5, 2011 08:11 by Koji Tsubakimoto