0.85Mb (6554 downloads)
This set of files will remove trees near runways for every airport supplied as standard with FSX. Some rural airports have trees right up to the threshold, as well as in the middle of runways, making them rather tricky to use! This package removes trees from an area three times the runway width. Author is Jim Keir. This is the easiest, quickest way to get rid of those annoying autogen trees on, or near Rwys. I unzipped all files to FSX/Add On Scenery/Scenery and that worked like a charm. Also a set of files to remove these pests 5x rwy width at Avsim. Search "Lumberjack"
Posted Jan 15, 2011 21:10 by antiguajim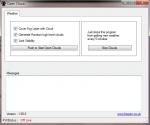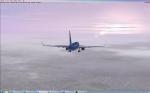 0.50Mb (7456 downloads)
Injects real weather for all airports into fsx. Users have option to improve handling of fog, add high altitude clouds and create a realistic visibility. Very simple to use but very effective.
Posted Nov 18, 2010 05:39 by Dave Wave

5.05Mb (33594 downloads)
FSX FSUIPC 4.6 (incorporating WideFS 7). A module that allows outside programs to communicate with FSX. By Pete Dowson. 1.6MB
Posted Oct 23, 2010 04:43 by archive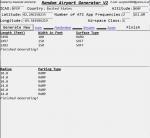 0.99Mb (1330 downloads)
This program selects a random airport and displays it within the program. Features V2: -Displays: ~ICAO ~Country ~Altitude ~Latitude ~Longitude ~No. of app frequencies ~Airspace class ~Runways (Length(feet), Width(feet), Surface type) ~Gates (Radius, Type) ~Ability to copy ICAO code at generation ~Ability to clear clipboard at program finish. Features V1: -Simply displays a random line -Clear display boxes. Plans for V3 is to include optional sorting facilities of some kind if I get round to making it. Happy flying :) Alexander Aschacher -
Posted Sep 23, 2010 09:03 by Alexander Aschacher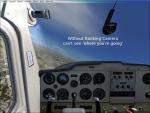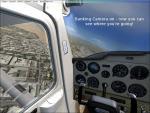 0.26Mb (16495 downloads)
Automatically banks the camera view as you bank the aircraft - enables you to 'look where you're going' without having to pan around using the HatSwitch. As you roll wings level, the camera banks level again. It's almost like a head-tracking device, but without all the hardware strapped to your head! Software is free and may be copied/distributed unaltered. Code by Justin Probert, South Africa
Posted Sep 18, 2010 12:34 by Justin Probert
0.73Mb (2509 downloads)
Find Airport Utility v2. Added state, region, city coordinates and search by state, county, city as well as airport name and ICAO. By Dentello Diego.
Posted Aug 26, 2010 02:27 by Dentello Diego

5.05Mb (37610 downloads)
FSX FSUIPC 4.60 (incorporating WideFS 7). FSUIPC4 is a module that allows outside programs to communicate with FSX. By Pete Dowson.
Posted Jun 20, 2010 06:03 by archive
0.62Mb (2907 downloads)
ATC Browser has been written for flightsim enthusiasts to create an audio link to the real world. ATC Browser provides a database of live ATC audio feeds from the Internet and makes these feeds interactive with FSX. The previous evaluation version has expired, this version of the program will run for 15 minutes per session. Comes with frequencies for the KPIT area pre-installed. Written by D.Lowey
Posted May 12, 2010 03:16 by Indigo Blue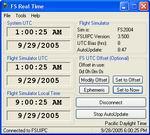 12.92Mb (3810 downloads)
FS98 - FSX FS Real Time v1.90 is made to keep Flight Simulator's UTC (Zulu/GMT) time and date in sync with the Real World. It can maintain either the current Real Time, or an offset (+/-) so you can fly at any variation from Real Time. This package also includes a new set of World Time Zones scenery files which eliminate many of the time zone errors that shipped with recent versions of Flight Simulator. FS Real Time by Joshua Robertson.
Posted Apr 11, 2010 09:37 by Joshua Robertson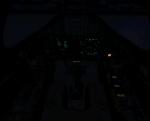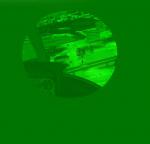 0.32Mb (7054 downloads)
FSX Night Vision is a modified Russian Bloom file to Simulate Light Enhancement of the FSX world. Renders Black pixels as Green and enhances Light bloom. FLIR in the works. Includes a NV Tube Gauge for added Realism d3d10.dll will be needed for DX10, Found in Windows file Created for Flightsimnation.com
Posted Feb 3, 2010 11:28 by Crazieman