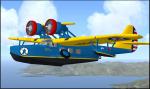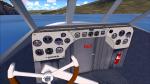 32.41Mb (829 downloads)
This is an FSX update for the FS2004 Douglas Dolphin package by David Wooster and his team. FSX simmers who have downloaded the FS2004 version have been confronted with a sinking plane on water, so here is a correction for that issue. The package features the original 18 liveries and an additional one (USAF-WWII) by Andre Ludick. The VC has been completely reworked to make it look more realistic. Additionally, the cabin interior has been drastically enhanced and smoke effect as well as new camera views for the copilot and the passenger cabin have been added. The bulk of the credit goes to David Wooster and his team for designing the original model and textures, also, credit goes to Andre Ludick for his USAF repaint and, above all, for correcting the contact points to make the plane flyable in FSX. New VC and gauge configuration as well as smoke effect by Michael Pook. The model may also work in P3D (Up to V3. Not V4+).
Posted Oct 6, 2018 06:15 by Michael Pook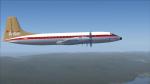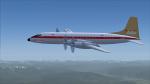 2.31Mb (80 downloads)
This is a repaint of the Bristol 175 Britannia 324 in Tellair colors. You need the freeware Bristol Britannia by Jens B Kristensen. Tellair was a Swiss based airline that was founded by the shareholders of British Eagle Airways and the Swiss cantons of Bern and Valais in March 1968. However, British Eagle went into voluntary liquidation on 6 November 1968 due to financial problems. Tellair, with their vital partner exiting the scene, was placed in dire straits. Operations did begin in March 1969, but with odds against them they folded on October 31, 1969. Textures are 32bit dds. This aircraft was tested on FSX-SE. It should work on FSX & P3D v1-3 (not4+)
Posted Oct 4, 2018 22:41 by Ted Giana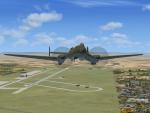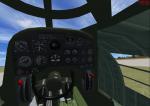 9.64Mb (607 downloads)
Ermolaev ER-2 for FSX/P3Dv3,v4 The ER-2 (sometimes called Yer-2 or Jer-2) went into production in late 1940. It was one of the very few diesel powered aircraft. A total of approx. 360 examples being built. The Er-2 was popular in service with its crews, and participated in many heroic encounters. Er-2s played a key role in the Defense of Moscow, took part in the bombing of Berlin, and conducted very long duration patrols over the Baltic coastline, almost always without escort. Examples of both major versions were still in service in 1945 with several Regiments, and production of the type continued after the War with the Er-2ON transport. FSX/P3D mdl by A.F.Scrub
Posted Oct 4, 2018 15:47 by A.F.Scrub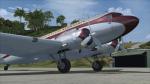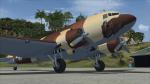 97.63Mb (645 downloads)
Virtual Aircraft Restoration is proud to present to you our Textures for the popular C-47 Skytrain V3.14 by Daniel Fuernkaess, Manfred Jahn, Alexander M. Metzger, Hans-Joerg Naegele, Mike Cyul, Warwick Carter and Jan Visser . These Textures are made under usage of the Paintkit provided by the original publisher! Make sure you use the Vintage Virtual Cockpit provided by Manfred Jahn to enhance your Flight experiance.
Posted Sep 29, 2018 11:46 by Hartmut Hekmann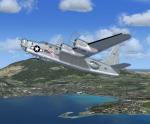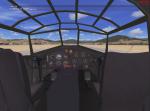 15.13Mb (863 downloads)
FSX/P3D V3-V4 Consolidated PB4Y-2 Privateer The Consolidated PB4Y-2 Privateer is a World War II and Korean War era patrol bomber of the United States Navy derived from the Consolidated B-24 Liberator.The Privateer entered U.S. Navy service during late 1944. This model depicts nr R582 Miss Sea-Ducer, from VPB-116 during 1944-45. FSX/P3D model by A.F Scrub
Posted Sep 18, 2018 11:14 by A.F.Scrub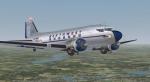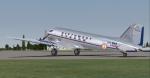 42.86Mb (259 downloads)
FSX Northwest Douglas DC-3 textures for Manfred Jahn and team C-47 v3.12. Northwest Airlines textures by Gary Harper.
Posted Sep 17, 2018 22:34 by Gary Harper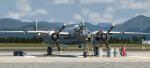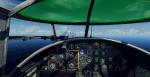 44.00Mb (3286 downloads)
RCS North American B-25J RAF MkII in FSX native format Credits: Original aircraft design by Brian Withers and ROY CHAFFIN. VC Adaptation, panels and gauges by Philippe Wallaert callout sound by Matt Smith and Doug Dawson With kind permission of Roy Chaffin converted to FSX native format by Bluebear This B-25J RAF MkII will work in Microsoft Flight Simulator X and Prepar3D v1-3 and v4+. Sep 2018 Safe landings Bluebear
Posted Sep 13, 2018 09:56 by Bluebear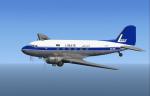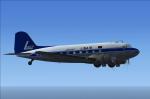 7.59Mb (131 downloads)
DC-3 Linair textures for the freeware DC-3/C-47 v3 by Manfred Jahn. Linair was a charter company formed in 1962 by Sabena and oil companies in Libya to provide passenger and cargo charters. Sabena provided the aircraft, DC-3s, and technical support. Hence the similarity in livery between the airlines. Sabena consequently turned over its interest to Belgian International Air Services, in July 1965. Their fleet of DC-3s did the heavy work until they added an F-27 in 1969. In January 1975, Libyan Arab Airlines was given exclusive authority to operate in the country, thus forcing Linair out of business. This repaint was tested on FSX-SE. It should work on FSX & P3D all versions including v4.
Posted Sep 12, 2018 23:11 by uploader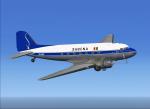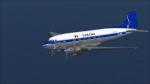 7.85Mb (161 downloads)
DC-3 Sabena textures for the freeware DC-3/C-47 v3 by Manfred Jahn. Sabena operated a massive total of 47 DC-3s from 1939 to 1969. Many were purchased after WW2, when many thousands of surplus Douglas C-47s became available to airlines. This repaint was tested on FSX-SE. It should work on FSX & P3D all versions including v4.
Posted Sep 12, 2018 23:09 by Ted Giana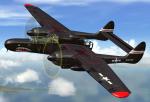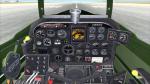 5.34Mb (695 downloads)
This is a panel update for the Northrop P-61 Black Widow by Dean Crawford. It features a completely new instrument configuration with all new gauges including a new radar and better popup windows. It also features a photoreal 2D panel by Erwin welker. The new outstanding repaints by Andre Ludick have been my motivation for designing this panel update. Required files...... Easy installation. All panel updates by Michael Pook.
Posted Sep 9, 2018 13:17 by Michael Pook