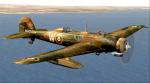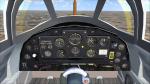 16.55Mb (639 downloads)
The Vickers Type287 "Wellesley" was a British 1930s light bomber built by Vickers-Armstrongs at Brooklands near Weybridge, Surrey, for the Royal Air Force. While it was obsolete by the start of the Second World War and unsuited to the European air war, the Wellesley was successfully used in the desert areas of East Africa, Egypt and the Middle East. This is a panel update for the Wellesley designed by Kazunori Ito. It features a new enhanced and more realistic VC and a new 2D panel with all new instruments. Animated yoke in the 2D panel, smoke and additional camera views added. The FDE has been corrected also. Thanks to Kazunori Ito for the original model, to Andre Ludick for the FDE improvement and to Erwin Welker for the added camera views. VC improvement and new 2D panel by Michael Pook.
Posted Dec 26, 2018 09:57 by Michael Pook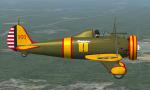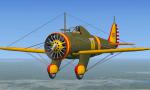 2.29Mb (422 downloads)
Textures only for A.F. Scrub's FSX/P3D native Boeing Peashooter. Aircraft not included; requires the fsx_peashooter_updated.zip file. This is painted as a P-26A flown by the Deputy Commander of the 17th Attack Group from March Field, California in 1936. Repainted by R.E. Wyman.
Posted Dec 21, 2018 16:06 by R.E. Wyman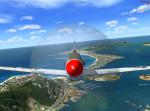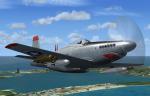 22.05Mb (1888 downloads)
FSX/P3Dv3,v4 P-51H Mustang The ultimate version of the Mustang was the P-51H, which was the fastest Mustang variant to see service and one of the fastest (if not the fastest) piston-engined fighters to enter production during the Second World War. However, it was destined never to see any combat, having entered service too late to participate in the final action against Japan. FSX/P3D mdl by A.F.Scrub
Posted Dec 19, 2018 11:03 by A.F.Scrub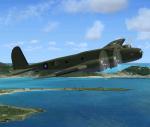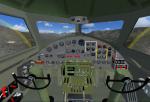 22.23Mb (1485 downloads)
FSX/P3Dv3,v4 B17-D Early Fortress The Boeing B-17 Flying Fortress is a four-engined heavy bomber developed in the 1930s for the United States Army Air Corps (USAAC). The bomber was intended from the outset to attack strategic targets by precision daylight bombing, penetrating deep into enemy territory by flying above the effective range of antiaircraft artillery. Turbo-supercharged radial engines were to give the necessary high-altitude performance, and heavy defensive armament was to provide protection against attacking fighters. FSX/P3D mdl by A.F.Scrub.
Posted Dec 18, 2018 02:25 by A.F.Scrub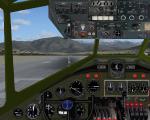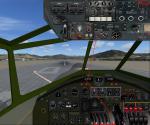 1.95Mb (824 downloads)
FSX/P3Dv3,v4 B24D and B24J Liberator Fix. These are the gauges necessary for the Radio and Throttles/mixture/props for both the B-24D and B-24J. Just paste them into the aircraft's panel folder. Fix by A.F.Scrub.
Posted Dec 15, 2018 03:24 by A.F.Scrub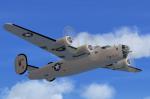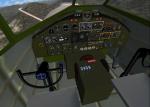 13.08Mb (1151 downloads)
FSX/P3D v3, v4 B24D Liberator The Consolidated B-24 Liberator was an American heavy bomber, designed by Consolidated Aircraft of San Diego, California.This aircraft originally served in the 344th BS as 'HAIL COLUMBIA'. It was 344th CO Col. John R. Kane's personal aircraft until Kane became 98th BG CO. 41-11825 crash landed on the island of Cyprus returning from the Ploesti mission and was abandoned, with the entire crew of the 'Hail Columbia' having survived the mission.. FSX/P3D mdl by A.F.Scrub.
Posted Dec 13, 2018 11:53 by A.F.Scrub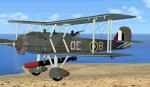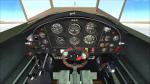 24.51Mb (727 downloads)
This is an FSX update for the Vickers "Vildebeest" MKIII torpedo bomber, updated from CFS2 to FS2004 by Shessi of Sim Outhouse. The package features five great textures by Uncletgt, which are so nice and crisp that I figured that this great model just cried for new panels and gauges. Thanks to Baldy (SOH)for the original CFS2 model and to Shessi (SOH) and his team for their updates. Added camera views by Erwin Welker. New virtual cockpit and 2D panel, smoke configuration and FDE updates by Michael Pook.
Posted Dec 7, 2018 10:18 by Michael Pook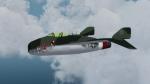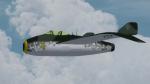 8.78Mb (763 downloads)
FSX / P3Dv3 Update of Blohm & Voss P.212.03. This was a reaction hunting project German of the end of the Second World War designed by Blohm & Voss for competition urgent hunting. Although he was not chosen in the program, they were beginning to build the prototypes when the war ended and the project had to be abandoned. The P.212.03 was the model presented to the Luftwaffe, which presented an even more elongated structure and tanks of internal fuel with greater capacity (2,100 liters), this time the wings had an angle of 40º and great dihedral. Uniquely, the wings were designed to be manufactured indistinctly from wood, steel or aluminum, and the cockpit was pressurized. With the maximum amount of fuel provided by two 300-liter auxiliary tanks, this aircraft could perform flights of up to four hours. It was foreseen that P.212.03 could carry a great variety of weaponry. Updated Vc, sound, smoke effects, and 3 textures of the Luftwaffe. This is an old FS2002 aircraft updated so has a very basic VC. Thanks to Luft'46 Team and enjoy ...
Posted Dec 7, 2018 07:21 by Rodolfo Valery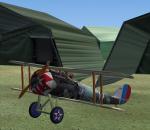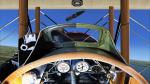 7.22Mb (914 downloads)
FS2004/FSX/Accel/P3dv3 Nieuport 28c WWI biplane fighter. The Nieuport 28, developed in France, went in service in March 1918. She was supposed for french and american air troops. Finally France favorized the Spad XIII while US forces took the Nieport 28 as its fighter. The plane was equipped with a rotary engine and reached almost 200 kmh. See also my WWI scenery with a German airfield in Grand Est/France (ww1_germanairfieldfrance.zip). FSDS 3.5 model by Erwin Welker
Posted Dec 5, 2018 03:07 by Erwin Welker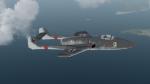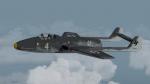 11.48Mb (297 downloads)
FSX / P3Dv3 New 2 Luftwaffe textures for the Focke Wulf P.VII Flitzer. New sound. Enjoy....
Posted Dec 3, 2018 14:24 by Rodolfo Valery