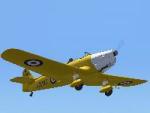 2.24Mb (2145 downloads)
FS2004 Miles M14A Magister. First monoplane trainer to enter RAF service. Aircraft of No. 15 EFTS. at Redhill, C. 1939. Minor changes to the Flight Dynamics and a 'panel_cfg' mod. Ver. 06, By Edward Cook
Posted Nov 10, 2009 14:04 by Edward Cook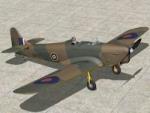 1.96Mb (1191 downloads)
FS2004 Miles M14A Magister. Late war Camouflage scheme First monoplane trainer to enter RAF service. Minor changes to the Flight Dynamics and a 'panel_cfg' mod. Ver. 06, By Edward Cook
Posted Nov 10, 2009 14:02 by Edward Cook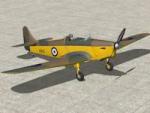 2.03Mb (1402 downloads)
FS2004 Miles M14A Magister. Intermediate Camouflage scheme The first monoplane trainer to enter RAF service. Aircraft possibly of No. 28 E&RFTS. at Meir, C. 1939. Minor changes to the Flight Dynamics and panel.cfg. Ver. 6, By Edward Cook
Posted Nov 10, 2009 14:02 by Edward Cook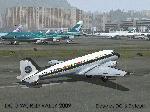 1.49Mb (700 downloads)
This is a repaint of the default DC-3 in a specially commissioned livery for the 2009 DC-3 World Rally, organised by the team at DC-3 Airways VA. Visit www.dc3airways.com for information about this exciting event commencing on November 14, 2009. Thereafter, you can keep this lovely lady as a souvenir of how well you flew! This livery is also available for the MAAM-SIM FS2004/FS2002 Passenger DC-3 as wr9_maam.zip. By Mark Beaumont, VP Fleet, DC-3 Airways.
Posted Nov 7, 2009 10:15 by Mark Beaumont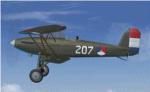 10.12Mb (3198 downloads)
Fs9 Fokker D.XVII A Fokker build fighter for the Dutch L.VA, (Aviation section of the Dutch Army) as a replacement for the D.VII's. First flight 1932, Only 11 were build and they became obsolete short before the outbrake of war. Although a few were used to attack the invading German Forces. Textures by Wim Regeer using templates by Huub Vink. Sound by Des Braban. Aircraft design and flight dynamics Wim Regeer
Posted Oct 28, 2009 14:14 by Wim Regeer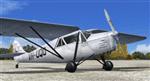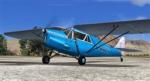 27.36Mb (6092 downloads)
De Havilland DH-80A Puss Moth Version 1.0 for FS2004 Only by Milton Shupe, Scott Thomas, Damian Radice, Tom Falley with Sounds by Mike Hambly. Technical assistance by Mike Wilkinson, Bill Brady, the Scottish Museum of Flight, Kevin Moore, Ferry van Orden, Leif ... and members of SOH forums. Functional VC (Virtual cockpit) model included; Pkg incl an excellent flight model and features a beautiful custom era correct panel with new XML gauges and easy-to-read virtual cockpit plus four paint schemes. Contact info in documentation.
Posted Oct 17, 2009 15:26 by Milton Shupe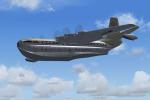 4.15Mb (4572 downloads)
FS 2004 Saunders Roe SR-45 "Princess" This is the FS 2004 version of my previous FSX model of the :Princess". The SR-45 first flew in 1952 and was one of the largest flying boats ever built. It was overshadowed by the upcoming land based 707 and DC-8 so only one was finished and test flown. This is a FSDSv3.51 project compiled with Makemdl into FS 2004. It has the usual animations, specular shine, DXT3 textures, reverse thrust, and turbine smoke that turns on and off as a function of throttle position. The VC is based on a photo and has animated flight and engine controls. There is no 2D panel. There are two liveries, the factory paint and the proposed BOAC livery. By Paul Clawson
Posted Oct 11, 2009 23:10 by Paul Clawson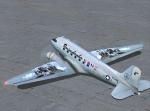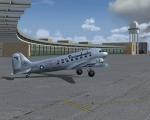 3.77Mb (1298 downloads)
The Douglas DC-3 is an American fixed-wing, propeller-driven aircraft whose speed and range revolutionized air transport in the 1930s and 1940s. These textures only for the default DC-3 remember the Berlin Airlift and Rosinenbomber in 1948/1949, organized by the Western Allies.
Posted Oct 4, 2009 06:05 by Ingo Schwan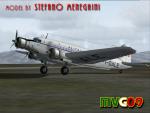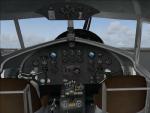 29.16Mb (6184 downloads)
This is an FS9 (FS2004) release, but it will also work with only minor display errors in FSX. The Fiat G.12 was an Italian trimotor military/civil transport plane of the 1940s and early 1950s designed by the prolific engineer Giuseppe Gabrielli. This archive installs different MDLs for five different types of Fiat G12. They each have custom animations, sounds, engines, cockpit layouts, gauges, flight dynamics and on screen handling notes. All components are closely based on the original manuals. A detailed history and explanation of how to fly the five different versions of G.12 is included. Seven different liveries are supplied: Two Regia Aeronautica, one post war Italian Air Force (AMI), one Avio Linee Italiane (ALI), one Airone and two Alitalia ("Alcione" and "Regolo"). Models by Stefano Meneghini, liveries by Manuele Villa, flight dynamics and handling notes by FSAviator.
Posted Oct 1, 2009 03:30 by Manuele Villa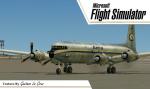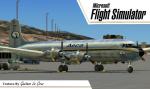 19.25Mb (8953 downloads)
This is the DC-6B of CalClassic Group,this paint is the YV214T of Aeca ( Ex-Aero Ejecutivos), Model by CalClassic, panel by Francisco Silva, Texture by Gustavo La Cruz.
Posted Sep 25, 2009 02:24 by Gustavo La Cruz