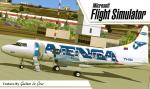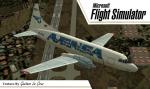 13.21Mb (7489 downloads)
This is the Convair 580 of Greg Pepper,this paint is the YV-83C of Avensa, Model by Greg Pepper. Panel by David Reed. Texture by Gustavo La Cruz
Note:
May require a zip utility such as
Izarc
- if Windows unzip utility reports as invalid
Posted Sep 25, 2009 01:36 by Gustavo La Cruz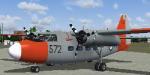 0.75Mb (1779 downloads)
The repaint represents Sea Prince WP308 based at RNAS Culdrose, Callsign: 572 Late fifties dayglo orange. You need to have installed German Navy Hunting Percival Pembroke mk54. Painted by Jaap de Baare as a request.
Posted Sep 16, 2009 16:35 by admin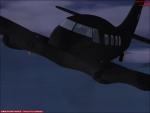 19.15Mb (2684 downloads)
FS9/2004 1938 Alcor C.6.1 Junior Transport by Rarewings.com: Designed with FSDS3.5.1 and FSDSTweak . It has full working virtual cockpit with back-lite gauges. Limited 2-D panel, custom sounds. The plane has reflective glass and metal textures. This package comes with three paints schemes, Plain black, Bonaza Airlines and TAA Airlines. The Lockheed spin-off Alcor designed this slippery aircraft with two menasco 6 cyl 250 hp engines laid on their sides.2 creww 8 passangers with a top speed of 220mph had alot of interest but the one test example crashed into San Francisco bay after aileron flutter at high speed. Flight Dynamics by Airwrench and Brian Horsey.
Posted Sep 15, 2009 23:27 by Patrick Dyer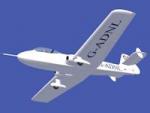 1.30Mb (2204 downloads)
FS2004 - Miles M77 'Sparrowjet'. Single seat racing monoplane. Mr. Fred Dunkerley's M5 Sparrowhawk, rebuilt with two Turbomeca Palas turbojets.The first flight was made at Shoreham Airport on December 14th 1953. The aircraft was destroyed in a hanger fire in 1964. Recast cockpit using new information. v0.3 By Edward Cook
Posted Sep 9, 2009 10:10 by Edward Cook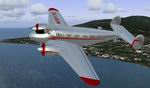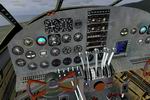 36.40Mb (5949 downloads)
FS2004 simTECH Flight Design Beech 18 Package. This is the full commercial version that was formerly a payware add-on. Now this is freeware and fully functional as it was as a commercial add-on. Set in a full extractor with all original liveries this will install the aircraft to your default FS9 aircraft directory. There will be no support on this add-on, all copyrights still apply. By Tom Wood/simTECH Flight Design Ltd. 37.2MB
Posted Sep 8, 2009 23:28 by archive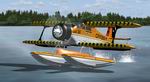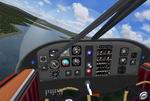 30.09Mb (8117 downloads)
FS2004 simTECH Beech Staggerwing D17 Package - Float & Wheel Versions included. . This is the FS2004 version of the simTECH Flight Design Beechcraft Staggerwing D17. This is the full commercial version that was formerly a payware add-on. Now this is freeware and fully functional as it was as a commercial add-on. Set in a full extractor with all original liveries this will install the aircraft to your default aircraft directory. There will be no support on this add-on, all copyrights still apply. By Tom Wood/simTECH Flight Design Ltd. 30.1MB
Posted Sep 8, 2009 23:28 by archive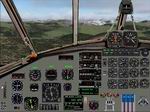 6.23Mb (1893 downloads)
FS2004 SM79Sparviero Upgrade. this is a modernized upgraded panel and acft and airfile upgrade by Bob Chicilo for Kaznouri Ito's sm79parviero (above). Credits go to Pierino Prinovesi for panel bmp and to Detlov j. Rohmer for the rotating yoke from his goose v2 panel. I had no way to contact them for their permission. Jim Welch. 6.4MB
Posted Sep 8, 2009 23:28 by archive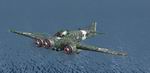 0.11Mb (2058 downloads)
FS2004 SM79 Sparviero Update. This is an update for Kazunori Ito's SM79 Sparviero (required above). I have changed it from jet engines to piston engines, changed one light from red to a beacon, and updated the flight dynamics. Visually, it always was a piston engined aircraft with props. Bob Chicilo. 109K
Posted Sep 8, 2009 23:28 by archive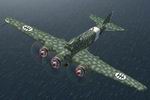 2.65Mb (3392 downloads)
FS2002/FS2004 Savoia Marchetti SM79 SPARVIERO. The SM79 was the most famous version of a line of tri-motor Italian bombers. It was christened Sparviero (Sparrow Hawk) but it's crewmen called it Gobbo (Hunchback). This sturdy hump-backed aircraft dated back to 1934 and didn't look like much, but it provided valuable service in all Italian theaters, even in the most difficult conditions. Originally created as a bomber, it really came into it's own as a torpedo-bomber. The image here is from the Spanish Civil War, hence the colours are not those of WWII. Production ceased in 1944 after about 1370 aircraft were built. It was used by the Italians after the war as a transport and target tug. by Kazunori Ito. 2.7MB
Posted Sep 8, 2009 23:28 by archive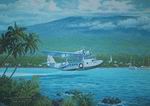 13.53Mb (12052 downloads)
FS2004 Golden Hawaii Aircraft & Scenery Package. This package will take you back to prewar Hawaii when it was a peaceful tropical paradise where the rich played and lucky military personnel enjoyed their island duty! After coming over on the PanAm Clippers, Inter-Island airways of Hawaii mainly handled air transportation for the wealthy vacationers. Included in this package are a Sikorsky S43 amphibian in Inter-Island colors, an S43 in PanAm colors, two Kellet autogyros and three Ford panel trucks to explore the local scenery! Also included is complete replacement scenery that portrays the islands as they did in the mid to late 1930s! This scenery is activated by a special program that allows you to choose between flying in either modern or golden age Hawaii. You can play the role of Air Line Captain with your own flight crew to fly the various scheduled and special flights for Inter-Island Airways or you can be the star flying reporter for a Honolulu newspaper with your Kellet Autogyro! There are 19 exciting and challenging flights to get you started and you'll have hours of fun in your new golden age flying career! By Lynn and Bill Lyons. 13.8MB
Posted Sep 8, 2009 23:28 by archive